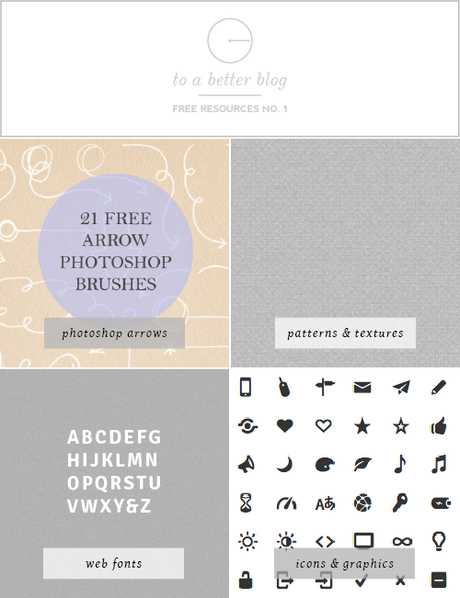 by Tori Bowman of That Pair of Crutches. Tori contributes weekly with tips about how to improve your blog. See her others posts here. 
Today I'm going to share a few of my favorite tools to instantly spruce up a blog or post! They are simple to use and totally free. There are a lot of free design resources out there that are worth just that, but these elements will make your blog look professional and cohesive, rather than just a modge podge of whatever freebies you could get your hands on. Even still, use with moderation!
Photoshop Arrows: Arrows are the perfect way to draw attention to specific pieces of a photo, or a certain item in a curated post. Because this set from Creature Comforts has so many options, it fits well with a lot of different design styles and would look great on almost any blog. 
Patterns and Textures: Patterns and textures are a simple way to add interest to your blog. Use these patterns for a simple background for you blog, or drop the opacity and add it over a photo, as labels for a post, or even to create your own digital washi tape!
Web Fonts: We've talked about fonts before but they are SO important! Google Web Fonts has some amazing options that you can not only use for a simple type logo or on photos and collages, but that can be integrated into your site and copy to help you further customize your blog and keep your site's look consistent. 
Icons and Graphics: Whether you want to use an icon on a photo, or customize your social media buttons, Entypo is the site for you. Head on over and check it out! They are really simple to use and are yet another tool to help you control the look of your site. 
What tools have helped you? Searching for a specific tool we didn't mention? Let us know and we will try to find it and share in a future post!
P.S. Is there something you're dying to know or learn about improving your blog? Ask away and we'll get your questions answered in future posts!