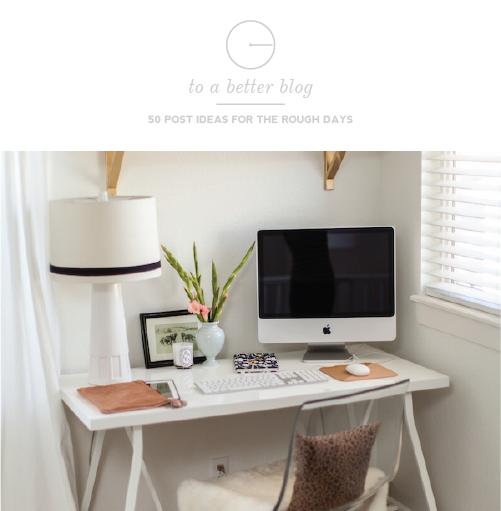 by Tori Bowman of That Pair of Crutches. Tori contributes weekly with tips about how to improve your blog. See her others posts here. 

Let's admit it: blogging can be a bit draining. Coming up with a new and original post idea basically every day can take a lot out of you. Instead of trying to make every post go viral, give yourself and break and give on of these tested and true post ideas a go every once in a while (or every other day, whatever!). 
1. Do an Instagram round-up/photo dump 2. Share a peak into your daily life 3. Share a peak at a fun project your'e working on 4. Share pictures of where you blog from 5. Post photos from your childhood and share some fun memories 6. Share a round-up of your favorite links 7. Share a list of your favorite people to follow on Pinterest 8. You can do the same for Instagram 9. Take a picture of something you collect and share about it 10. Create a gif showing off your shoes, favorite crafting supplies or cooking supplies 11. Tour your city and document it and then come back and share with your readers 12. Write your post on a piece of paper, scan it in, and share your handwriting with your readers 13. Give vlogging a try, whether it's an interview or a DIY 14. Be a photographer for a day and share the results 15. Figure out three things you'd like to learn in the next month, share those goals with your readers and challenge them to do the same 16. Share how to do something you're really good at (making the best pancakes, writing your name in cursive and upside down) 17. Share a review of something you've purchased on Etsy or from another blogger 18. Compile a list of your favorite past blog posts from your blog 19. Share a list of  your favorite bloggers and your favorite posts from their sites 20. Share a list of the things that make you feel  21. Share what's in your purse or diaper bag 22. Share a list of blog post ideas about a specific topic 23. Put together a list of supposed best chocolate chip cookie recipes, for example, test them all out, choose a winner, and share with your readers 24. Recreate an outfit from a store and share it with your readers 25. Share a playlist 26. Create a curated posts featuring items you're currently wishing for 27. Share your favorite pins from the past week 28. Create a collage of items that are all the same color 29. Snag a photo you love off of Pinterest and create a color study from it 30. Share photos from all the places you lived and share your favorite memories from each 31. Been featured on another blog? Do a little teaser post leading back to it so your readers can see 32. Create a survey and invite your readers to take it 33. Share a bit about yourself and invite your readers to do the same in the comments 34. Show behind the scenes of your latest project 35. Interview another blogger 36. Share your favorite Etsy finds 37. Share five things that inspire you 38. Join in on a series started by another blogger and share your version (make sure to link back to them and say you got the idea from them) 39. Share your favorite hair products or travel essentials 40. Just write about your day! Get real and honest with your readers 41. Share an update on the blog, whether it's a change in what you'll be talking about or a change in the design 42. Share a list of your favorite apps 43. Favorite store having a sale? Round-up your favorite items and share them with your readers 44. Share your highlights from the past week 45. Read a good book, seen a good movie, tried an amazing recipe? Share! 46. Take a photo every hour and share them all in a blog post 47. Ask for advice! 48. Share a funny or happy memory, even if it's super short and simple 49. Share your favorite trends 50. Share something that makes you happy, whether it's a photo, a song, a video
What are your go-to post ideas? Did you see any of them on this list?