Unless you have been living in the news-censored environments of China or Iran, or you have been dwelling in a cave, you may have heard about the meat scandal currently taking the British press by storm. Beneath the banner headlines of copious horse puns, you may have also noticed that M15 busted three not-so-wise men for their mischievous intentions. It would seem that the three "British" men who were recently sentenced for planning a series of terrorist acts need not have bothered to waste their pointless time on such things. The British public have, unknowingly, been chowing down on Princess Anne's stable residents, licking their lips and unbuckling their belts as they slowly poison themselves on contaminated lasagnes. Obviously it has caused quite a stir, but beyond a case of false advertising I really do not see what all the fuss is about.
Horse is as common a meat across the world as any other. The reason why we don't eat it in Britain dates back to the Napoleonic wars of the early 19th century. The French loved a good Grand National winner garnished in a little garlic with a side of potatoes, but the Brits, simply to differentiate themselves from the enemy at the time, vetoed them as a main course. We ate rabbits and wolves instead. Mmmm. Horses were also a valuable commodity and were required for the battlefield as transportation. Sir Arthur Wellesley, the Duke of Wellington, would have looked a bit daft had he turned up at the battle of Waterloo on the back of a sheep because he had eaten Silver for tea the night before.
Since that time the Brits have not eaten horse meat. Not for health reasons, but purely because it would be like eating a car today. There is nothing wrong with horse meat, nothing at all. Think what the Hindu's must think of us when they see us scoffing down a beef burger, we're eating their God! Ultimately, and inevitably, everyone is over-reacting and now we can expect meaningless legislation that dictates that we are not allowed to eat anything that can run five furlongs in under three minutes. It is, then, of over-reactions of which I wish to speak about today.
Nothing confuses the world and muddies public perception quite like an over-reactive knee jerk reaction. This week in the UAE it was reported that an 11 year old British boy was "taken to a police station" after the parents of an Emirati boy filed a complaint against him. At first it was to be assumed that the British boy had been indulging in a spot of bullying or general horse play, but the truth turned out to be far more alarming. The incident in question happened during a PE lesson. During a game of football the British boy went in for a tackle that caused the Emirati boy to tumble to the ground. This is a common occurrence in football as tackling is a fundamental part of the game.
If there was no tackling allowed then they would just be playing cricket instead and would probably end up dying of boredom. But still, the boy was alleged to have been arrested. I went to an all boys school in south west London and, being of a weedy frame, I was floored on more than one occasion. I weighed 55kg and had a 26inch waist, how do you think I faired when we played rugby during PE? I would fly for miles. By the logic adopted in this case, I could have had 20-30 of my classmates arrested for grievous bodily harm. But through it all I got up each time, only to be floored time and time again.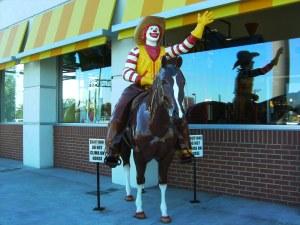 Hey ma! Look what I gone caught for dinner! It wasn't as big as what the other guys got but I sure did try!
Anyway, it was rumoured that the British boy spent a night in the cells, and that his incarceration was covered up. Whatever, this doesn't detract from the main point: the boys were playing football in a PE lesson, one got hurt. Big deal, this happens in every school all over the world on a daily basis. Do we pick ourselves up and move on? No, what we do instead is come up with a mad set of rules and regulations that govern the activity so that all competitive and risk elements are eliminated. This includes the introduction of a code of conduct that insists on fair play – duh – and parental consent forms that will give parents the right to ban their offspring from taking to the field in the first place. That will help the diabetes levels over here. Super, just what we need to toughen people up.
The UAE cannot be singled out as the only perpetrator; the US, the UK and the rest of Europe are also notorious for such crimes against reality. Mediocrity cannot be considered an acceptable goal. Kids need to learn from a young age that they can be good at a thing that others are not, whether that is sport, music, art, writing or even making fart sounds with their armpits. This improves self esteem and creates determination, something the people of the future are going to need to survive the uncertainty that looms on the horizon. Risk and competitiveness is what makes us human and makes us smart. It teaches us limits, self control, and so many other valuable assets that I cannot be bothered to mention. Stupid, over-reactive measures irritate us, neuter the young and leave no hope for the future.
If you stop the kids being able to take part in sport and learning the limits for themselves then all we will have is a future generation that is overweight, ignorant and who enjoy nothing more than tucking into a big, fat, greasy McBlack Beauty.