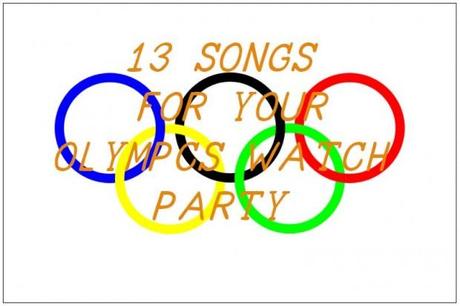 You guys! The Olympics start today! All the glory, all that triumph of the human spirit, all that togetherness — it's just so intoxicating. We created a playlist for your Opening Ceremonies party that you are surely having, that brings together all the best things about the Sochi Olympics.
1. Tatu – All The Things She Said
This faux-lesbian novelty band is reuniting for the Opening Ceremonies cause they're pretty much the only Russian band you know. They are also pretend lesbian, which is interesting based on the current anti-gay laws and horrifying atmosphere in Russia. Lets hope this is a sign of change and move to open-midedness (despite the whole, they're not actually gay thing) and not just a crass PR move on Putin's part. Though, we aren't holding our breath.
2. Europe – The Final Countdown
Lets get away from politics and to the spirit of the games! Epic! Amazing! Wow!
3. The Lonely Island – We Like Sports
Cause you totally know what you're talking about when it comes to Slopestyle and Giant Slalom…totally.
4. Foals – Olympic Airwaves
It has the word "Olympic" in it—what do you people want from me?
5. The Vangels – Chariots of Fire
This is literally the most intense sports song ever, and it should be played in the background of literally every event. It makes them all seem somehow more glorious.
6. The White Stripes – Seven Nation Army
With "Seven Nation Army", The White Stripes created the ultimate sports song — you can chant it, and it talks about how you will win at any cost. Just like your favorite curling team will also win at any cost.
7. Robyn – U Should Know Better
What's that German ski team? You think you can fuck with the might of the USA? YOU CAN'T! U.S.A, U.S.A, U.S.A!
8. Bjork – Oceania
This was sung at the Athens games, and I love Bjork – so it's on the playlist.
9. Bruce Springsteen – Born in the USA
Sure, this song is actually a scathing indictment of the way our country treats veterans and the poor — but it also has a chorus that sounds like it's celebrating the USA, so we can get past the pesky "actual intention" of the song.
10. Peter Gabriel – Games Without Frontiers
This works cause it's about the Cold War and also talks about games. You can either take it to be about the interesting geo-politics involved with the Olympics, or about the actual Olympics themselves. What you choose to think it's about also probably says a lot about you.
11. Living Color – Cult of Personality
Just like Putin…
12. The English Beat – Mirror in the Bathroom
Haha, there are no mirrors in the bathrooms in Sochi. Hahahahahaha.
13. Regina Spektor – Apres Moi
It's in Russian at some point. Seriously, what do you people want from me?