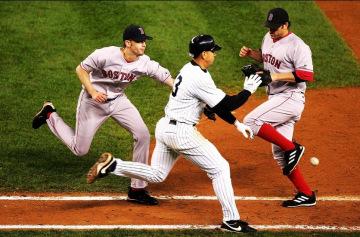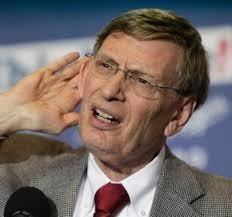 Via ESPN:  "Major League Baseball came down heavy Monday on the players it found to have been involved with the South Florida clinic Biogenesis, suspending Alex Rodriguez through the end of the 2014 season and banning 12 others for 50 games, including three All-Stars: Nelson Cruz of the Texas Rangers, Everth Cabrera of the San Diego Padres andJhonny Peralta of the Detroit Tigers."
The Rest of the list:
• Antonio Bastardo, Phillies reliever
• Francisco Cervelli, Yankees catcher (on DL)
• Jordany Valdespin, Mets outfielder (minors)
• Jesus Montero, Mariners catcher (minors)
• Cesar Puello, Mets outfielder (minors)
•  Sergio Escalona, Astros pitcher (minors)
• Fernando Martinez, Yankees outfielder (minors)
• Fautino De Los Santos, free-agent pitcher
• Jordan Norberto, free-agent pitcher
Major League Baseball dropped the hammer today.  13 players total have received suspensions including Alex Rodriguez who was suspended through the 2014 season, or 211 games.  This is by far the longest suspension ever handed out by MLB.  A-Rod will appeal, we've already discussed this, but it's going to be interesting to see how this situation plays out.  It looks as though Cruz and Peralta will begin their suspensions immediately in hopes of coming back in time for the playoffs, if their teams make it.
A lot of minor leaguers on this list.  Good to see that taking Performance Enhancing Drugs aren't really making all the much of a difference.  Seems like I'd rather take my chances being clean as a whistle than spending all that money on PED's and then staying in the minors.
Cruz had this to say (Via ESPN):  "In a separate statement, Cruz said his punishment was a result of "an error in judgment," saying he had been seriously ill in early 2012 with a gastrointestinal infection called helicobacter pylori that went undiagnosed for more than a month.  "By the time I was properly diagnosed and treated, I had lost 40 pounds," Cruz said in the news release. "Just weeks before I was to report to spring training in 2012, I was unsure whether I would be physically able to play. Faced with this situation, I made an error in judgment that I deeply regret, and I accept full responsibility for that error. I should have handled the situation differently, and my illness was no excuse. I am thankful for the unwavering support of my family, friends, and teammates during this difficult time. I look forward to regaining the trust and respect of the Rangers organization, my teammates, and the great Rangers' fans, and I am grateful for the opportunity to rejoin the team for the playoffs."
Cruz is also a free agent after this season, so there's a bit of selfishness going on right now.  He could appeal and drag this out through the rest of the season, but then he'd be negotiating a contract with a 50 game suspension hanging over his head.  If the Rangers don't make the playoffs, he'll be sure to be on the list of reasons why they didn't, but there's a good chance Cruz still fetches a decent free agent contract.
Some other news: "Two players named in Biogenesis reports – Gio Gonzalez of the Washington Nationals andDanny Valencia of the Baltimore Orioles – were cleared of wrongdoing and will not be disciplined.  The Blue Jays' Melky Cabrera, Athletics' Bartolo Colon and Padres' Yasmani Grandal have already served 50-game suspensions for PED use and will not face additional discipline for Biogenesis, the league announced."
The Danny Valencia thing cracks me up.  Have you seen that guy play?  Even if he was taking steroids, I'm not sure they were doing any good.
Interesting that there was no additional penalties for Melky, Grandal and Colon.  For all the hatred Selig has shown toward A-Rod, he's seemingly taking it easy with these three.  The A's have to be ecstatic that they don't have to head into their stretch run without one of their better pitchers.
All in all, a sad day for baseball.