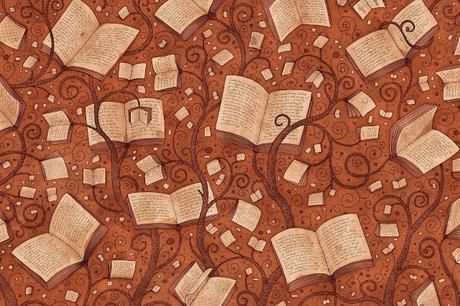 Fond d'ecran livres
With a few more weeks to go until we say goodbye to 2016, I thought I would take a look at what's in store on the African literary front in 2017. And it's pretty exciting!!! As in addition to Ayobami Adebayo's debut novel Stay With Me and the US edition of Jennifer Nansubuga Makumbi's Kintu, there's also the UK edition of Nikhil Singh's Taty Went West (I cannot wait to see what this edition will look like).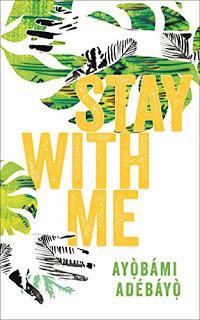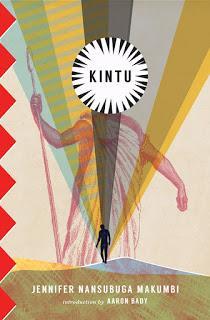 Well, 
here are 10 more books to look forward to in 
the first half of
next year. 
January 
Welcome to Lagos by Chibundu Onuzo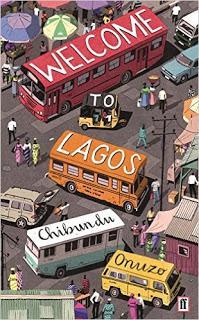 In Onuzo's second novel, when army officer Chike Ameobi is ordered to kill innocent civilians, he knows that it is time to leave. As he travels towards Lagos, he becomes the leader of a new platoon, a band of runaways who share his desire for a better life. Their arrival in the city coincides with the eruption of a political scandal. The education minister, Chief Sandayo, has disappeared and is suspected of stealing millions of dollars from government funds. After an unexpected encounter with the Chief, Chike and his companions must make a choice. Ahmed Bakare, editor of the failing Nigerian Journal, is desperate for information. But perhaps the situation is more complex that it appears. 
Radio Sunrise by Anietie Isong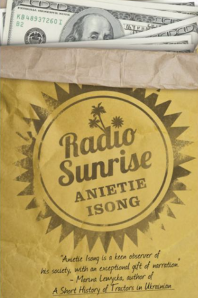 In this debut novel, Ifiok, a young journalist working for the government radio station in Lagos, aspires to always do the right thing but the odds seem to be stacked against him. Government pressures cause the funding to his radio drama to get cut off, his girlfriend leaves him when she discovers he is having an affair with an intern, and kidnappings and militancy are on the rise in the country. When Ifiok travels to his hometown to do a documentary on some ex-militants' apparent redemption, a tragi-comic series of events will make him realize he is unable to swim against the tide.
Radio Sunrise paints a satirical portrait of (post) post-colonial Nigeria that builds on the legacy of the great African satirist tradition of Ngugi wa Thiong'o and Ayi Kwei Armah.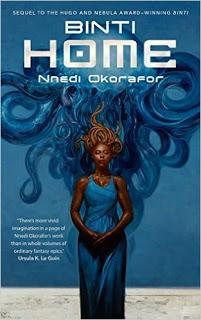 Binti: Home by Nnedi Okorafor
In the thrilling sequel to the award-winning Binti, it's been a year since Binti and Okwu enrolled at Oomza University. A year since Binti was declared a hero for uniting two warring planets. A year since she found friendship in the unlikeliest places. And now she must return home to her people, with her friend Okwu by her side, to face her family and her elders. But Okwu will be the first of his race to set foot on Earth in over a hundred years, and the first ever to come in peace. After generations of conflict can human and Meduse ever learn to truly live in harmony?
PS. 2017 will also see the release of Akata Witch 2: Akata Warrior.
February
Dancing the Death Drill by Fred Khumalo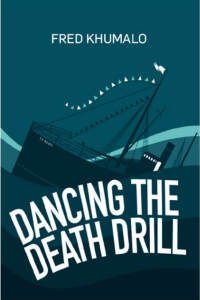 Paris, 1958. An Algerian waiter at the famous restaurant La Tour d'Argent is convicted of the murder of two customers. As he is awaiting trial, his long-time friend Jerry Moloto helps an opportunistic and ambitious journalist build a case to defend him. Through Jerry's testimony the reader discover that the waiter is actually Pitso Motaung, a mixed race South African drafter to fight in the First World War. He is also one of the few remaining survivors of the SS Mendi tragedy, which saw the formidable warship sink off the coast of the Isle of Wight, killing 646 people, including many black South African soldiers. So how did a brave soldier become a criminal and will Pitso's name be cleared before it is too late? 
Commemorating the 100th year anniversary of the sinking of the SS Mendi, Dancing the Death Drill is a timely novel about life and the many challenges it throws our way.
April
What It Means When a Man Falls from the Sky by Lesley Nneka Arimah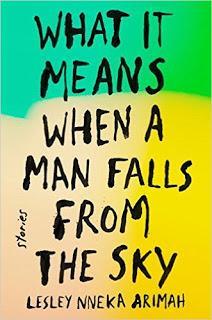 A dazzling accomplished debut collection explores the ties that bind parents and children, husbands and wives, lovers and friends to one another and to the places they call home.
In 'Who Will Greet You at Home', a National Magazine Award finalist for The New Yorker, a woman desperate for a child weaves one out of hair, with unsettling results. In 'Wild', a disastrous night out shifts a teenager and her Nigerian cousin onto uneasy common ground. In 'The Future Looks Good', three generations of women are haunted by the ghosts of war, while in 'Light', a father struggles to protect and empower the daughter he loves. And in the title a story, in a world ravaged by flood and riven by class, experts have discovered how to 'fix the equation of a person' - with rippling, unforseen repercussions. 
Evocative, playful, subversive and incredibly human, What it Means When a Man Falls from the Sky heralds the arrival of a prodigious talent with a remarkable career ahead of her.
June 
Blind Spot by Teju Cole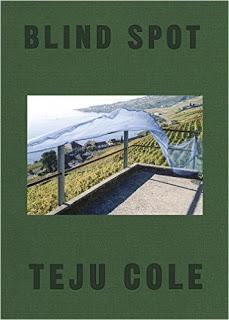 An innovative photographic project that explores how we see the world. The shadow of a tree in upstate New York. A hotel room in Switzerland. A young stranger in the Congo. In Blind Spot, readers will follow Teju Cole's artistic vision into the visual realm, as he continues to refine the voice and intellectual obsessions that earned him such acclaim for Open City. 
Here, journey through more than 150 of Cole's full-colour original photos, each accompanied by his lyrical and evocative prose, forming a multimedia diary of years of near-constant travel: from a part in Berlin to a mountain range in Switzerland, a church exterior in Lagos to a parking lot in Brooklyn; landscapes, beautiful or quotidian, that inspire Cole's memories, fantasies and introspections. 
In more than 150 pairs of images and surprising, lyrical text, Cole explores his complex relationship to the visual world through his two great passions: writing and photography. Blind Spot is a testament to the art of seeing by one of the most powerful and original voices in contemporary literature.
No Place to Call Home by JJ Bola
This debut novel, published by OWN IT!, comes from Kinshasa-born and London-raised JJ Bola. In it, Jean has started at a new school and struggles to fit in. His friends, mainly his counterpart James, a rowdy yet likeable lad, get him into many precarious situations; fights, thefts, and more. At home, his parents, Mami and Papa, who fled political violence in Congo under the dictatorial regime of Le Marechal, to seek asylum as refugees in the UK - which Jean has little knowledge of - pressure him to focus on school and sort his act out. Marie, his bright, confident, star-student little sister, who always gets on his nerves, surprisingly supports him when he is suspended from school, which draws them closer together.
As the family attempts to integrate and navigate modern British society, as well as hold on to their culture of origin, they meet Tonton, a sapeur, a womaniser, alcohol-loving, party enthusiast, who, much to Papa's dislike, after losing his job, moves in with them and introduces them - via their church, where colourful characters like Pastor Kiddi, Patricia and Nadege congregate - to a community of fellow country-people, whole they thought were left behind. 
No Place To Call Home is a tale of belonging, identity and immigration, of hope and hopelessness, of loss ... and love. 
July
The Architecture of Loss by Z. P. Dala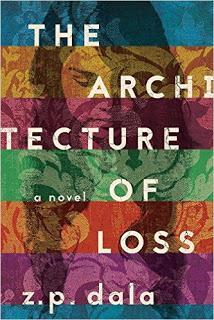 A novel of forgiveness and reconciliation that shines light on the dark underbelly of South Africa's fight for freedom and democracy.
Estranged at the age of six from her mother, who sent her away from her hometown of Brighton in rural Zululand, brilliant architect Afroze Bhana has carved out an impressive life for herself in Cape Town. But when she receives word that her aging mother is desperately ill, she finds herself compelled to return to her place of birth to find answers about her painful childhood.
Afroze arrives in Brighton to find that her mother, Sylvie - who was a doctor and a fierce activist during the dark days of the anti-apartheid struggle - is a shadow of her formidable self, but Sylvie has still retained her sarcasm and anger toward the she sent away. Somehow, Sylvie cannot draw her daughter close, even facing the looming threat of her own morality. She remains in the cottage of Afroze's childhood, frozen in a world where she surrounds herself in luxurious and garish indulgences, cared for by the fiercely protective Halaima, a Malawian refugee. Especially painful for Afroze is the love and affection that Sylvie showes Bibi, Halaima's pampered and precocious daughter - love which she could never give her own daughter. 
A moving novel about the complexities of family ties, The Architecture of Loss beautifully explores the ways in which the anti-apartheid struggle - a struggle in which the roles of women have been largely overlooked - irrevocably damaged many of its unsung heroes.  
.... and let's not forget about the kids! 
Sleep Well, Siba and Saba by Nansubuga Nagdya Isdahl and Sandra van Doorn
Forgetful sisters Siba and Saba are always losing something. Sandals, slippers, sweaters - you name it, they lose it. When the two sisters fall asleep each night, they dream about the things they have lost that day. Until, one night, their dreams begin to reveal something entirely unexpected ... With playful illustrations and a lullaby-like rhythm, this heart-warming story set in Uganda is truly one to be treasured.