In life there are certain expectations that we have. We expect things to work, like when we buy a car. Once the dealer has handed you over the keys to your shiny new Kia Sportage you expect it to start, drive and stop. You would want an explanation if you turned the key and it exploded instead. We also expect the waiter to get our order right. If you have ordered a pint of Carlsberg, how furious would you be if your attendant brought you a pint of disgusting Fosters by mistake?
Then of course we expect people to behave in certain ways. If we have a complaint, we want to be heard, if we are at the checkout paying for our weekly groceries then we expect the cashier to take our money with a smile and if we get into a taxi we expect not to be killed. But, time and time again in the UAE we are faced with situations when customer service is treated in the same regard as Jimmy Savilles' legacy.
It was commented on this week by a man with an important face that poor customer service is "costing the UAE millions of dirhams each year." An interesting statement, which is backed up by his following sentence "but we can't put a figure on it." How do you measure bad customer service and how on Earth could it ever be turned into a set of statistics? Customer service is important, that is unquestionable. But I don't see how the economy can be affected to such a level. If you went to a hotel and the concierge spat on your wife and then stole your suitcase, you would pin it down as a bad customer service experience. You would then go to another hotel and spend similar money on another room. No one cares about the individual business.
When I get home from work late every night, it is not unusual for me to be hungry. If there is nothing in the freezer then I will dig out the phone and turn to the local takeaway place. It is dreadful. The food, more often than not, is still wriggling in the bread, the mayonnaise has a most suspicious texture and if you listen carefully you can hear the jumbo shrimps barking. Then, of course, is the charming man on the phone. Never have you spoken to such a rude, useless and unprofessional imbecile. I am not making this up, and if you live in the Al Muwaiji part of Al Ain you will know the place I am talking about. He starts by answering the phone with "What?" Then he proceeds to be silent until one of us dies and not once have I ever been able to finish my request without him slamming the phone down on me. Remarkably, time and time again I still use this Hell hole for late night sustenance.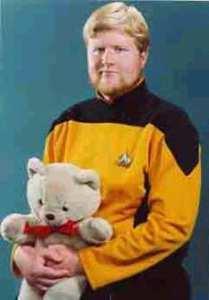 A Deluxe King room please.
I have stayed in many hotels and also met some grumpy-bums there, too. There is one hotel in Abu Dhabi where upon checking in I was told that my attire was unacceptable and that Star Trek tee shirts are not considered proper for such establishments. Was I put out by this? Yes, I like Star Trek and wanted to show it to the world. But was I thinking how bad the hotel was? No, it is a 5-star, spared no expense, wonder haven and obviously does very well for itself. All I had done was accidentally offend someone who didn't like Captain Kirk very much. I just accepted that the poor man was in a bad mood and it didn't change my impression of the hotel.
In many cases, the service industry employees are forced to smile and be amazing all the time and in theory that isn't too hard. But look at the reality, if someone is working in a crowded bar six nights a week with a live band that play to such deafening levels that your eardrums have been turned into a fine dust, and you live with three other workmates in the same room, and on top of that you are thousands of miles from your family then I guess you are going to have the occasional mood swing. I get that so I am sure never to judge an establishment by just one or two staff members. They are people too, and if they have just been yelled at by their boss for no reason, or they have been told that Captain Picard was better than Captain Kirk, then I will grant them some space.
If, however, after 18 months and the man in the local takeaway is still answering the phone with all the enthusiasm of a bored Nun and treating you with about as much respect as a 70's BBC presenter, then perhaps you should find somewhere else to eat late at night.
And if nowhere else is open, go hungry and prove the man with the important face right.