Sorry, I haven't posted the Quopic of the Day as much lately. As I told you before, there's been some drama at work and I seem to be caught in the middle (though I don't remember how).
Anyways, there's one scene which we think you might like as today's Quopic of the Day!
Are you ready?
Here's the Quopic of the Day for December 14th!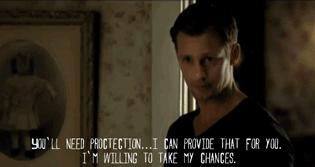 I loved this whole scene between Eric and Sookie…but there's one thing that I don't understand…how in the hell can Sookie say, 'no' to him? I know I would be saying, 'yes'!
What are your thoughts? Share 'em below!