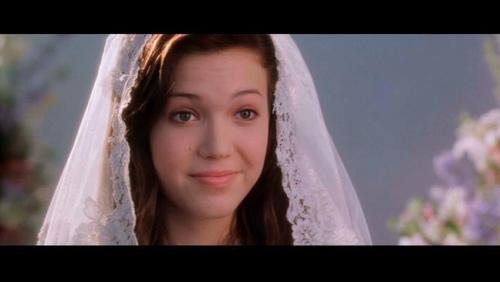 *from a diary found under my bed at my parents' house.
11/2002
TODAY SUCKED!! But I saw a really, really good movie that we got at blockbuster after school. I wanted to see it at the movie theater but it was PG-13 and mom wouldn't let me go, even though I'm practically 13. I'm in 7th grade, duh. Mom is like this about a lot of things. ANYWAY Mia and I rented it and the guy didn't ask us if we were 13 so we must look old. Mia's going to get her nose pierced.
But it's called A Walk to Remember and it has Mandy Moore in it who is so pretty with brown hair instead of blonde. And a much better actress than pop star. She's probably going to be really big now. So is Shane West, who played her boyfriend/the bad boy. So so handsome.
What I liked about it was that they seemed like normal teens who had problems (except her problems are WAY worse because she DIED) instead of rich teens in LA. It's a bit unrealistic that two teens would get married but it was sooooo romantic because it really proved how much he loved her. Granted, he knew she was going to die, so getting married wouldn't have too much of an effect on his future, but it was her dying wish to get married in the same church that her parents got married in. So that's pretty noble. I also liked the part where they starred in the school musical and Mandy Moore got dolled up, because they made her pretend to be ugly the rest of the movie…which is what I DIDN'T like.
Just because you're Christian doesn't mean you can't be attractive.
-Samantha Wilson (12)