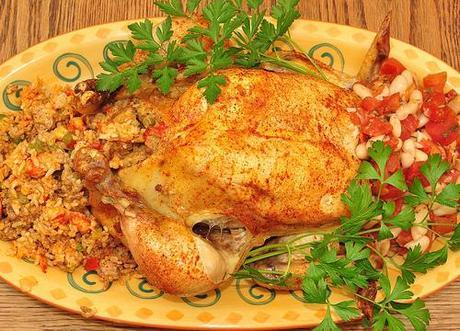 This bird was stuffed with a rice and crawfish stuffing. Photo by jeffreyw on Flickr.
Stuffing (or dressing) has been a crucial part of the traditional Thanksgiving dinner for generations. But that does not mean you have to always have the same old bread stuffing this year.
Whether you are cutting carbs for an Atkins, paleo, South Beach or other similar diet, or want to try your hand at a surprising and delightful new recipe for the Thanksgiving classic, or if you are just tired of bread stuffing, you will find something you like from these ideas.
If you are looking for an alternative stuffing for your bird, here is a list of ideas and links for Thanksgiving dressings with unusual but not unheard of ingredients. Feel free to experiment; these are organized by the main ingredient to replace the bread. There are certainly more variations you can do with each alternative.
Rice Stuffing
Rice is a staple all the world round, even more so than bread and refined grains. Using wild rice can provide an even more flavorful experience, with a texture rather unlike your old go-to stuffing recipe.
This highly-rated recipe from AllRecipes.com features two kinds of rice, and several fruits: apples, dried cherries, dried cranberries, and bacon. It's hard to write off a recipe with bacon in it. Hopefully it will help win over those at the Thanksgiving table that are die-hard cornbread stuffing fans.
Fruit and Nut Stuffing
My grandfather was a big fan of boxed stuffing. My mom was not. So whenever her father came to our house for Thanksgiving, he would grumpily and good-naturedly ask if the stuffing had nuts and berries in it.
We joked about making the whole dish out of fruit and nuts. Thanks to an increased interest in recent years in breadless, low-carb, and gluten-free recipes there are more variations on this idea. Here is one such fruit and nut stuffing recipe from SheKnows.com, complete with a variety of spices that complement the sweet and nutty flavor.
Sausage
Sausage is actually a rather traditional stuffing component, though you can certainly increase the sausage content to fill the turkey, or use something other than bread to fill out the recipe.
This sausage stuffing recipe uses butternut squash to be the starchy filler. From a site called PaleoTable.com, it's a pretty sure bet it will fit in with the dietary needs of those of you on the paleo diet.
You could of course use the sausage, herbs, some fruit, or nuts as the whole stuffing itself.
Beef
You can use just regular lean ground beef as the stuffing mix. Here is a recipe for a mostly meat stuffing that is sure to be filling and carb free, courtesy of PaleoDietLifestyle.com.
When doing an all-meat or mostly meat stuffing, plan accordingly and get a smaller turkey. Not only is the high-protein stuffing more filling, but it is also more expensive.
Turducken
I cannot talk about meat stuffing for your turkey without acknowledging the existence of the Turducken - a chicken stuffed in a turkey stuffed in a duck.
Of course, variations on this theme can include just stuffing the chicken in the turkey, or stuffing a smaller game bird in the the turkey (or the chicken!) and possibly stuffing everything into a goose.
Begrudgingly I include this as an alternative stuffing, though it seems to have less to do with flavor and taste and everything to do with bragging rights.
Beans
Beans are another readily available, inexpensive, worldwide food staple that can make a decent stuffing for your turkey. In particular garbanzo beans (aka chick peas) are the star of this breadless stuffing at AllRecipes.
Garbanzo beans are amazingly versatile, but if trying other beans I'd try a test run before Thanksgiving Day itself.
Cauliflower
Cauliflower has a very similar consistency to bread when baked. It's been used for gluten-free pizza crusts, and can definitely be used in a turkey stuffing.
Mark Sisson, who has written several books on the Primal Blueprint, posted this breadless cauliflower and mushroom stuffing for you to try.
Barley
Rather than use wheat bread or corn bread, try using another grain – barley! Barley itself is a full textured grain, making it a wonderful stuffing base.
Weight Watchers posted this barley stuffing with wild mushrooms and bacon that will dismiss any misgivings about ditching bread.
Potatoes
Mashed potatoes can be more than just a side dish! They can be the core component in your stuffing, if you are going sans bread this year. Or if you just really love potatoes.
This recipe is for stuffing a chicken, but will work just as well for stuffing a turkey on Thanksgiving.
Sweet Potatoes
Cornbread stuffing may be a southern tradition, but for an equally traditional southern food, replace the cornbread with sweet potatoes.
This recipe from FedAndFit.com uses cranberries to offset the sweet taste of the potatoes. It is also an incredibly detailed how-to on how to execute the recipe.
Couscous
This Mediterranean dish is like a tiny pasta, so it's not wheat-free. It is, however, a very different texture than your traditional bread stuffing that works wonderfully with spices and herbs.
About.com has a couscous stuffing recipe with currants, apricots and pistachios for a unique filling for your Thanksgiving turkey.
I cannot see any more Italian pastas making the cut as Thanksgiving dressing, but that is part of what makes couscous special.
Quinoa
Like the garbanzo beans, quinoa is considered a very healthy 'superfood.' This recipe uses it as the base for a Thanksgiving stuffing, along with mushrooms, pine nuts, raisins and apples.
Have you ever made a non-bread Thanksgiving stuffing? Let us know below!