Since it's Thanksgiving Day in the USA, we figured today's Quopic would feature something Sookie is thankful to Eric for!  Of course, this is going to be a quote from the books, because I can't remember a time when Sookie thanked Eric for something on the show. If someone remembers such a time on the show, please let me know in the comments below! Thanks!
Here's the Quopic of the Day for November 24th!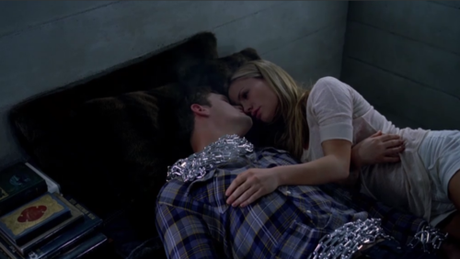 "It's much better," Eric said, and I gasped. I hadn't felt him rouse from his suspended animation.
Eric was wearing silk boxers. I would have figured him for a Jockey man.
"Thank you, Eric." I didn't care for how shaky I sounded, but an obligation is an obligation.
"For what?" His hand gently stroked my stomach.
"For standing by me in the club. For coming here with me. For not leaving me alone with all these people."
"How grateful are you?" he whispered, his mouth hovering over mine. His eyes were very alert now, and his gaze was boring into mine.
"That kind of ruins it, when you say something like that," I said, trying to keep my voice gentle.
"You shouldn't want me to have sex with you just because I owe you."
"I don't really care why you have sex with me, as long as you do it," he said, equally gently. His mouth was on mine then. Try as I might to stay detached, I wasn't too successful. For one thing, Eric had had hundreds of years to practice his kissing technique, and he'd used them to good advantage. I snuck my hands up to his shoulders, and I am ashamed to say I responded. As sore and tired as my body was, it wanted what it wanted, and my mind and will were running far behind. Eric seemed to have six hands, and they were everywhere, encouraging my body to have its way. A finger slid under the elastic of my (minimal) panties, and glided right into me.
I made a noise, and it was not a noise of rejection. The finger began moving in a wonderful rhythm. Eric's mouth seemed bent on sucking my tongue down his throat. My hands were enjoying the smooth skin and the muscles that worked underneath it.
Then the window flew open, and Bubba crawled in.

~Book 3, Club Dead
Whew, is it hot in here, or is it just me? We hope this was a good dessert substitute following your big feast.
While we're on the subject of things to be thankful for…we wanted to wish all of you, a Happy Thanksgiving! Hope you have a great day with your friends and family! There are many things to be thankful for this year – especially involving Eric & Sookie!
For instance, we should probably be thankful for Alan Ball for at least following the books enough to feature Eric's memory loss storyline in True Blood Season 4. (Even though it sucked at the end.) We should be thankful for the hard work both Alex and Anna put in, filming sexy Eric & Sookie sex scenes for us to watch over and over again. We should be thankful most of all to Charlaine Harris, who created Eric and Sookie to begin with, for developing their story like she has, and for continuing to write Eric and Sookie in a way which keeps us entertained and for making us fall in love with her characters! We are thankful and blessed to have met so many wonderful people (you) who love Eric and Sookie as much as we do!
What are you thankful for? Share your thoughts below!