Today's Quopic of the Day is brought to you by the Word of the Day from Yahoo Education Word of the Day!
Their Word of the Day is: scrupulous
Definition: acting with extreme care
Synonyms: just, honorable, moral, punctilious, careful
There are so many pictures where Eric (in particular) is acting with extreme care and being scrupulous! This is the one we picked! Hope you like it!
Here's the Quopic of the Day for November 23rd!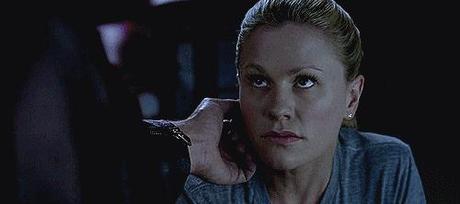 Love how both of them take gulps at the same time!
You may remember this from Season 3, when Eric was trying to pull one over on Russell Edgington. He was taking his time, trying to reassure Sookie everything would be alright – at the same time, trying to prolong it as much as possible. This was a momentous occasion for them, because he would once again taste Sookie's blood. Something he hungered for a long time.
Eric was acting scrupulous when he was touching Sookie tenderly, carefully, as if she would break if he touched her.
What are your thoughts? Share 'em below!