How to get your child wear a mask if it's mandatory for their protection?
What all to keep in mind while making kids wear masks?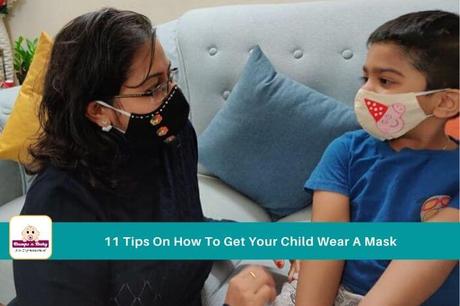 All of us are going through a very tough time, a time we never expected would ever exist. I guess every kid today is familiar with words like lockdown, quarantine, Corona, Covid, pandemic and what not, most of which we ourselves have come across for the first time. Things don't seem to stop nor are there any signs of it ceasing sooner. At this moment I remember the saying, "When Life gives you lemons, make lemonade" (not sure how long though).Having said, let us be optimistic, and follow what time demands us to. Let us take all the precautions for the good of others and self.
Coronavirus Face Masks- Why Wearing One Is Important
Earlier, it was told by the Centers for Disease Control (CDC) that the masks were meant for the ones who were symptomatic, as in for the ones who were coughing and sneezing or had fever. There were primarily two reasoning for the same:
It was a concern if people started hoarding masks that are in limited supply which is in huge demand by the medical staff.
Only N-95 respirators were believed to be efficient in getting away from this deadly virus. So the ones who wore it initially, were falsely assumed to be a victim of Covid 19.
But later, after a series of studies and proper scientific evidences to back the use of face masks, CDC has now recommended the mandate usage of the masks anytime you step out. Be it grocery shopping, or a pharmacy, don't forget your masks. But that doesn't mean you can ease out on social distancing or washing hands.
Masks are basically used to prevent and protect us from getting into direct contact with this fatal virus. A face mask, when worn properly, acts as a shield and reduces your chances of inhaling the virus. Lesser your change of inhaling the coronavirus, lesser your chances of getting sick.
Also wearing a mask by a covid-19 patient helps reduce the spread of virus to others. You never know if you are an asymptotic silent carrier of coronavirus, so for the society you wearing a mask becomes important even if your are not sick. Another interesting fact is that children can be silent carriers of coronavirus, making it mandatory for kids too to wear face masks.
Having said that, now the common concern of most parents is how to make your child wear a mask. Many of them find it difficult to convince their little ones to wear a face mask.
How do kids react to masks?
Like us, it is very new to them, so take it slow. It would be a little scary for them to see someone wear a mask as it covers half of your face. Kids always look for a welcoming and smiling face which the mask has limited now. So they not only find it unconformable to accept this change but also have built up a fear in the minds.
Few children are pretty fine with it and they seem to show good interest wearing it. It also varies according to the age of the child. Grown-ups are understandable and they adhere to the rules. Younger kids could be challenging. They might be reluctant, very cranky or might cry whenever they are supposed to wear it.
To be honest, one mantra that always works for me is Communication, I swear by it. To my four year old son Reyansh, I have always held his hand, looked into his eyes and spoken about things that need to be told at that moment. It has been easy for me that way.Plus I have used some tricks and tips to convince him wear face masks which I have shared here.
While keeping your child inside your home is the best way to protect them from this pandemic, if they have to step out of the house make sure they wear a mask. Here are the tips to get your kid wear a mask.
1. Talk
Talk to your kids about the importance of wearing a mask in an age appropriate manner. Make them understand in simple and easy words. This could be overwhelming but has to be dealt with smoothly.
2. Answer their concerns
As kids, they would have umpteen questions. Answer each of them. Explain them about how the virus enters our body, how will it affect us and how wearing mask will protect them. Be careful not to put a sense of fear in them while explaining all these. Keep it light and age appropriate, yet make it clear that precautions are mandatory.
3. Give time
Give them time to accept it. Let them observe and sleep over this thought of having a mask on their face. Don't rush onto anything as it might backfire. Kids, once they fear of something they take a long time to come out of it. So be patient.
4. Be a role model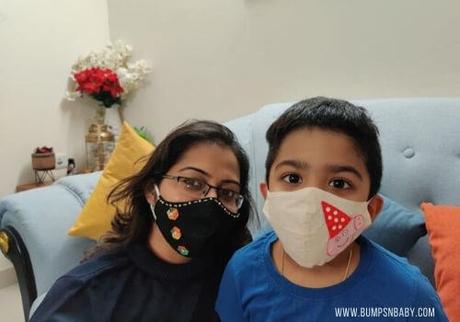 Ensure as parents who are always surrounded by their kids, do what they preach. Most of the children look up to their parents and try to imitate their actions. Hence, modeling mask wearing is very important.
5. Involve them in selecting masks
While buying a mask allow kids to select one. A number of online sites offer kid's face mask. Sit together and browse online to select one which your child likes. Help them select their favorite color mask.
6. Pretend play helps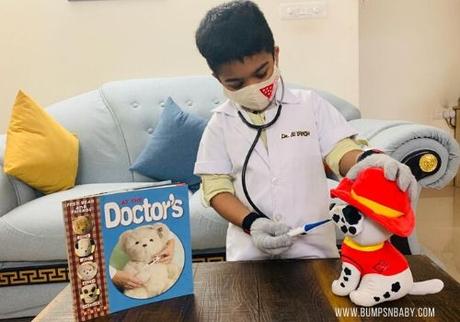 Do some fun role plays or pretend plays like having a doll wear a mask, or have doctor-patient play. These will make them at ease to start wearing it.
7. Make a DIY mask
A lot of DIY mask is trending now. Sew or no sew mask videos are ruling the internet. Try them out as a family activity. You can teach your kids about recycling by using your old tees to make the mask. But always s elect quality cloth materials as recommended by WHO guidelines while making the mask yourself.
8. Be creative
Getting a little creative works wonders. Try to have masks which are color coded with outfits or has cartoon characters on them. This makes little ones excited to get on.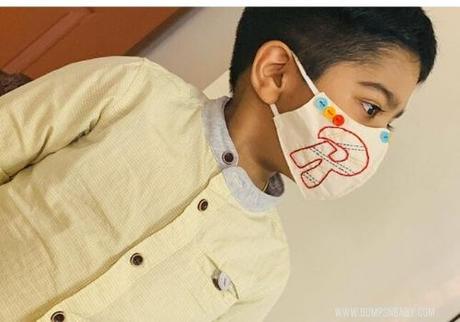 If you are making a DIY mask, have fun decorating the masks. Bring out your artistic brain cells to hands and create some amazing masks. Kids would love having their initials on the mask. I did the same for Reyansh and he loved it. You can use colorful buttons, sticker, some cartoon characters, and so on. Super hero masks are very much in light now.
Make sure that the extra design works or embellishments on the masks does not hinder the ease of breathing or compromise the primary use of the mask.
9. Proper fit
Most of the time ill-fitting masks will be the villain in making your child cranky and refusing to wear one. So select a proper fitting mask. Adult masks are a strict no-no for kids. Proper fitting masks will lead to less fussing and proper protection.
10. Use buttons or elastic bands
One of the main reason for kids refusing to wear a face mask is due to the discomfort or pain in the ears when the mask elastic is worn around the ear. Try using buttons attached to a hat or a headband and loop the elastic around the buttons rather than your child's ears.This will reduce the discomfort on pressure on the ears.
11. Keep hands occupied
Hand some toys like a small car or a doll to your toddlers so that their hands are always engaged and thus can avoid from touching their mask or placing their hands anywhere else.
A few points to be remembered:
No mask for kids below the age of 2. Kids this age can easily get suffocated while wearing a mask. Keeping them home is the best way to protect them.
Touching or playing with the masks should be a strict NO and kids should be told about the same.
If the masks happen to fall on the ground don't let your child wear it.
Wash the mask after every use in proper way if they are reusable ones.
While taking off the mask, assist your child to remove it from behind without touching the front
Ensure hands are washed before wearing the mask and also after removing.
Let us pledge together to beat this Covid 19. We will surely overcome this phase. Be safe and be at home as that is the only surefire way to come out of this situation for good. Never lose hope. There is always a silver lining. Let us remain strong and supportive during these tough days, for this is going to be a big story for our little ones as they grow up.
Hope my tips on how to get your child wear a mask is helpful. Do share your tips too in the comments..