Today's Quopic is an oldie, but a goodie! Long time visitors of ours, may have seen this one before…hope you don't mind seeing a repeat! For our newer visitors…we hope you enjoy it!
Are you ready?
Sorry for the delay…
Here's the Quopic of the Day for October 20th!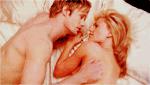 Sorry, this image is pixelated...wanted you to be able to see it better!
How many times have you watched this scene from Season 2?
There are 3 things I always think of whenever I watch it…
OMG…SQUEEEEEEE!!! ♥♥♥♥♥
Love how Eric's hand softly caresses Sookie's skin!
How many times will we be lucky enough to see something like this on True Blood?
Oops, make that 4 things…Look at the size of ASkars' hands!
Better make that 5 things…SKARSPORN!!!
If you remember, this was Sookie's fantasy she had in True Blood Season 2. (While laying in bed, next to Bill, no less!) It was after she had sucked the bullets out of Eric, when the FoTS bombed the house. Sure, Eric kind of manipulated her into doing it, but it was an important scene from the books. And even more important…Bill was nowhere to be seen until AFTER she had already tasted his blood!
Favorite quote from this scene:
"You're right…I believe I can sense her emotions."
Of course, this was after Sookie had told Eric off! LOL
What I was most disappointed; no Eric and Sookie, "your lips are bloody" kiss! Stupid AB…

What are your thoughts, whenever you see this scene from Season 2?
Share 'em below!