Maybe it's just me…and my mind is always in the gutter, but whenever I see today's Quopic of the Day, I think the nastiest of thoughts. Very perverted thoughts. Will you think the same?
We wanted to see how many think the same way as me!
Here's today's Quopic of the Day for October 19th!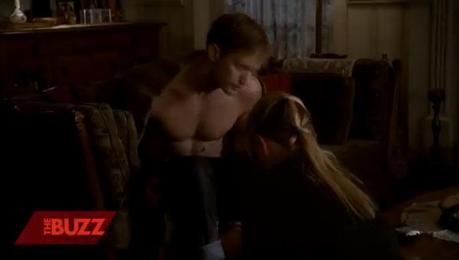 You may remember that Sookie is washing Eric's feet in this scene and Eric tells her that he thinks she's beautiful! ♥♥ Only to be interupted by Pam, who decides to barge in on a sweet scene between Eric & Sookie!
To me, the way this screen cap was taken, it looks like Sookie is bending down, kneeling and doing something else! Maybe something like this?
"That looks painful. Would you like me to nurse it?" I asked, in the coolest voice I could manage.

In reply, he simply growled. We switched places in an instant. I knelt in front of Eric, and his hands rested on my head, stroking. Eric was a sizable guy, and this was a part of our sex life that I'd had to work on. But I thought I was getting pretty good at it, and he seemed to agree. His hands tightened in my hair after a minutes or two, and I made a little noise of protest. He let go and gripped the couch instead. He growled, deep in this throat. "Faster," he said. "Now, now!" He shut his eyes and his head fell back, his hands opening and closing spasmodically. I loved having the power over him; that was another thing I loved. Suddenly, he said something in an ancient language, and his back arched, and I moved with increased purpose, swallowing down everything he gave me.

And all this with most of our clothes on. "Was that enough love for you?" he asked, his voice slow and dreamy.

~Dead In The Family (Book 10)
Eric may not have had his memory loss at this point of the books, but it best describes, where my thoughts go; when seeing the Quopic of the Day!
What are your thoughts? Are you as perverted as me? Share 'em below!
Advertisement
Eco World Content From Across The Internet.

Featured on EcoPressed
OM in the News: Water as a Sustainability Issue