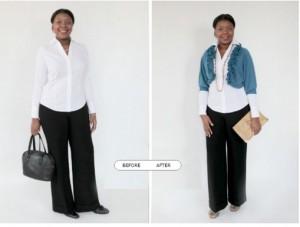 Do you live nowhere near New York City but dream of having a NYC stylist come to your home and make you over?
Think it isn't possible?  Well, it actually is.
Through the power of technology, I have been able to offer virtual style makeover sessions to clients all over the world.  If you're looking for wardrobe help, have items in your closet that are just hanging there doing nothing or are tired of feeling blah wearing the "same old, same old", for as little at $100 you can be on your way to looking better in an hour.
Right now, for a limited time, I am offering a great deal on my Virtual Style Services that can get you an hour with me for only $100 (normally $175).
What Happens During a Virtual Style Makeover Session?
Prior to your Virtual Style Session, I review images and photos of your wardrobe pieces in question.  

24 hours before our virtual session, I send you a report that includes an analysis of your pieces, shopping suggestions and advice on how you can make your wardrobe even better.

Lastly, we spend an hour over web cam reviewing your report, I answer any additional questions and you can use the time to show me any other wardrobe pieces in question.
No matter where you live, I can come to you via your computer!
Interested?  Click here to buy this deal today or buy and share it with your friends to get an additional incentive!  This offer expires March 13th, 2013.