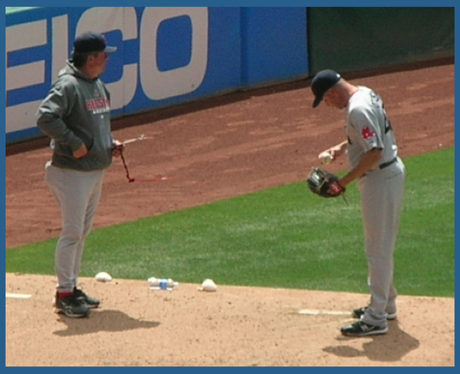 1. Have a game mindset.  A pitcher is going to have to do a lot of thinking during games so it's in their interest to practice that same thinking during their bullpen session.  Run game-like scenarios in your head and pitch accordingly.
2. Location. Location. Location.  Be fanatical about hitting your spots.  If you are trying to hit the outside corner and it ends up over the middle of the plate, your inner voice should say "You didn't hit your spot.  That's a line drive in the gap."
3. Kill the outside corner.  Own the low and outside corner.  Be able to hit that part of the plate with a fastball at any time.  Greg Maddux made a career doing that.
4. Don't forget the inside corner.  To be effective on the outside part of the plate a batter must know that you can come inside for strikes as well.  If you can't then the batter only has to cover about 9-10 inches of the plate.  He will dive over the plate on every pitch and take away your ability to do #3.  Hit the inside part of the plate for a strike and the batter will now have to cover the entire 17 inches.
5. Throw inside for effect too.  There's "inside for strikes" and then there's "inside for effect."  Both are important and therefore have to be practiced.  This DOES NOT mean learning to hit people.  Inside for effect means the ability to throw the ball just off the inside corner of the plate to get his head/eyes to move AWAY from the plate.  If you can, the outside corner is yours.  Practice hitting that imaginary spot just below the batters lead elbow.  If he doesn't move, the ball still shouldn't hit him.  He'll move, though.  Click HERE for more info on throwing inside for effect.
6. Mix in a pitchout.  Ever watch young pitchers (and even many older ones) try to throw a pitchout?  It's ridiculously bad.  That's why you have to practice it.  Throw a pitchout every tenth pitch or so and give yourself a chance to work on it.  Click HERE for a post I did on that topic for pitchers.  HERE is another written one for catchers.  HERE is a video for catchers.
7. Use stand-ins.  You are going to have to throw to lefties and righties in the game so you need batters to stand in during some of your bullpen sessions as well.  Make sure they wear a helmet.
8. Use signs.  Once again, you do this in a games so do it in practice.  Pretend there is a runner on second base and switch up your signs too.  Click HERE for options on some different ways to give signs.
9. Throw from the stretch.  True pitching occurs in the stretch.  The mark of a good pitcher is how they pitch when there are runners on base with the game on the line.  Of course, when that happens in a game, the pitcher will be in the stretch.  That's why you should be pitching more from the stretch in practice than from the wind-up.  W's and L's will often depend on how you throw from the stretch.  Click HERE and HERE for more information and tips for the stretch.
10.  Measure your progress.  Chart your pitches.  Calculate percent strikes, 1st pitch strikes, etc. to measure your current performance and improve your ability to set goals to guide your future workouts.  See below for info on an eBook I created called The Four-Week Guide to Developing Pitchers For Game #1 to help with that.
---
*To plan for the upcoming season, check out all the eBooks from Baseball By The Yard by clicking HERE!
*My Four-Week Guide to Developing Pitchers For Game #1 has been a big hit!  Get it HERE!  It's less than 5 smackers which makes it a pretty ridiculous deal.
*Getting ready for indoor workouts?  Click HERE for a eBook to get the most out of them!  This one is FREE which is even more ridiculous!
*For practice templates, workout routines, and much more, go to the Resource page!