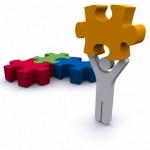 Stakeholders, consultants and project managers have all made up their personal opinion about the ultimate causes of failure of IT projects. Here are some good ways to make sure a project will not take off! (In no particular order):
Ignore the environment (in particular stakeholders)

Introduce a new technology in a market too quickly

Don't worry about establishing fall back options

Don't nurture new ideas

Don't bother organizing feasibility studies

Never admit project is a failure

Over manage project managers and their team

Don't worry about conducting post-failure reviews

Don't bother to understand project trade-offs

Make sure that a project is run by a weak and inexperienced leader
SOURCE: Pinto, Jeffrey K.; Kharbanda, Om P.: How to fail in project management - without really trying; in: Business Horizons, Vol. 39 (1996), No. 4, pp. 45-53.
The Litcom Approach
For more information on how Litcom can help you (the right way!) with your project management needs, please check out: http://www.litcom.ca/2012/11/7-tips-for-project-management-success/ or contact us at: [email protected]