Are you thinking of starting your own nail salon? Well, starting a new business can be daunting and at the same time challenging hence you need to be mentally sure of how you want to go about this hence we have listed here a few tips that will help you start your own salon.
1. Become an Expert in the Field:
Without knowing the basics of being a nail artist, you cannot run a business blindly by hiring a few nail experts. To run a business, you need to be an expert first hence get a formal education from Styleandmakeup.dk to become a nail technician, gain some experience in his field by working for some reputed brands so that, you can create your own business strategies and plans to set up your business model.
2. Look for Funds & Finances:
Starting a nail salon is not cheap, hence you need to think about finances before you proceed with any further plans. You can either save funds by working as a nail artist for a few years and gain some experience as well. You can also look for funding's from investors or loans from the bank to start the salon.
3. Choose an Ideal Location:
The nail salon needs to be located in such an area where the people from the locality can afford your services as there are many nail salons in the city hence do not target the entire city, focus on local customers first.
4. Aesthetics Is Important:
A nail salon is all about making your customer look prettier hence your salon needs to reflect the same value as it reflects your taste hence focus on the aesthetics carefully.
5. Invest in Quality Equipment and Furniture:
You cannot skimp on the basics to become successful, hence do not hesitate to invest in the best equipment and comfortable furniture for the salon.
6. Hire Skilled Employees:
More than experience find skilled employees who understand the importance of customer satisfaction. Their thoughts should resonate with yours.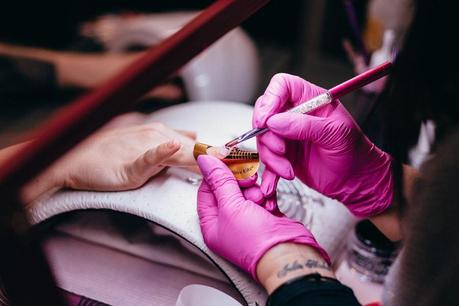 7. Care for Your Employees:
Once you find the right mix of employees, your focus should be on holding them in your salon as it is common that good nail artists find better-paid opportunities in other salons. Remember, if an artist goes away from your salon, they take away their clients too hence focus on maintaining employee satisfaction.
8. Remain Consistent:
It may take some time for your business to show profits, do not lose your motive till then. It is important to stay consistent in new business for its success.
9. Use Free Social Media Marketing:
You need to promote your business on various social media platforms. Make sure to select the right demographics as you need to target the local audience only, especially when you have opted for paid advertising. Instagram is great for advertising your work as it is all about attracting customers through images.
10. Keep Expense Records:
You need to maintain a record of all the expenditures and income to understand if the cash flow is positive or negative this will also help bring necessary changes to maintain good positive cash flow.
Starting your own business is a dream that many people wish to accomplish but not everyone becomes successful hence you need to be strategic as well as an expert to succeed in the field of nail art.