Design is everywhere around us, whether it's natural or man-made. Although no one can transcend nature when this scene pleasing beauty, we humans are performing our best. By the time you go back to sleep, you see thousands of graphics around you. From cartons of your milk to your commute signage, the world's graphic designers have you covered!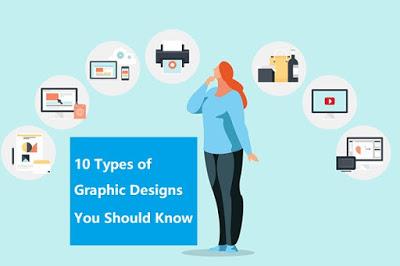 To classify the different types of designs you see in your daily life, we're going to divide them into 10 broad categories -
Production Design
Have you noticed that coming out of the Coldplay concert will give you a"Additional Feel special? While 80% of its stuff is music (and we're not denying it), the 20% feel-good factor is the stage design that resonates with every fan and helps them get the exact experience they were expecting from music – the thrill of a lifetime! Production design includes visual elements used in stages, sets, movies, concerts, etc.
Advertising
Are you guilty of buying a product because its ad actually made you? Like the iPhone X coming right out of your Facebook newsfeed, showing how fantastic it is, and how you really need it in your life, and how miserable your life will be if you just don't go and buy it. Have been launched so that you start to remind you of the launch date, and save your money? Well, that's the perfect ad with perfect graphics (and communication, don't forget our copywriter warriors here).
Product/Package Design
Have you ever preserved the box of your newly purchased phone or earphones because it looked good? Blame it on the diligent graphic designer, who lit the midnight oil designing images, stickers and used the right colors, cuts and textures.
Environmental Design
Environmental design is a discipline that touches on many different types of graphic designing. Ultimately, these designers are focused on giving their audience a great experience. They connect people to places because the person's time spent in a certain environment can be memorialized if it's interesting, easy to navigate and informative. An environmental designer often has experience or background in architecture because the environment surrounds everything from design graphics, landscapes, interiors and other architectural elements.
Video Game Art
There's a reason why GTA has more fans than Battlefield, and that's the reason... Graphics (and plot, but let's not be honest, it's graphics). No detail is required in this category, just a GIANT salute for our video game graphic designers.
Publishing
One of the more common types of graphic design is editorial design, which deals with publications such as books and magazines. Publishing designers create layouts, covers and graphics for editorials to understand the author's vision and message for their work. With the rise of online publishing, editorial designers are not limited to working on print media. Online newspapers, magazines and eBooks all need to design layouts, covers, editorials and graphics to the rough.
Digital Design
Digital design refers specifically to what is built and built to be seen on the screen. It can include many different types of web designs from the UI (a user interface found on websites, games and apps for 3D modeling). A digital designer concerns himself with the visual elements of his digital experience. Things like button size, color and placement all fall within their ambit. They will often work hand-in-hand with UI developers who write program-writing code.
Lettering/Typeface Design
If you've ever immersed your foot in the planner and bullet journaling community, you've been introduced to the art of e-journalism. In fact, many stationery addictions are the many tools needed to create stunning works of art using this type of graphic design and a widely written term. Typeface design requires working knowledge of typography, which, based on this, is the science of letter writing.
Corporate Designs
The Starbucks logo on your coffee mug, the yellow meats at the back of your bag, the apples eaten less than half behind your phone, all corporate designs are very finely making room in your daily life. What are the visual identities of organizations and brands such as logos, fonts, colors, etc. corporate designs?
Signage
Imagine Times Square, what's the thing that kills you first? Life bigger than hoarding! And that's it, you've answered it for yourself, commercial and public signage such as billboards, murals, street signs, etc. fall under the 'signage' category of graphic design.
Conclusion
Codeaxia Digital Solutions is a ecommerce SEO services company in Delhi, India we help you select the right channels for your business like Email Marketing, PPC, SEO, SMM, Content Marketing, Affiliate Marketing, Influencer Marketing, Online Public Relations, Video Advertising, LinkedIn Advertising, Mobile Marketing and Marketing Automation.