Maroon 5 has been announced as the Super Bowl LII halftime headliner, and a lot of people have feelings about it.
Some football fans are fine with it because they're more concerned with which two teams will meet in Atlanta to play for the Lombardi Trophy. And some music fans are fine with it because the halftime show (while sometimes spectacular) is a 15-minute show that is more spectacle than substance.
But some folks on both sides of the ball aren't jazzed, and that has us wondering who else we would have booked into that spot if we were given the opportunity to make it happen.
Note: With Girls Like You becoming a smash hit, don't be surprised when we find out that Cardi B is joining Maroon 5 at halftime.
We've got a list of 10 halftime show artist suggestions that we think would make for BIG shows that would be a lot of fun. One of the shows we've filled all the way out, inspired by Super Bowl XXVIII (1994's Rockin' Country Sunday) and the combo of Clint Black, Tanya Tucker, Travis Tritt, and The Judds. One is inspired by a current tour. One is a cross-genre combo that we think would be a hit. And the other seven suggestions are solo acts or bands that we think deserve a shot if they want it.
10 Super Bowl Halftime Performer Suggestions
Foo Fighters have never played the Super Bowl halftime show. That's nuts.
They may be the biggest rock and roll band in the world. They have played just about everywhere, and we'd watch them play anywhere. So why not get them on stage to bang out some of their biggest hits.
It would make for good TV and live fun, and we know Foo Fighters' music goes well with football thanks to the inclusion of My Hero on the Varsity Blues soundtrack.
This slideshow requires JavaScript.
Take two Georgia boys (Jason Aldean and Luke Bryan) and add in tourmates and superstars, Miranda Lambert and Little Big Town and you end up with seven stellar country artists that can do it on their own, or come together to bang out some big hits together.
The south and country music love football, so why not make this one happen at some point?!
She's one of the biggest stars in the world. She fills stadiums already. She's got hits. She does choreography. She puts on a show.
And while she may not be a football pick, neither were Lady Gaga or Katy Perry, and they made it work.
We're all in on T. Swift. Someone make the call.
This slideshow requires JavaScript.
They're together on the Mountain High tour together, and came together on Burning Man, so why couldn't Dierks Bentley and Brother Osborne play a Super Bowl halftime show together?
With Bentley's star power, John's guitar chops, and TJ's baritone voice you've got a country music trio that could make for a helluva set. We'd watch it.
Her latest album, Sweetener, is packed with jams and his a huge hit. Dangerous Woman was too. Ariana Grande is a young, energetic, powerful pop star. No doubt about it.
Get her on the stage in the middle of the field and let her show off all of the reasons that America and the rest of the world love her.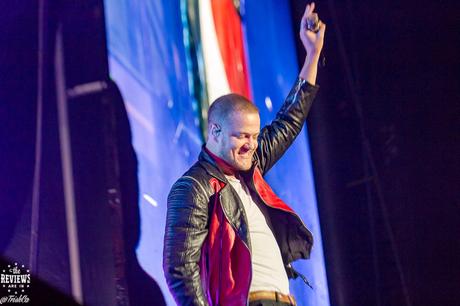 Imagine Dragons are HUGE.
They hit the stage with a lot of energy, and their fans love their music. They have hits, and they have swagger. They connect with the young audience that we're sure the NFL and perennial sponsor Pepsi want to reach.
That's a lot of boxes checked off for Imagine Dragons, and with the right supporting act on the stage with them, we can see this working.
It would be foolish to put together a list like this and not include at least one absolutely legendary act.
Yes, we know that it's never truly 100% the Eagles since the passing of Glenn Frey. But, with his son Deacon in the fold, and Vince Gill joining the legendary Hotel California rockers, this is still an in-demand live show. Book it.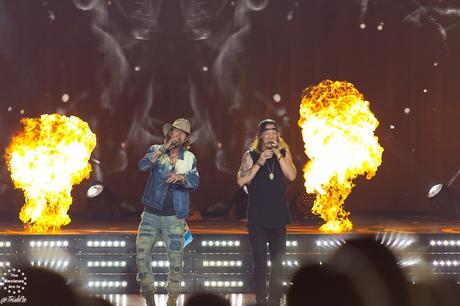 Say what you want about Florida Georgia Line, but the fact is that they are hit makers and stars. They have crossover appeal and success. And they know how to perform for big crowds in the bright lights.
BK and Tyler could bring Nelly out for Cruise. They could bring out Bebe Rexha for Meant To Be. Or they could just roll out their massive hits on their own. They know what to do, they just need the chance to do it.
This Canadian pop star is making waves everywhere. And ya, add him to the list of artists you don't think about right away when you think about the NFL, but he did play at this season's kickoff event and broadcast.
His star is only shining brighter. He's only getting bigger. He's charismatic and charming. He's smooth as silk when he sings his songs. He's got it all, and we'll be surprised if he doesn't play the Super Bowl and Grey Cup before his career is over.
We promised a cross-genre combo, so here it is. Bon Jovi are legends on their own but add Sugarland, and you reach a lot more people and make things more current.
You'd get great hits from start to finish, and right in the middle, we could get everyone coming together for 2005's Who Says You Can't Go Home.
Ideally, Richie Sambora would be on stage with everyone else. That's the version of Bon Jovi we want and need.