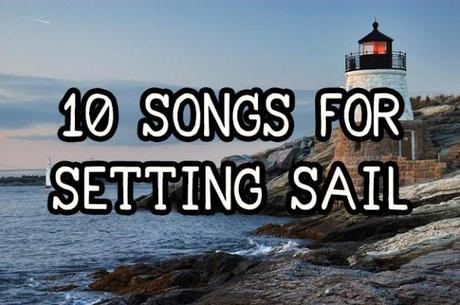 I come from a landlocked state, so sailing is something infinitely exotic and exciting to me. Even for those who grew up on the water, though, there's a special allure to sailing. It's freedom in one of its  purest forms — it's stunningly beautiful plus it's easy to jump into the water and cool off! In celebration of the fact that we are about to set sail on our own little adventure at Newport Folk Festival, we've come up with a playlist every seafaring adventurer needs.
 1) Tennis — Take Me Somewhere
The most quintessential album about sailing that's not old pirate shanties has to be Tennis' debut, Cape Dory. With their sweet, three-minute, retro-feeling pop songs, they get across everything that is so charming about being on a boat. "Take Me Somewhere" kicks off the record with a sense of wanderlust and adventure, and it's sure to kick off your trip the same way.
2) The Walkmen – Heaven
Another sweet, guitar-heavy track that's perfect to listen to while staring at the sky or sea or that giant shark that's just out of the corner of your eye. Bonus: The Walkmen frontman, Hamilton Leithauser, is performing at both Newport and On The Boat!
3) Death Vessel (feat. Jonsi) – Ilsa Drown
Another gem from an artist playing our On The Boat sessions, this arresting track rumbles along with it's stunning orchestration and the breathtaking voice of Jonsi. It also talks about drowning which is 100% more likely to happen out at sea than on dry land.
4) Wilco – Sky Blue Sky
Wilco frontman Jeff Tweedy is also at Newport this year, and hopefully he'll play this breezy track off the album of the same name. "Sky Blue Sky" straddles the line between bittersweet and misty in the perfect way – it's enough to make even the most seasick voyager stop and look up at the endless sky.
5) Kishi Bashi – Carry on Phenomenon
No outdoor anything is complete without a Kishi Bashi song, and this one off his sophomore album, Lighght, has the buoyancy and loveliness to sweep you away.
6) The Decemberists – The Mariner's Revenge Song
Listen, at a certain point you gotta stop the idealizing and remember that the sea can be a dark, dangerous place. There's no one better to remind you of the darkness of your endeavor than The Decemberists.
7) Blonde Redhead – 23
This song has nothing to do with the outside or oceans or anything related to the list. It is a gauzy soundscape that at least reminds me of ocean spray, and honestly, that's enough to put it on the playlist.
8) Lucius – Two of Us on the Run
Hey, look! Another band that will not only be playing Newport but will also be setting sail with us — awesome! This track is perfect for just pulling up anchor and going. After all, if Arrested Development taught us anything, it's that you should run away on a boat (and the blue on the map is obviously land).
9) XTC – Summer's Cauldron
With its birds chirping and bugs buzzing, this is a must for any summer playlist — especially one that takes you away from the land and makes you wish to drown in summer's cauldron.
10)  Broken Bells – Sailing to Nowhere
As you point to the horizon, throw on some Broken Bells and just let yourself go.
Bonus: Christopher Cross — Sailing
You thought I would leave this perfect gem of yacht rock out of a sailing list?! What am I, a monster? Listen and realize all of your dreams.