Boots & Hearts starts Thursday afternoon with the Coors Banquet Kick Off Party… and while some of the hardcore fans/campers/partiers are already in the gates – the majority of us will make our way up in time for The Reklaws at 5pm.
To get us all ready at the last minute (in case you aren't already pumped right up) we've got a list of 10 reasons we're excited for this year's festival!
The Venue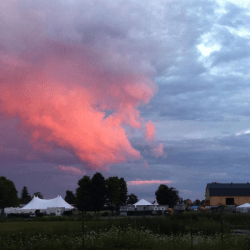 We've already had the luxury of touring around the Burl's Creek park during WayHome, and it's pretty awesome. We know there will be some changes made to the grounds from 1 festival to the other, but if the Main Stage and the Front Porch stage are where we think they will be, it's going to be just fine.
There's also a ton of room for bars, porta-potties, food trucks, water refill stations, lounging in the sun or the shade, and dancing to the music.
We can't wait to get inside and check it out again.
The Headliners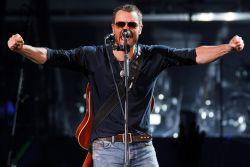 Brad Paisley, Eric Church, and Florida Georgia Line are big names who play big stages in front of big crowds – and Boots & Hearts will give all three of them that opportunity.
All 3 acts also have impressive libraries of music that the fans will be to sing and shout along to throughout the sets, and that always makes for a good time.
We're guessing that Eric Church's set will inspire the more whisky to be consumed and the most smoke clouds to rise – and Florida Georgia Line will give us the most pop from the young crowd, particularly the ladies when they take the stage and start playing their brand of good-time party country music.
The Emerging Artist Showcase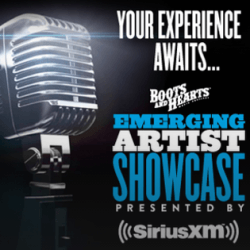 In Year 1 Tebey won the contest (and Tim Hicks finished 2nd), in Year 2 The Reklaws took home the grand prize, and in Year 3 our pal Trinity Bradshaw claimed the title… so who will win this year?
The answer is… we don't know.
Here are the contenders: James Barker Band, Eric Ethridge, Leanne Pearson, Johnson Crook, Tenille Arts, Birds of Bellwoods, Ray Gibson, and Travis Wood.
Good luck to all of the finalists, winning this thing can go a long way to kicking off a career!
The Women on Stage
When this year's lineup was announced we were impressed and excited at the number of female acts that were included. Last year's number was really low, but now we're back!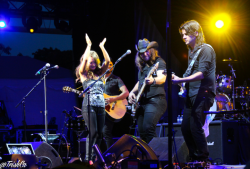 The Reklaws, Jess Moskaluke, The Stellas, Lennon & Maisy, Maddie & Tae, Small Town Pistols, The Lovelocks, MacKenzie Porter, Kira Isabella, Leah Daniels, Trinity Bradshaw… and more awesome and talented women will being singing songs for us from Thursday to Sunday and we can't wait to hear them.
The women of country music deserve every play and stream and download they get – so pay attention this weekend and find a new favorite.
Little Big Town
Dallas Smith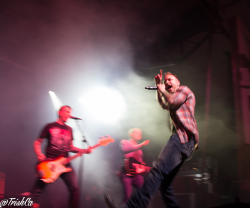 Yes, we were very excited to see Little Big Town before the announcement was made that they wouldn't be able to play the show…
BUT, we are very excited for Dallas Smith to take that slot opening for Eric Church on Saturday. Not only because Lifted is an amazing album and the show is going to get people ready for the headliner, also because Dallas is a good dude and deserves the chance to give us some Canadian content in a prime spot.
The Fans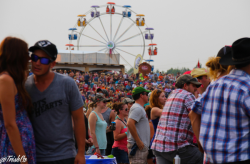 This festival is special for 2 big reasons – the talent on stage and the fans in the crowd.
Every year more people show up and sing and dance and drink and camp and have a great time. And we're looking forward to 2015 being no different.
Yes, you'll see people that are too drunk to function, and yes, someone will pass out and look silly… and maybe a couple dudes will try to start a fight, but with an expected 35,000 in attendance we're expecting the same good 'ole country fans to show up and be awesome.
The Camping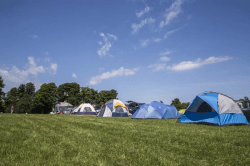 Speaking of the fans, a lot of them will be camping. And while we won't be among them, we're looking forward to the stories from those of you who are.
As of Wednesday afternoon it seems a whole whack of people have set up camp and cracked open drinks… so the party is already starting.
Just be safe in there. Be smart. Have fun.
The Late Night Dance Parties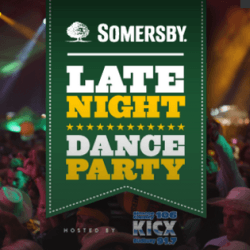 All 4 nights of the festival will feature a late night dance party at the Front Porch Stage. The music starts at 11 with sure highlights coming from Thursday's White Out party and Sunday's Foam Party.
We can't wait to see the action and everyone's Instagram pictures after!
Seriously, tag us or tweet at us or something with your pics. We're sure they're going to be awesome!
The CanCon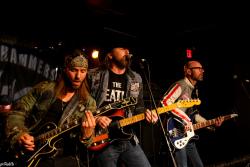 As we've said, this lineup and stacked – and a lot of the talent in 2015 is Canadian. We LOVE that, and we're proud of it.
We're also excited because acts like The Road Hammers, Chad Brownlee, Small Town Pistols, Emerson Drive, Wes Mack, Leah Daniels, Kira Isabella, The Stellas, and High Valley all put on a great show, and we'll be there to see them to their thing.
Shout out to Emerson Drive btw. The boys stepped up at the last minute to fill the vacant spot that was created when Dallas Smith slid over to cover for Little Big Town. Well done boys, it was the good Canadian thing to do.
The Thursday Night Kick Off Party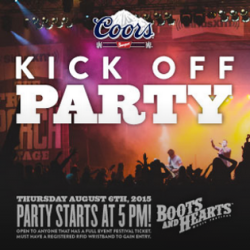 The party starts Thursday night thanks to Coors Banquet! 5 acts, 6 hours of country music, and a whole lot of fun are coming – and we can't wait.
Really, it's true.
2013 and 2014 both gave us awesome kick off parties with acts like Brett Kissel, Dallas Smith, Tim Hicks, and Emerson Drive – and this year shouldn't be any different.
Be ready for The Reklaws, Jess Moskaluke, Old Dominion, Blackjack Billy, and The Road Hammers to put on the biggest Thursday night at Boots & Hearts yet.
See y'all soon.
Work Hard. Play Harder. Be Awesome!