2014 is off and kicking now and even though I still have a lot of back log to clear, which I intend to spend most of January and February on, it is time to look forward
to what 2014 might have in store for us in terms of cinema. I was planning on posting this earlier last week but I was under the weather almost whole last week. Now that I am back to the normal world once again and people are still in Golden Globe mode, lets get this ball quickly rolling.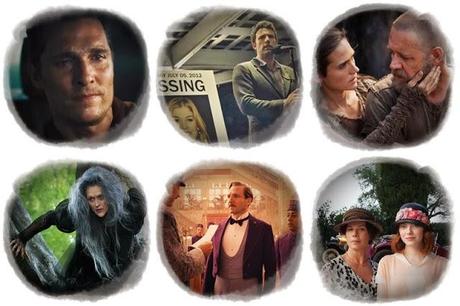 Magic in the Moonlight
: I am sure everyone is saying only one thing about this movie - looking at Woody Allen's recent track record, this is going to be a dud. I even agree with it but you can always hope, right? ore for the sake of Emma Stone than Allen really. Not that she needs a hit desperately but she is someone I think has a good sense of both comedy and drama. So she should work.
Veronica Mars
: Everyone remembers the legendary kickstarter project that, well, kick-started this production, right? I have seen every episode of this series and I liked snappy, intelligent,  wise-cracking detective of Kristen Bell. But I had my doubts about the whole thing from start, especially regarding how are they going to cope for all the years that passed. The trailer that just dropped took care of that. So, yeah, I look forward to meeting Veronica again.
The Grand Budapest Hotel
: If there is any other director with more distinct style than Wes Anderson, I do not know about it. In truth, he is not even close to being one of favorite directors and he probably never will be and his style doesn't always work for me. But look how pretty! I wish I could offer you more substantial argument in it's defense but that's all I got. I want to see it because his films look pretty. I can do that, right?
Dawn of the Planet of the Apes
: Because first one was so awesome. They have made a few changes but I think Matt Reeves doesn't look like a bad option to help this project and Gary Oldman is always a welcome addition. No James Franco though. We will just have to assume he didn't survive that plague I guess.
Into the Woods
: Initially I wasn't stoked for it or anything but as I found out more and more, it got me interested. First it is to have Meryl Streep and Emily Blunt in it, secondly they'll be singing. Third was that crazy picture of Streep as witch. Last straw was when I went to the IMDb page and saw Anna Kendrick among the cast. Yup, her singing sold this movie to me. I know this could very well be disaster but I am willing to give it a chance
for her

.
Transcendence
: I know it is directed by Wally Pfiser. I know it has amazing cast of Rebecca Hall, Morgan Freeman, Cilian Murphy, Paul Bettany and Kate Mara. I know the trailer looks good and definitely has me interested in what it brings to the table. But to tell you the truth, what I really want to see this film for is to see Johnny Depp playing a regular guy. I mean, I've almost forgotten that he is a normal human.
Gone Girl
: Next four films on this list are there for one and only one reason - the Directors. Everything else is secondary. I have seen every film all these directors have directed so far and I have no intention of breaking that streak. I am not over the moon for it's casting but it has
David Fincher who certainly knows what he is doing and

an interesting storyline to look forward to. And it has New Batman!!(I probably shouldn't have mentioned that. Sorry!)
Noah
: Reason here is Darren Arofonsky. Once again, it has an amazing ensemble capable of taking any story to another level. Arofonsky has the capability to handle the scale of this project and from the first looks of it, it certainly looks like something worth waiting for. And it has Jennifer Connelly in it. It feels like she fell off the grid after... Blood Diamond(2006)? So it's nice to see her getting back into the game.
Inherent Vice
: Paul Thomas Anderson! I really won't need to know anything more but I have been doing some reading and this story looks really interesting. Obviously, knowing PTA, he will write his own screenplay which gets me even more excited to see how he puts it on paper. The whole setting of 1970s, California, Drugs, none of it is new to him but makes for prospects of interesting film I will be waiting eagerly for this year.
Interstellar
: It's "Directed by Christopher Nolan" right? Whatever else would you need?
Of the 10 movies I chose last year, I have only seen two so far. One of which is in my top 5 while other one might end in bottom 5. 2 more have been shifted to 2014 and I could have chosen them again for this list but what's the point, right? 4 are generating major awards buzz and I intend to watch one of them tomorrow. I have no idea what happened to the rest 2. So did I choose wisely? Only time can tell.
What are you looking forward to in 2014 people?