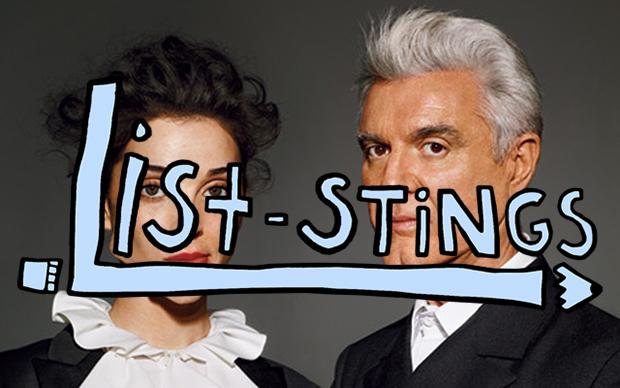 Last year, the primordial pop culture soup belched up an abomination in the form of Lulu, a collaborative effort between Lou Reed and Metallica. It made no sense. There was no reason for it to exist, unless maybe it was made on a dare. So in the interest of making the universe feel like a place of order and sanity, here's a list of inevitable musical collaborations. These are songs, albums, and side projects that are not just good, but also make the world feel like a rational place to live.
1. "Under Pressure"
There's no way "Under Pressure" couldn't have been made. David Bowie and Freddie Mercury, arguably glam rock's two greatest figureheads, just had to make an amazing song together. In fact, Queen initially asked Bowie to come record backup vocals on the song "Cool Cat", but when they were unhappy with the results, they scrapped it and just sort of blurted out "Under Pressure" in the meantime. Amazing.
2. "Fall Creek Boys Choir"
"Fall Creek Boys Choir" represents the marriage of indie music's weepiest boys. Bon Iver's plaintive howl rests comfortably inside Blake's cold, computerized beats, creating an R&B-inspired masterpiece. Plus, there's a fun owl hoot sound peppering the track, which is pretty much the greatest thing either of them has made.
3. Watch the Throne
Yes, Jay-Z and Kanye West worked together before Watch the Throne. West was Jay-Z's longtime producer, and Jay-Z was featured on a number of Kanye's tracks. Watch the Throne, though, marks one of the first times Jay-Z seemed like he really gave a shit when it came to their collaborations. He stretched himself beyond just listing different types of monsters, and actually sounded like he was having fun. Maybe if JT holds out long enough, he could get a decent verse out of HOV too.
4. Swan Lake
As a supergroup, Swan Lake makes all the sense in the world. It's a collaboration between three of the biggest wailing vocalists working today, and a lot of their output borders on total cacophony. Occasionally, however, all of the noise forms a sum that's greater than its parts, like the aching drone of "All Fires". These transcendental moments make the wait between new Destroyer and Sunset Rubdown albums worth it.
5. "I've Seen It All'
Since Bjork and Thom Yorke for the soundtrack to Lars Von Trier's Dancer in the Dark, it actually represents the coming together of three of the weirdest visionaries in pop culture today. Plus, if you're in the mood for a strong cry followed by a prolonged feeling of hollowness, go ahead and rent a copy of Dancer in the Dark. It will tear out your insides.
6. Traveling Wilburys
Someone may as well have said, "Hey, every cool guy from the sixties. Want to be in a band? Oh, also Roy Orbison is here." And thus the Traveling Wilburys were born. Unfortunately, Orbison passed away shortly after the release of their first album, which cut their existence fairly short. It was fun to see these guys put out something decent in the 1980s, though, a decade that a lot of their contemporaries squandered (here's looking at you, Paul McCartney).
7. Love This Giant
David Byrne and Annie Clark, aka St. Vincent, are known for pretty disparate musical styles. Byrne is well known for his Afro-pop influences, while Clark tends to make music with a lush, baroque sensibility. That said, from a lyrical standpoint, both tend to view human behavior from an almost alien point of view. Plus, they're both delightful weirdos who absolutely deserve each other.
8. In the Reins EP
Calexico and Iron & Wine are two bands that have their feet firmly planted in the sounds of Americana. Calexico helped Sam Beam flesh out his intimate folk tunes, and In the Reins marks the first time a horn section appeared on an Iron & Wine album. The southwest influence creates a wonderfully-realized, full sound that's basically all precious indie-kids could ever want — it's also really, really good. The shift toward a more expansive sound continued through Beam's next two LPs (for better or worse).
9. "2012 (You Must Be Upgraded)"
At first glance, a collaboration between The Flaming Lips and Ke$ha may not seem to make much sense, but they actually have a lot in common. Consider their shared love of neon, glitter, bodily fluids and increasingly tiresome cries for attention. Kind of makes a lot of sense, huh? And if you're into this track (it's surprisingly good), you can look forward to their forthcoming album Lip$ha.
10. "Smooth"
"Smooth" has existed in the ether since the dawn of time. In fact, "Smooth" dwells in every cell, every atom, in our universe. It was forged in the furnace of our sun, and it will shatter all of creation. It took the tremendous combined powers of Santana and Rob Thomas to tame the wild beast, channeling it into a form that our puny brains could comprehend. 1999 was the year that we bathed in the milk of their labor, and we can only hope that their smooth Latin stylings will arise again to lead us to the promised-land.