In order to properly acknowledge the 2011 Save the Date season, I've got MORE tips for you... I already discussed this element ad nauseam last season in a101 part 1
and
part 2 installment. However, in an effort to provide you with only the best content,
I've squeezed out another set of fresh ideas for you to use as a supplement.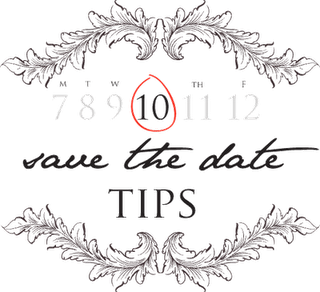 1. Be sure to use a pre-printed return address on the outer envelope.
Some clients forgo adding this, but it can potentially give you a chance to polish up your guest list for the wedding... A returned Save the Date now will give you shot at updating an address. Don't miss out on this important opportunity.
2. Be careful when sending out Save the Dates to both A and B list guests.
You might not have enough slots for the B list people and you don't want to be obligated to send them a formal invitation. Your B list should not get Save the Dates for this very reason.
3. Don't "over-share" on your Save the Date.
This is simply an announcement and you don't have to get into specific details. Adults only, the location of the wedding beyond city and state, etc. is unnecessary (unless its a cool historical site you just HAVE to mention in order to whet your guest's appetites). Just remember that "Formal invitation to follow" should suffice for the rest of your detail.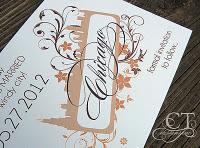 Embellished cityscape save the date
4. Save the dates should be sent 7 to 9 months in advance of your date.
You can go earlier, but it does depend on when your date is. If you are near a holiday or having a destination wedding, then the sooner the better... Normal wedding dates can use the 7-9 month window, no problem.
5. You don't have to mail physical Save the Dates depending on the nature of your guest list.
I'm not necessarily a big fan of this method since I'm a paper girl, but
Wedding Window's Save the Date eCards
and others have been gaining in popularity so I must mention. You will have to be having an ultra small and/or informal event to even consider this method however. I will mention that no matter how nice electronic wedding communication looks (or how sustainable), it will still be impersonal compared to something mailed.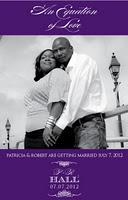 Custom save the date magnet
layout by CT-Designs
6. Watch the price of your magnet Save the Dates closely.
You should always look to pay a designer to design the magnet, and secure just the layout artwork from them based on the magnet company's guidelines. You can then go ahead and upload the artwork yourself and pay direct costs. Magnets are already pretty expensive, so it makes no sense to pay someone a 20% markup fee to have them produced. This will be in
addition
to your custom design fees! Better yet, if you are not particular there are hundreds of pre-designed templates provided by these companies at no additional cost.

7. Don't feel compelled to use an engagement photo.
You obviously can, and its still popular, however you can help distinguish your event (and even help to create a little mystery and anticipation) by not using one.
8. Don't snooze on the self-mailer as a cost effective vehicle for your Save the Date.
I did two self-mailer Save the Dates last year and have designed two more that I will share soon. Lack of an envelope, and a smaller footprint help to value engineer this element.

9. Be careful not to use an outdated style for your Save the Dates.
InCityscapes | Font-driven contemporary | Cool Shapes
5 Minutes AgoTraditional Calendar w/circled date | Multiple photos
OutPhotostrips

10. Please, slowly back away from the Save the Date idea if you've waited too long to develop and send.
I've had clients who've insisted on sending out their Save the Date at the 4-5 month mark, ONLY to follow it up immediately with the actual invitation. If you have waited this long, go ahead and send your invites out at the 3.5 - 4 month mark and be done with it...
These are my latest tips, now go out there and Save that Date!
I'll be back on Friday sharing what CT-Designs is grateful for in 2011... To those in the U.S. have safe and happy Thanksgiving holidays... Gobble, gobble!