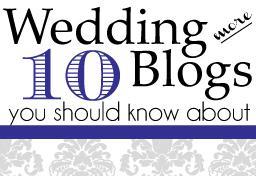 Ilove BrideTide's listing of the 
Top 100+ Wedding Blogs
...Very excited that the number has expanded to 149, because there are waytoo many now to limit the list to 100! 
Istill think that there are some more that are going under the radar that are worth your time. Fair warning that there is a nod being given to some Chicago-based blogs!
Other personal criteria for this list: 
Blog is fully established

Content is consistently updated

Features not just submissions, but helpful tips and ideas

Not already on all of the current wedding "it" lists and blogrolls
The listings are in alpha order: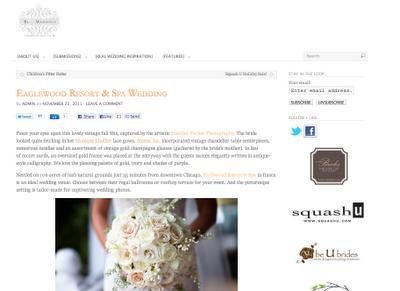 Be U Weddings Blog
Wedding blog focusing on events in Chicago and the Midwest.
They featured my work twice in 2011, what are the odds?
Gorgeous real weddings and practical advice you can use now.
Absolutely recommended for Chicago brides-to-be. They will
give you a nice look into some of the hottest venues.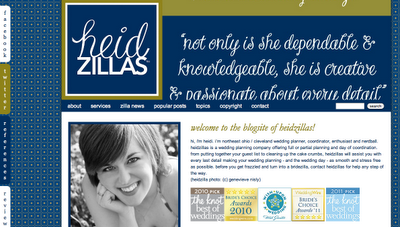 Heidzillas Blog
Northeast Ohio full service wedding planning company. Heidi and Brittany are totally
unselfish with the details of their events, every vendor involved gets mentioned
and the photos are not all submitted by photographers.
Look for the color palette + nice overview before each real wedding feature.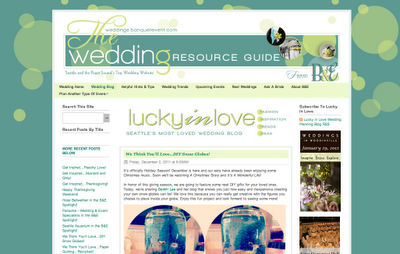 Lucky in Love
I know you are wondering why a Seattle-based blog is listed here,
but I've been following this blog for some time now and they
just have a nice balance of submissions, inspiration boards
and advice... I love a balanced approach.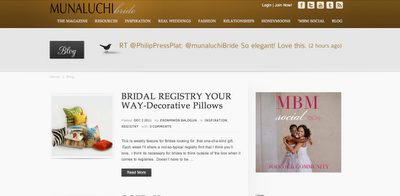 Munaluchi Bridal Blog
Another balanced approach... One of the few resources for mocha brides,
this is a nice mix of inspiration boards, real weddings,
Etsy shop spotlights, and interesting discussions for brides-to-be.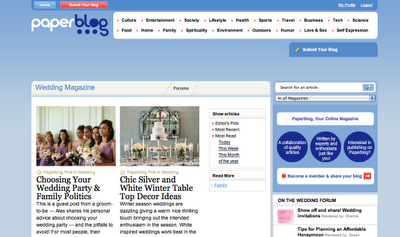 Paper Blog (Wedding Magazine)
UK based blog where CT-Designs blogs are actually published... Our blog entries
have been selected 5 times as the Editor's pick in the lifestyle/wedding section!
Refreshing reading about weddings and style from an English perspective
and I highly recommend visiting...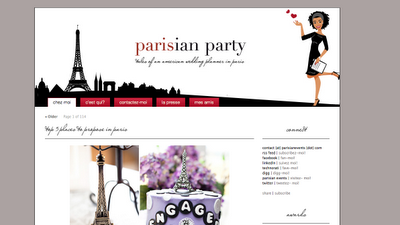 Parisian Party Blog
I met Kim Petyt at ISSE Chicago and it was a delight. She has such a unique story!
She is originally from Chicago, got married, and was then promptly whisked away to Paris to live!
Now she plans weddings there and has the BEST advice for the bride who either wants
French-inspired nuptials, or is getting married in Paris. LOVE the spirit of this blog...
Note: Kim has also been blogging for almost 5 years (that's a lifetime in the blogging world
as there aren't too many bloggers who've been doing it prior to 2008-09)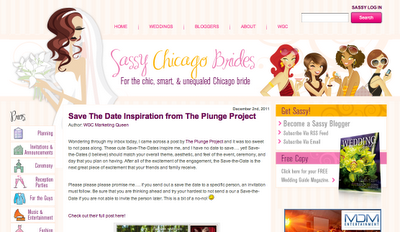 Sassy Chicago Brides
This one is great with your morning coffee... Quick tips and insight that
can be absorbed in about 5 minutes.  The blogging team is made up
of local brides-to-be as well as Wedding Guide Chicago staff, as this blog
is affiliated with that publication.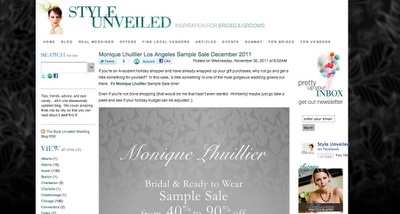 Style Unveiled Blog
Style Unveiled is such an underrated site to me. Not sure what else
they can do to distinguish themselves, but I think that there is
room for them. Their site is very user-friendly in that you can
view blogs by city OR by ideas... They make it very easy to visit and find
just what you need...  There is also much more variety here than yet, ANOTHER real wedding...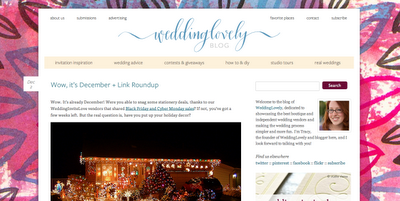 Wedding Lovely Blog
Tracy Osborn has managed to pack a TON of information into
one site. It should be cluttered and hard to understand, but it is organized very well...
Invitation vendors, wedding planners and now photogs are housed here, searchable 
by region and price range. PLUS there are inspirational photos, real weddings, 
D.I.Y. tips AND advice... Brilliant and so so pinnable!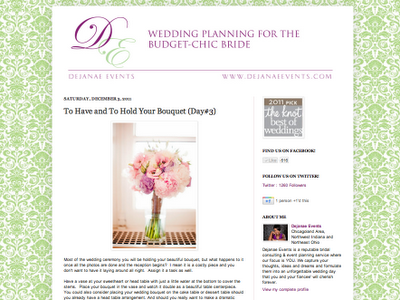 Wedology Blog
Desirée Dent has capitalized on producing timely, pithy, brief and readable blogs
full of practical advice brides can use immediately when planning
their big day. She is currently on a blogging tear for December 2011,
committing to blogging for 31 consecutive days, so don't miss out! 


Look for some of these blogs to crack Bride Tide's list at some point... Hopefully in 2012! Also, let me know about some of the wedding industry's "best kept secret" blogs below, I'm always looking for new sites to read and feature if I can!