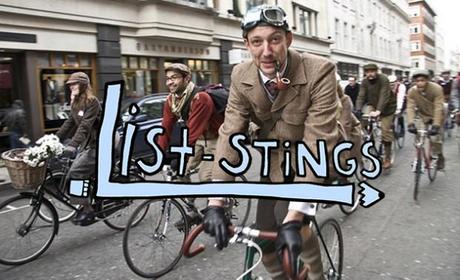 Summer is slowly winding down, so it's time to take advantage of those last long days with some leisurely bike riding. That said, there's no reason to be without some kind of media blaring into your faceholes at all times, so we've provided you with some summer bike jams to keep you going. That also said, we can't in good conscience recommend that you bike around with headphones in, so go ahead and become one of those dweebs who straps a stereo to the back of their bikes. No judgment. No judgment at all.
1. Barely Legal – The Strokes
"Barely Legal" captures the essence of a good summer bike jam — it's peppy and upbeat, but it's not driving enough to trick you into actually exercising. Because summer biking shouldn't be about practicality and purpose, it should be about slowly riding about in a directionless sea of sunshine.
2. Favorite Song – Chance the Rapper
Chance the Rapper's Acid Rap is an album that's firmly entrenched in the sounds of summer, and "Favorite Song" is no exception. The opening notes sound the way a popsicle tastes on a hot day. Plus, Chance's kinetic flow is the perfect accompaniment to an afternoon jaunt through the park.
3. Don't Swallow the Cap – The National
For those times when you just have to bike away from it all. There's a good driving beat to keep you motivated, but the lyrics are dark enough that you won't accidentally slip into a good mood. Take that, emotional stability!
4. Lose Yourself to Dance – Daft Punk
This song is basically the aural equivalent of being in a 1970s exercise video, so you may have to pretend your real bike is a stationary bike to get the full effect. It shouldn't be a problem as long as you slap on some sweatbands and tiny shorts.
5. Bicycle Race – Queen
Is this a totally obvious choice? Yes, yes it is. Does that change the fact that it's a legitimately awesome song to bike around to? No, no it does not.
6. Deadbeat Summer – Neon Indian
Remember chillwave? Ha, yeah, we were all kind of idiots back in 2009. That said, "Deadbeat Summer" really does capture the aimless, sunny joy of riding a bike on a nice day. Let yourself enjoy it one more time.
7. A Minha Menina – Os Mutantes
Because nobody knows how to capture fun in the sun like Brazilians, and you'd be hard pressed to find a better Brazilian band than '60s psych-rock outfit Os Mutantes. Bonus points for singing along phonetically in nonsensical faux-Portuguese!
8. I Was Thinking… – Gauntlet Hair
This song is great to listen to while riding down a super steep hill in slow motion with a giant, doofy grin on your face. Please be advised that it's not actually possible to ride in slow motion before you decide to go down that aforementioned super steep hill.
9. Be A Body – Grimes
This is the perfect jam if you're in the mood to feel like a sexy lady while you bike around. Men, I know you may think yourselves excluded from this simple pleasure, but you're not. "Be A Body" lets you own it if you're a lady, and takes you on a four minute gender bender if you're a guy.
10. Peg – Steely Dan
You deserve to feel like a superstar while you bike, so go ahead and give Fonzie thumbs to everyone you ride by while listening to this. Granted, there's a pretty good chance that no one else is listening to "Peg", so the gesture may be lost in translation — you could end up looking like a big idiot.