I've been an avid reader for as long as I can remember. Getting lost in the pages of a good book, getting to know different worlds and evolving characters is one of my happy places.
I recently finished reading the Harry Potter series (I know, talk about behind on the times. I read 1-4 in elementary and middle school but once I got to high school I was to cool to finish them...eye roll).
I told Adam that I started reading them and he was like, "Oh wow good, that should last you a few months at least since those books are so long." Except I finished all 7 in like 6 weeks...oops.
While reading these books, there were certain little nuggets of wisdom that jumped out at me. Today I give you - 10 Harry Potter Quotes that Will Give You All The Feels.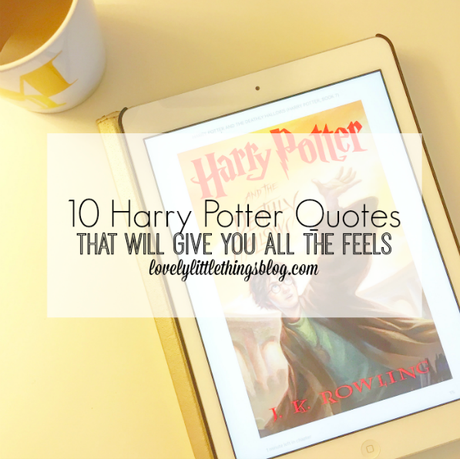 1. Happiness can be found, even in the darkest of time, if one only remembers to turn on the light.- Albus Dumbledore, Harry Potter and the Prisoner of Azkaban
2. If you want to know what a man's like, take a good look at how he treats his inferiors, not his equals. -Sirius Black, Harry Potter and the Goblet of Fire
3. It is our choices, Harry, that show what we truly are, far more than our abilities."-Albus Dumbledore, Harry Potter and the Chamber of Secrets
4. It does not do to dwell on dreams and forget to live, remember that.-Albus Dumbledore, Harry Potter and the Sorcerer's Stone
5. We've all got both light and dark inside us. What matters is the part we choose to act on. That's who we really are.-Sirius Black, Harry Potter and the Order of the Phoenix 
6. It matter not what someone is born, but what they grow to be. -Albus Dumbledore, Harry Potter and the Goblet of Fire
7. What's comin' will come, an' we'll meet it when it does.-Rubeus Hagrid, Harry Potter and the Goblet of Fire
8. My mom always said things we lose have a way of coming back to us in the end, if not always in the way we expect.-Luna Lovegood, Harry Potter and the Order of the Phoenix 
9. It's a curious thing, Harry, but perhaps those who are best suited to power are those who have never sought it.-Albus Dumbledore, Harry Potter and the Deathly Hallows
10. Differences of habitant language are nothing at all if our aims are identical and our hearts are open.-Albus Dumbledore, Harry Potter and the Goblet of Fire
Now on to watch all of the movies ;)
xo, Jess
lovelylittlethingsblog.com