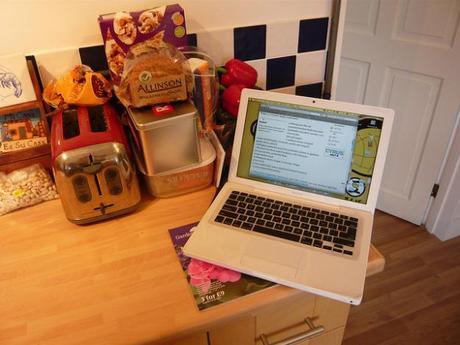 Photo courtesy of Jessica Spengler on Flickr.
The Internet has changed the world, as have laptops, netbooks, tablets and smartphones. The combination of portable, connected technology can revolutionize the way you cook – or just make some of the most mundane tasks easier and simpler.
Here are 10 of the most useful websites that offer free web-based tools for cooking at every stage – from organizing, planning, to mixing and cooking.
The Cook's Thesaurus – FoodSubs.com
The Cook's Thesaurus provides a database of information on food and cooking supplies. It is more of an encyclopedia, except that it actually provides a great deal of information on food substitutions. Not only is this handy for making changed when you are missing ingredients, but it is absolutely essential when adapting recipes to meet specific medical or allergy needs.
For just one example, there are over a dozen suggestions for substituting an egg in a recipe, depending on the purpose of egg in the original.
Food on the Table is a meal planning service that works for free on the website or via the iOS or Andriod apps.
The particular benefits of this service include the automatic creation of suggested meal plans and recipes based on your preferences such as low-calorie, high protein, gluten free, fast prep, and other considerations. Once you have a meal plan you like, it will generate a shopping list for your next trip to the grocery store.
Everyone's got their favorite recipe websites, so for this list I included my personal favorite. AllRecipes is a huge database of user-submitted recipes, with comments from the public and a rating system that can show you at a glance which recipes have been verified as great by others.
AllRecipes also includes meal planning tools, how to videos, shopping lists, and a passionate community of users.
Online Conversion provides calculators and tables for all sorts of data, but they have several tools just for cooks. Not only do they offer common conversions for measurements, including weight to volume, but they also offer guides for converting electric and gas mark temperatures. There is even a converter particularly for working with sticks of butter to other measurements.
The Science of Cooking section at Exploratorium, a site supported by the National Science Foundation, looks at first like an educational site about science and cooking and chemistry. However, as you look through the content, it has a great deal to do with how to use scientific principles to improve your cooking, and solve common kitchen problems.
If you think you've ruined a recipe, or don't understand why your bread isn't coming out right, this site may very well have the answers you are looking for in order to troubleshoot your cooking.
Epicurious is another community-centered site, but the incredible amount of information, charts, and tutorials makes it another tool for the home cook.
For example, their visual guide to herbs can help you not only identify those amazing-smelling greens, but also help you know what herbs should be used in what meals and recipes.
National Agricultural Library – USDA.gov
This site, part of the US Department of Agriculture's information network, provides calculators, trackers, charts and information about the nutritional value of your food and your meal plan.
If you have specific health-related questions, this is a wonderful site for getting answers and suggestions. Of course, there is a great wealth of information on using fresh fruits and vegetables as well.
Nutrition Analysis Tool 2.0 – MyFoodRecord.com
The Nutrition Analysis Tool  helps you build a balanced dietary guide or meal plan just for you, by allowing you to enter the foods you eat (or plan to eat) and then providing information on the nutritional value.
This can be invaluable in ensuring that the meals you plan for your family really are balanced and providing the nutrients and vitamins necessary for a healthy lifestyle.
PepperPlate is a one-stop organizing site for you to store your recipes, plan your meals, and create shopping lists. It even has social functions such as sharing your recipes and meal plans with family and friends. It has integrated apps in the iOS, Android, Nook, and Amazon appstores so you can use it on any mobile device in your home.
Google Conversion – Google.com
Google's programmers come up with all sorts of little built-in tricks that can make your life easier. In the kitchen, you can use Google to make quick conversion calculations.
On the Google site, or in your browser bar in the Chrome browser, just type in the conversion you want as if you were searching for it.
For example, type (or say if you have a microphone on your device) "4 tablespoons to cups" and Google will display the answer in a little calculator at the top of the search results. You can then use that little calculator to adjust the data to conduct other conversions, or just type – or speak- your next query.
What are your favorite online tools for cooking? Tell us in the comments!