There are hundreds of alarm radios out there, but here are some options you should consider if you need a reliable unit;
1. Magnasonic EAAC601W Projection Alarm Clock with Radio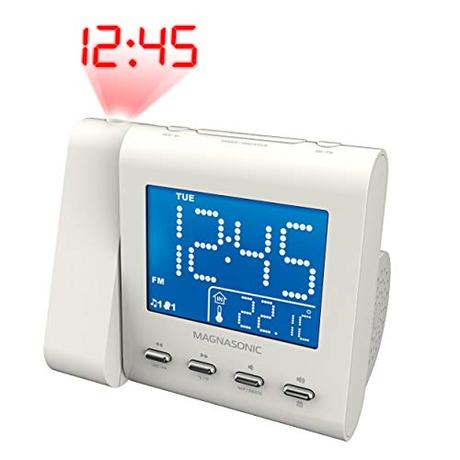 First on the list is this radio from Magnasonic, which is such a good performer. You will have an easy time reading the time on this radio, and the alarm system is quite satisfying as well.
This radio comes with plenty of very useful features. There is a large 3.6-inch blue LCD that is crystal clear to let you tell the time even when you wake up immediately. Luckily, you can adjust the display to suit your preference.
What's more, you can project the time and temperature to your ceiling or wall. In other words, you can view the time without having to look at the radio itself. There is a 180-degree swivel projection that lets you view the time/temp without having to roll over.
We loved how the clock will adjust to Daylight Savings Time automatically hence saving you the hustle. If you don't have the time to set the alarm clock, you can opt to go with the preprogrammed daily alarm options.
The alarm options include time projection, radio, or buzzer. Of course, you can tune in to your favorite FM/AM stations with ease. There are is a 3.5mm aux input that lets you listen to your favorite jams on your phone or MP3 player.
The SelfSet tech will display the correct date/time automatically and the clock will restore the alarm settings when the battery runs out.
2. August MB300 Mini Wooden Clock Radio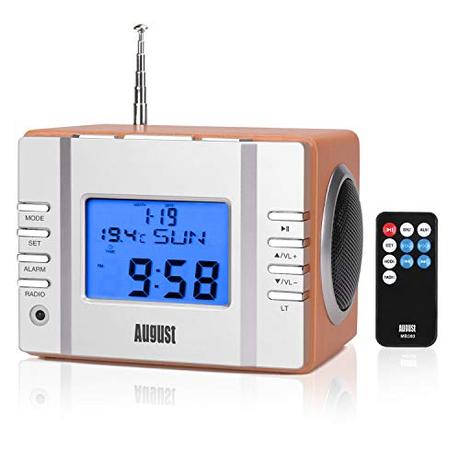 If you need a radio that not only consists of a mere clock function but also has options for you to listen to your favorite songs, this would be a good pick for you.
The radio offers you FM frequencies to listen to your favorite radio station when you are relaxing in bed or when you wake up in the morning. Besides that, there is a USB port for hooking up your flash disk to listen to your music. Also onboard is an SD card reader for listening to the music in your memory stick.
If you want, you can connect your laptop, mp3 player, or mobile device to the radio and use it as a speaker. The best part is that the sound quality is fantastic. With the alarm function, you get to choose if you want the buzzer option, radio modes, or music to play from other sources onboard.
You get an LCD screen that displays 12hr or 24hr as you prefer. And, there is a temperature display too, should you use it.
This clock radio runs on a non-removable rechargeable battery that will offer you approximately 5 hours of playback, which isn't bad at all. When charging it, simply use the USB power cable or the AC power cord.
Best of all, this radio comes with a remote control to offer you wireless operation.
3. Magnasonic EAAC475 Clock Radio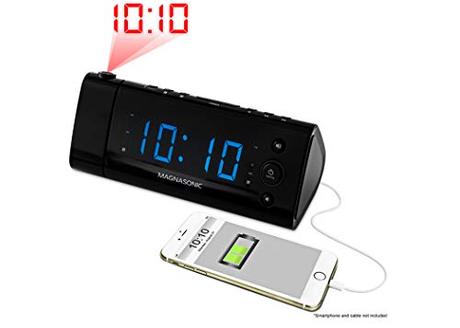 Not everyone loves the process of setting the clock whenever they are using it for the first time. One thing that made us consider this one of the best sounding alarm clock radios is the fact that it automatically sets the time and date.
The radio comes with a SelfSet feature that will adjust the time and date on its own. All you have to do is to switch on the device, and it will do the time setting automatically. Keep in mind that the date and time will be set to the Eastern Standard Time.
We found the 1.2-inch blue LED display comfortable to read the time. You can choose the level of brightness that suits your eyes perfectly. There are four dimming options to choose on this radio.
There is a high-speed USB charging port that lets you charge the radio with any of your portable devices. You won't have to worry about the battery life as this one offers you a durable battery backup that will run for a long time without the need for juicing it up.
Even when the radio is off due to a power outage, it will still wake you up without a problem. It comes with the WakeUp technology that works with the inbuilt battery backup. This will be activated as soon as the radio is cut off from an outlet.
4. Sony ICFC-1 Clock Radio
It would be a crime to explore the best sounding clock radio reviews without featuring one from Sony. Okay, no crime at all. But Sony is a leading brand in the audio and visual equipment and this unit comes with a unique design that makes it look elegant on the table.
The cubic design means that the radio will stand strong on the table without any chance of it falling off. It also offers a clear view for you to read the time easily. We loved how bright the orange jumbo LED is.
It offers you FM and AM frequencies for you to listen to your favorite stations. Keep in mind that this one is an analog AM/FM radio, but the reception is super amazing.
With this radio, you will enjoy a gradual wake alarm that will sound off with a subtle low volume. However, this will increase gradually to a level that is reasonably high enough to wake you gently from your sleep.
Best of all, the radio offers you a sleep timer that allows you to fall asleep to it. You don't have to worry about the radio playing when you are in deep sleep. The sleep timer lets you set it when you want it to go off.
We loved the large, snooze/brightness button that is easy to access.
5. HeimVision Sunrise Clock Radio
Most of the clock radios we have featured in this article come with one alarm option. However, this radio offers you seven unique alarms, along with some advanced features too. We wouldn't judge if you considered this the best sounding clock radio on the market.
This would be a valuable gadget to add to your bedroom. It doesn't only offer you a radio with an alarm clock, but it can also work as a bedside lamp. The radio comes with the Sunrise Simulation feature that will increase the light gradually when the alarm goes off. Best of all, the light will continue to get brighter until the room is filled with a bright yellow light that resembles the sunrise.
Plus, there is a sunset simulation that will decrease gradually to the duration that you set. This will allow you to relax and fall asleep with ease.
One thing that makes this radio a unique model is the fact that it is compatible with the Amazon Alexa Hands. You can use it with the Amazon Alexa Echo or the Google Home Assistant and even connect it to your home Wi-Fi.
The radio offers you seven natural sounds that you can choose for your alarm. The inbuilt speaker offers you excellent sound quality that you can adjust as you wish.
6. Mesqool Projection Alarm Clock Radio
7. DreamSky Alarm Clock Radio
8. hOmeLabs Sunrise Clock Radio
9. Midland WR300 Alarm Clock Radio
10. Peakeep Cordless Clock Radio
What to Look for Before Buying?
When looking for a sounding clock radio on the market, it is important to choose one that will serve you accordingly. Here are some of the features you should consider in a good clock radio.
Display
This might not seem like an important feature, but it is one of the top features that you should consider. The screen should be easy to view and read, even at night. You don't want to go for a radio that will force you to squint just to view the time.
When selecting the radio, consider the light level and if you can view it even in darkness. Ideally, choose one that you can adjust the brightness to meet your preferences. This way, you can set the radio to a lower dimness that doesn't affect your sleep.
Sound Quality
It is important to consider the best clock radio sound quality for you to determine if it will serve you as expected. Of course, you don't want a radio that would be as loud or with sound quality comparable to the home stereo system.
Rather, the radio should come with a good speaker that offers good sound quality when you want to listen to your favorite radio stations and music. If you get a sound quality with a 5RMS to 10RMS, you should be good to go.
Power Source
Do you want a battery-powered radio or mains powered unit? If you live in an area experiencing a lot of power outage, you should consider going for a unit that runs on both batteries and the mains power. Either way, choose the one that suits your situation best.
Alarm
The reason for getting one of the radios we have covered in this list is not only to listen to your favorite stations but one that will act as your alarm every morning. In that case, you should consider the alarm on the radio and how it delivers.
Furthermore, the alarm should be loud enough to wake you up, but not too loud to make it uncomfortable. Some come with a gradual alarm that is the best for the heavy sleepers. You can also get a sunrise alarm that will light up the room with a yellow light while sounding an alarm.
Preferably, ensure that the radio comes with an adjustable alarm in terms of the sound and light delivery.
Other Features
Some people prefer getting a clock radio that comes with input options that let them listen to their favorite songs. In that case, consider a radio that features a USB port, Bluetooth connectivity, as well as SD card reader.
You can also get some radios with NOAA weather channels and alert to keep you updated about any forthcoming harsh weather conditions.
Generally, ensure that you choose a clock radio with good sound, excellent alarm features, adjustable brightness, and one that is easy to use.
Frequently Asked Questions
1. Does the design of a clock radio matter?
The design of a clock radio helps to add the appeal of the unit. However, it is not much of a determining factor when choosing a good clock radio. Instead, focus on the functionalities of the radio.
2. Can I set multiple alarms on a clock radio?
Some radios come with dual alarms for you and your partner. Here, you can set on or off the alarms individually.
3. Where should I place the sounding clock radio?
Ideally, place the radio on your bedside table, where it is easy to access when the alarm goes off. However, avoid keeping it too close to the edge of the table as it might fall off and be damaged.
4. Can the radio sound off the alarm by playing my favorite song?
Not all radios have this functionality. But you can find a radio that supports SD cards and flash sticks, which will sound off the alarm by playing the music in the device.
5. Can I adjust the brightness of the radio?
Yes, the brightness of the alarm clock radio can be adjusted to suit your preference. Keep in mind that some don't have the option of choosing the brightness/dimness level.
Final Words
There you have it folks. We are confident that you can step out there and find the best sounding clock radio that will help you wake up in the morning in the best way possible. Always ensure that you choose a fully-functional radio that meets your preferences accordingly as it helps to wake you up every morning.