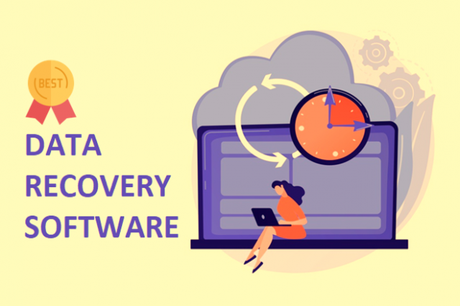 In this tech-savvy era, our generation completely relies on the modern functioning of high-tech gadgets. As we all know, these devices work on storage and memory bases. Our crucial data formats from audio, to important word documents, are stored in the form of codes and numbers in our machine.
Often, we tend to create a mistake that results in deleting our important files and folders. This lands us in a quite problematic situation as our vital information gets lost within a few seconds. That's where the data recovery software comes in for our aid. Modern-day scientists have created numerous algorithms that function uniquely. This helps us in retrieving our lost data that was formatted or accidentally deleted.
In this article, we have briefly discussed data recovery software and how they function. After trying several of the data recovery software popular among the population, we have selected the top 10 ones.
What is a Data Recovery Software?
Data recovery software is a dedicated application that allows users to recover their deleted or formatted files and folders from any type of digital storage device. These types of software usually work with the raw data that is available on a storage device. You can easily restore files and folders that were accidentally deleted from your devices. For instance, data recovery software is the perfect option if you want to recover your lost, deleted, or formatted data from Windows recycle bin or Mac Trash Bin.
There is innumerable data recovery software that works on providing you a variety of tools and features. You need to pick a safe and secure data recovery software that supports different types of files. This will allow you to freely use a version without repeatedly buying its new or upgraded format.
How Do a Data Recovery Software Work?
Data recovery software function on the modern operating system and utilize their prevailing way of deleting and formatting the files. When a person deletes a file or folder from a Windows or even a Mac Operating System, a physical format of the data is still available on the storage device. The operating system simply marks the occupied space available for use, but it removes any type of logical access to this particular data. If this deleted formatted file is not overwritten and space is not occupied, we can use data recovery software to retrieve this data.
Strategic design and algorithms are used to scan the storage device sector by sector. This allows us to search for files or any type of fragments that locate the file in the software's database. This information is used to recover the deleted data in question. If no overwriting of the lost data has occurred, you can easily recover the entire data without any hassle.
Top 10 Best Data Recovery Software in 2021
Here, we will talk about the top 10 best data recovery software that can help you achieve your lost data in no time. So, if you're worried about restoring their lost data, don't worry because you have come to just the right place. So, without any further delay, let's just dive straight into finding the best data recovery software for you.
You can easily restore your lost data from even a crashed Windows system.
You can recover unlimited file formats with the help of Stellar on Windows devices and the storage media.
If you are worried about restoring your deleted media, then don't be, because it can easily be restored with the help of an encrypted drive.
Moreover, you can also create a handy image of a hard disk convenient in the speedy recovery of your data.
You can easily restore your lost files from any removable device like a memory card or even a dynamic disk.
Tenorshare enables you to recover your lost pictures, music, videos, emails, PDFs, and a lot more.
Moreover, you can easily preview your files before recovering them in the final step.
To restore your data, all you have to do is select the location and click on the recover button.
You can easily retrieve your unsaved Word documents with the help of Recuva.
The best part about this application is that it supports every Windows version and 40 distinctive languages.
You can easily retrieve important data from a damaged or even a deleted disk.
You can easily conduct a deep scan that allows you to trace the files that you have accidentally deleted.
Furthermore, Recuva facilitates you with an easy-to-use tool known as Wizard. You can use it to get your file back in no time.
You can use Recuva to restore emails from Microsoft Outlook Express, Mozilla Thunderbird, and Windows Live Mail.
Data Recovery Wizard facilitates you with a user-friendly interface that makes it a lot easier to retrieve the lost files.
You can easily recover your lost documents, videos, emails, files, pictures, and a lot more.
Data recovery software helps you to retrieve the lost data even from a hazardous virus attack.
Moreover, you can also filter out the preferred scanning results by selecting a filter type.
You can also preview the data before recovering it to your software.
Disk Drill provides you with a functionality that allows you to improve your data recovery result.
With the help of this software, you can easily recover and scan all types of file formats.
It helps you recover an entire hard disk partition.
the unique thing about it is that it makes the entire process easy to comprehend.
Lastly, you can also utilize the various filtering options for your convenience.
You can unerase any type of data from the disc images.
This application enables the scan and recovery of disk partitions that a virus has damaged.
You can easily delete any type of damaged volumes and partitions.
Active uneraser facilitates you in extracting the data that has been accidentally erased.
You can use it on SSD, HDD, USB drive, and SD card.
It allows you to easily review your retrieved files and folders.
Recoverit is a data recovery app that enables you to get data from all devices or media.
This application supports more than 1000 file formats.
It offers a great level of compatibility as it is suitable for various types of file formats.
You can use Advanced Disk Recovery for External Memory Cards, SSD, USD, hard drive, and a lot more.
If you want to recover any type of Lost file or folder, you can easily do so with Advanced Disk Recovery.
You can easily use filters to locate and restore files as per their size, time, data, etc.
This data recovery software can easily perform an empty recycle bin recovery, external device recovery, lost partition recovery, and raw partition recovery.
AnyRecover supports different storage devices such as a digital camera, computer, flash drive, camcorder, memory card, and so forth.
It allows you the option of easily previewing your data before restoring it.
This data recovery software can easily be used across platforms.
You can recover files from any type of supported operating system irrespective of the hosting tool.
R-Studio offers extreme flexibility and eliminates the requirement of purchasing different versions of the same software.
You can easily recover lost data from removable and local disks and machines connected to the internet.

Roy Smith can usually be found reading grammar and literature books. He loves hoarding novels yet reads more of Roald Dahl's collection or Harry Potter. He likes to cook and feed others and loves mystery rooms. He loves playing cards. Most time goes on tutoring students and writing for them. His ideal time is holding a cup of hot chocolate and lying in a chair at the roof, gazing at the sunset and enjoying the breeze