Even though a printer is essential, many users still hesitate to get one because of the space issue. "Where do I put it? It takes a lot of space!" - That's what most of us argue. However, if you dig a little deeper, you will find many devices that serve all of your copying purposes don't take that much space.
That's why we have jotted down a list for the best compact printer. The gadgets we have compiled are ultra-modern, functional, long-lasting, and on top of all, impressively compact.
So without further ado, let's find out the top 10 slim and compact gadgets for your printing solution!
Benefits of Compact Printer
Those of you who don't feel like differentiating a compact printer from the regular ones may wonder what the benefit of such a device is? Well, there are many.
Saves Space
A machine that is designed to be short and slim should obviously save a lot of space on your desk. And a compact copier will hardly take away a large bite of your workstation. It's like you don't have anything wholesome on your tabletop.
Even if you are putting it on your table, it will fit perfectly on one side of the desk. Again, if you choose not to put it on the desktop, you can still keep it on a shelf, as well.
Movable
Another benefit you get is mobility. This is especially crucial if you have a wired copier in your house. You may need to move it from one room to another if you have desktop computers in your home.
Again, it's also possible that you may need to carry the printer with you in different locations- such as from your home to office and vice-versa. In this case, a portable and compact copier comes really in handy.
10 Best Compact Printer Reviews
It was a hectic jot sorting out 10 top functioning compact printers. However, we had to scan through the available products to list down these 10 devices finally.
1. Canon TS5120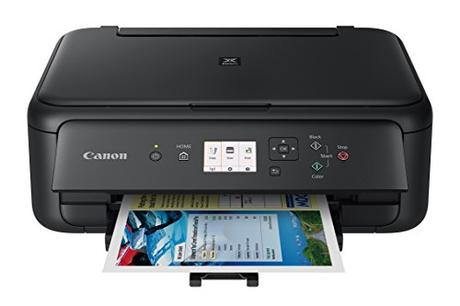 Our first pick for the compact printer reviews is the Canon TS5120. This inkjet all-in-one copier is one of the sleekest devices available on the market.
It measures around 14 by 17 by 8 inches and weighs just above 14 pounds. With this ultimate compact gadget, you can get all your printing solutions at one place.
The first and foremost benefit you get from this one is its wireless connectivity. If you are using cloud-based storage, you can easily connect this machine via software like AirPrint 2.
Again, you can also get access to the device through your smart gadgets, like smartphones, tablets, as well.
It comes with an auto 2-side printing facility. You don't need to manually change the orientation of the pages when you are printing on both sides. It will automatically flip it.
Again, if any document gets stuck and jammed, or if you forget to remove one from inside after use, the machine will automatically remind you to remove it. That's really helpful to avoid any damage to your output.
With its front and rear paper support, you can load paper from both sides at your convenience. This reduces the pressure on one input pretty impressively.
To navigate the copier without the help of a PC or smart device, you have a 2.5-inch LCD screen on it. The screen is pretty responsive, and with the help of the navigation buttons beside it, you can operate it on its own.
Besides these excellent options, the documents can be enlarged up to 400% and reduced up to 25% of its original size. Plus, it can automatically power on and off, as well.
2. Canon PIXMA TR4520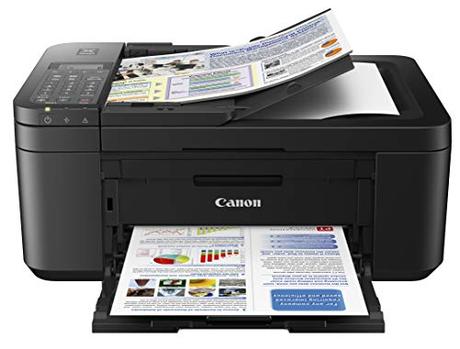 Another champ in the house is the Canon Pixma TR4520. The set up may seem a bit heavy, but surprise! It weighs just 13 pounds!
This machine is entirely wireless. You get to sync it with your PC and even smartphone with its powerful Bluetooth and Wi-Fi technology. Canon has got a dedicated app for it to connect to your phone - the Canon Print app. Just download it and use it to link with the device.
The TR4520 has two different paper-feeding booths. You get to feed in the box that's placed in the middle of the printer. Plus, you can load the papers from the top of the copier, as well.
Its output tray is designed pretty smartly. It can be closed and collapsed once it is not in use, or there's no paper. Just close it down and save more space!
When not in use, the copier can automatically turn itself off. This is really helpful for you if you have been thinking of cutting your bills lately. Again, once you have commanded to print or scan on the device, the machine will automatically wake up receiving your order.
It comes with a huge navigation panel on its left. The LCD screen is a bit smaller, but it is large enough to see what's going on. There are a number of buttons to use for putting the proper command in it.
3. HP ENVY 5055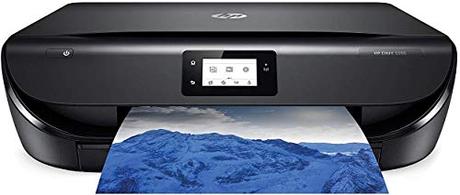 Print high-quality pictures with the All-new HP Envy 5055. This all-in-one gadget can solve all your copying, printing, and scanning problems single-handed! If you are looking for the best compact color printer, here's your bet!
This machine is as compact as you can expect it to be. It is sized at 14.4 x 17.5 x 5 inches, and it weighs just below 12 pounds! This one is convenient and smart to use anywhere on the go!
Apart from the ability to get connected with a USB cable, the machine can be used cable-free, as well. With its smart Wi-Fi support, you get to sync it with your laptop and smartphone.
For the smartphone, you need to use the HP Smart app. This app will help you scan documents through the camera, print from your social media, or even cloud storage directly.
Being an inject printer, it surprisingly supports a wide variety of paper types. Almost all the regularly used papers are supported by the Envy 5055. Whether it is photo printing paper or just a regular copy-paper, this device has got your back for every output.
Talking about paper, this gadget can flip paper automatically. That means you don't need to manually change the orientation of the paper if you are printing on both sides of it.
A 2.2-inch navigation panel is also there for you to interact with the device. The panel is fully touch-sensitive, so there's no need for any button to be pressed. If you don't want to use your phone or laptop to command, the panel is enough for it.
4. HP Envy Photo 7155
This 14-pound compact photo printer is a special one. Why? Well, this one is constructed from recycled electronics. So, if you are someone who cares for nature, this one may impress you on many levels.
Like its previous models of this series, the Envy 7155 is also a multi-functional printer. It comes with all of your scanning, printing, and copying solutions just in one gadget.
The best part is, you get to link it up with your home devices like laptops, desktop PC, smartphones, or even tablet PC. Using software like AirPrint and HP Smart app, linking it with your phone is quite easy to do a task.
Again, its dual-band Wi-Fi system makes it really easy to establish an internal wireless connection. It's fast, easy, and above all - convenient.
An exciting feature of this one is the SD card slot. This is really useful when you have got an SD card to print from. Just insert the card and navigate the files with the 2.7-inch touch panel and print directly.
The navigation panel is entirely touch-sensitive, and you can see everything on it from selecting the files to sizing it. If you choose not to use the PC or smart gadget to print from, this may come in really handy.
Just like the other models of the Envy series, this one also comes with a 2-side automatic printing option. The paper will flip itself to copy on both sides without any physical intervention.
If sleek design and lightweight is your concern, then Canon Pixma MG3620 should be your ultimate choice from our compact printer reviews. The reasons are pretty simple. It's only 12 pounds heavy, and it measures only 12 by 18 by 6.
You can set this whole device up in any corner of your home without even being noticed. Plus, if you are placing it on your desktop, it will hardly consume a great chunk of space.
Its high-resolution printing quality will surely leave a great mark on your heart as well as on paper. Print up to 4800 X 1200 color dots per inch to get the incredible details that you had only dreamt of as of date.
Plus, the printing speed is also something you can't ignore to be surprised. For black color, you get a speed of 10 images per minute, and for color printing, it is 5.7 images per minute.
With proper quality and top-notch printing speed, MG3620 stands as an unparalleled copying device in the market.
Using cloud-based software like AirPrint or Google cloud print, you get to print and copy directly from cloud storage easily. Just connect the MG3620 through a Wi-Fi connection to the smartphone or PC, and you are ready to go cable-free!
Not only cloud-based storage, with this cable-free integration, your social media notes, and photos can also be printed from this device.
Again, apart from the impressive delivery speed, the machine also comes with an automatic duplex printing option. Just set the dual printing command.
6. Canon 2986C002
Weighing just over 13 pounds, the Canon 2986C002 is one of our favorites in this list. Why should it not be? The sleek and attractive design is enough to enhance the look of your house! For those of you who are hankering after the best compact picture printer, look no further!
This stylish machine can be placed anywhere in your home - your desktop, tea-table, even on the kitchen tabletop! It just fits everywhere! Plus, its shining black design can't really be ignored even if you want to!
One of the most excellent features of this device is the five individual ink system. This unique ink-system is pretty helpful if you are planning to save on ink. It means if one of the inkpots is running out of ink, all you need to do is replace that one inkpot only.
Leaving all the other inkpot as it saves you more bucks and allows you to use the copier for a longer period.
In case you are not dealing with the machine with a PC or smartphone, you can still use the 3-inch LCD screen that can be used to navigate through all the commands and relevant settings.
The output tray of the gadget is a great space-saver. It only opens up once a paper is coming out of it. Otherwise, the tray gets closed and collapsed. This means you can save more space and fit it in congested areas, as well.
It allows you to load paper from the top of the device. This saves space, as well. Only when you need to print, you will load papers from the top. Overall, this machine is designed to save you as much space as possible.
7. HP OfficeJet 5255
Although many may argue whether this is from the lightest of devices, we would like to point out the compact design of it. Weighing just over 14 pounds doesn't mean it is that heavy. Plus, it's sleek enough to fit into most of the places around your house! Many users term it as the best compact HP printer for a reason!
Apart from printing, this machine can provide you with copying, scanning, and even faxing support. All four services, just one gadget! Using the OfficeJet 5255, you can solve all your copying issues just like that!
What may make your head turn for this gadget is the 35-page auto document feeder. The top lid of the copier can hold up t 35 pages at a time, and it can soak in the pages one by one without any physical support.
So, if you are scanning or copying, the machine can increase the speed of it just by dragging the papers instantly.
Additionally, this device can also print on both sides of a paper without any manual intervention. It can flip the product automatically, and you get to print or copy on both dimensions of the document.
In order to work with the machine itself, it comes with a 2.2-inch LCD screen. You can communicate with it through the screen and command all the necessary instruction via its support.
Above all, this gadget can be connected to your PC or smart gadget through Bluetooth and Wi-Fi connectivity. Using a simple app or software, you get to link it up with your other devices.
8. HP DeskJet 2622
Well, if lightweight is your criteria of labeling a machine as a compact, then surely the HP DeskJet 2622 will impress you the most. Weighing only at 7 pounds, this device should be one of the sleekest machines on the market! Is it the best compact printer? Well, you can guess it yourself!
Except for the blue-white design that can stick your eyes on this one, the DeskJet 2622 has got plenty of features to impress you. This all-in-one solution can serve three of the most common daily purposes - scan, copy, and print!
Having said that, the machine can be linked with your PC or smart gadget entirely cable-free. Just use the high-speed Wi-Fi setup it comes with to establish a connection to your devices.
That's not all! Using the latest app from HP, the HP Smart app, you get to sync all the data of your phone with this gadget, as well. This way, you can send instructions directly from your phone to the printer to copy, print, or even scan through your phone camera!
If you are into saving spaces, you are in luck. In case you are planning to get one gadget that fits into nearly any place you want to put it, the DeskJet 2622 is the one you need to go for.
This device is quite sleek and convenient to store and keep. Again, it comes with an output-tray that allows the machine to be more compact when you are not using it.
9. HP OfficeJet Pro 8025
When you are looking for the best, you may need to let go of some of the little expectations. If you can sacrifice your need for a lightweight printer, then without a doubt, the OfficeJet Pro 8025 is going to be your betting horse!
Why do we say that? Well, if you are looking for an all-in-one smart printing set up, then definitely this one is going to be the one.
To start it off, the machine is entirely free from the tangling of wires and cable. The built-in Wi-Fi setting will enable you to connect the device to your laptop or even smart gadgets within minutes.
Again, the self-healing Wi-Fi system of this machine is a great plus here. It means if there is an issue that bars the wireless system from functioning, the copier will self-audit the problem.
When the issue is found, it will run a three-step solution process to heal it and reverse the system to its original position.
Using its Wi-Fi connection, you get to connect the machine to your smartphone pretty easily. All you got to do is download an app named HP Smart to do all the tasks for you!
Although it may look a bit bulky if you are looking at the product picture, this one is actually pretty sleek and conveniently-sized. You can place it on any corner of your home without wasting a bit of space.
It comes with 225-page input capacity, which means you get to fill up the paper tray with as many papers as you want. Plus, the 20-pages per minute speed of printing will make sure you can refill the input tray in the shortest time possible!
10. Canon PIXMA TR8520
Last but not least, we have the Canon Pixma TR8520 is our compact printer reviews. The most excellent feature of this one must be the amazing pixel rate it retains while you print a photo. How on earth can you think of another device when you have a machine that prints out at a resolution of 4800 X 1200 DPI!
Apart from this next-to-perfect resolution in printing, the gadget also comes with an efficient ink-use system. Its 5-ink option makes it easier for you to replace and refill the only inkpot that is running out of ink.
If you are looking for live, vibrant output, there is hardly another choice over the Pixma TR8520.
When you are not familiar with only one-sided paper feeding, you may want to look for a device that allows at least two. Well, here we go! This one has two paper-feeding openings. One opening is on the front, while the other is at the rear.
The front loader is great if you are printing on a bulk amount of paper. Otherwise, for a quick print, the rear loader is just going to work fine.
When you are printing in bulk amount, copying on both sides of a paper is a true hassle. But not with the Pixma TR8520! It comes with an automated two-sided printing to opt-out any physical effort!
In order to navigate through the machine without using a PC or phone, you have a 4.3-inch LCD touchscreen on the copier. This large screen makes it really easy to communicate with the device and get out the desired output in the fastest time possible.
What Makes a Perfect Compact Printer?
Yes, we get it. You want the best compact printer on the market. That's why we have compiled our top choices here today. If you are still interested in exploring the market, here are some pro-tips that you can use.
Size and Weight
This goes beyond described. You can't expect a printer to be compact and sleek unless it is pretty easy to be carried by your hands. That's why you need to put your extra attention on the weight of the copier you are about to go for. Anything between 12 to 15 pounds can be considered a lightweight one.
Again, the size is also very crucial, although it depends on where you are planning to keep it. If you are going to put it anywhere and everywhere, the smaller it is, the better. But if you are going to put it in a specific area, it shouldn't bother you much.
Wireless Technology
The prime reason people want to move to compact printers is mobility. A compact copier sets them free and gives them the ability to take the gadget with them wherever they want to.
But if the device is holding you back with a shackle of cable, this defeats the whole purpose. So, a compact printer will be associated with a high-speed, well-functioning Wi-Fi system that can connect it to your PC or smart gadgets.
Cloud Storage Support
Again, this one goes with the standard you need to ensure. Wireless connection is of no point if you can't access it from a distance. Talking about distance operation, the data you are going to use maybe, in most cases, stored in cloud storage.
Therefore, if it's the case that you can't access the cloud storage or social media you are working in, it's really pointless of having a sleek device. So make sure the machine you are getting comes with such syncing capacity with cloud storage to print from directly.
Paper Compatibility
Another important feature is the compatibility of the printer with different paper types. It is not going to help you much if you can't use the regularly used papers with the device. This will leave you with utter frustration and a useless sleek copier.
So double-check the paper compatibility of the machine before you hit the 'add to cart' button.
Print Resolution
Small and convenient doesn't have to be low-quality, does it? You can go for the best possible resolution with the sleekest-designed machine possible, if you can make it to the equilibrium, voila! You have hit the jackpot.
Make sure the printer can provide an output at great pixel and resolution, at least above average.
Fast Printing
Lastly, try not to compromise with the printing speed. This is going to affect your tasks on a serious level. If you have bulk printing works to do, speed is the ultimate decisive factor here. So, check if the device can print at a satisfactory speed for you.
If yes, consider the other factors we mentioned here and go for it!
Frequently Asked Questions
1. Can you print from a phone?
If the printer allows you to use cloud-based printing through apps like AirPrint, you can print directly from a phone.
2. What is the difference between an AirPrinter and a wireless printer?
AirPrinter usually means the printing solution for apple OS. These printers are especially synced with Apple products to print directly from such copiers. On the other hand, a wireless copier simply uses Wi-Fi to connect to the PC and other devices and print.
3. Can you carry a compact printer?
Yes, if the weight of the printer is somewhat low, then you can easily carry a copier with you.
4. Can I operate a compact printer from a distance?
Of course, you can. If you are using an app-based connection, you can even command the machine from outside of your home, as well. This is because you can establish a connection via the internet.
5. Does a compact printer print fast?
This varies from device to device. Not all the machines you find on the market are capable of printing at the same speed. But if you can look thoroughly, you can find many copiers with decent speed.
Final Words
That's all we have got for the quest for the best compact printer. We believe our reviews on different products that we have listed here today will make it easy for you to make your decision. Even if you are not fully convinced, consider our buying guide to locate the most suitable for you!
Happy printing!