Without any doubt, BaoFeng happens to be the most popular handheld two-way HAM radio on the market. This brand offers a whole lot of walkie talkies that you can choose from. The best part is that these radios are quite functional, durable enough, and they come with a reasonable price tag.
We understand how challenging it can be to find the best BaoFeng radio out there. But with a proper guide and direction, you can be confident of having an easy time when shopping for one. It is all about finding one that can suit you according to your needs.
That being said, we will be looking at the top 10 BaoFeng two-way radios that you should consider buying.
Let's explore them together.
How Can You Tell a Fake Baofeng?
Today, it is easier to get a counterfeit product than it is to find one that is genuine. BaoFeng radios are available, but you might end up buying a counterfeit product if you are not careful. But how can you tell if the BaoFeng you are buying is fake?
Well, we'll give you three major factors to consider for you to differentiate between a fake and a genuine Baofeng. Here are the things you need to focus on;
Manual
The first thing you will notice about a genuine Baofeng unit is that it will come with a detailed manual. Plus, the manual will be grayish in color. With the fake radio, you get a standard style manual that doesn't look as appealing and comprehensive as such.
Firmware
You can tell if the unit you are using is a fake or not by inspecting its firmware. And no, it's not as complicated as it sounds. All you need to do is to connect your radio to Chirp. If it detects your radios as BFB, B82, BFS, N5R, or U82, then you are most likely using a genuine product.
But if it starts with H, 2014, 2015, 2016, or anything else, the chances are that the unit is a fake Baofeng. Also, some fake units will use an 'S' instead of a '5'.
Model Names
Mostly, the fake units will come with corny names like 'New 2019 UV-5R". Usually, genuine Baofeng will not use a year as a model name on their unit.
So, when making the comparison, make sure that you consider the aforementioned factors for you to be sure of landing a genuine product.
Our Best Baofeng Radio Reviews
So, now you have an idea of how to differentiate a genuine Baofeng from a fake one. But which are the top-rated radios out there from Baofeng? Let's explore them individually to ease your Baofeng radio comparison.
1. BaoFeng BF-F8HP Dual Band Two-Way Radio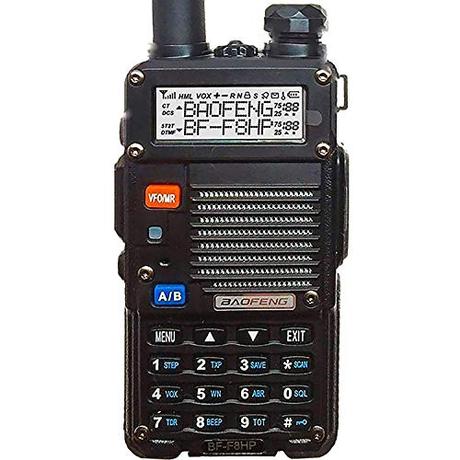 First contender on the list; Mr. BF-F8HP. This one is a dual-band radio that will improve on the UV-5R. It runs with the new generation chipset, along with a new concierge service. As a result, it works with more transmission power to generally perform with elegance.
The radio is made with a hardened, durable radio shell that makes it extra durable. Plus, it comes with an 8watt output power, along with a 2000mAh battery. This means that you can work with the radio for a long time without running out of battery.
Yes, you can use the radio throughout the day without the need for recharging it in the middle of the day.
It comes with the latest N5R-340A firmware that is not commonly found in most radios. With that, I'm confident even a beginner would have an easy time working with this unit.
Also, it comes with a user-friendly interface, along with the in-depth manual. The concierge service will also help the users have an easy time when working with the radio.
A belt clip is also there to hook the radio on your belt to take it wherever you wish to go. There is also a 7-inch dual-band antenna. Keep in mind that this is a High Gain Antenna (HGA) that will offer the needed signal strength.
2. Baofeng UV5RA Ham Two-Way Radio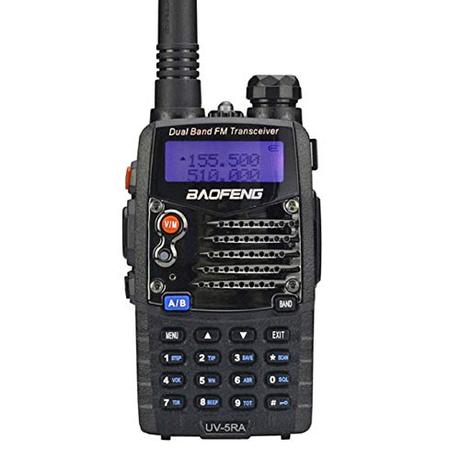 If you need an affordable dual-band Baofeng radio that is still functional enough, this would be a good pick for you.
This radio comes in a compact design that allows you to carry it around with ease. Plus, the radio is built to last. So, it can serve you for a long time without any problem.
You get NOAA weather alerts with this unit, along with the most recent information. In other words, you will be sure of getting alerts whenever there is a possible harsh weather condition forthcoming.
What's more, this radio comes with a VOX function. This feature will turn on the radio automatically whenever the user starts talking and turn off when there is no user's voice detected.
We loved the special VHF receive band from 65 to 108 MHz. It also includes a regular FM broadcast band. Even better, this radio offers you a dual watch, and it supports dual reception too.
You can store up to 128 channels on this radio. Another plus feature of this radio is the LED flashlight. Clearly, you will find the radio reliable when you are working with it in the dark. Luckily, the LED flashlight is also bright enough.
3. Baofeng BF-888S UHF Two-Way Radio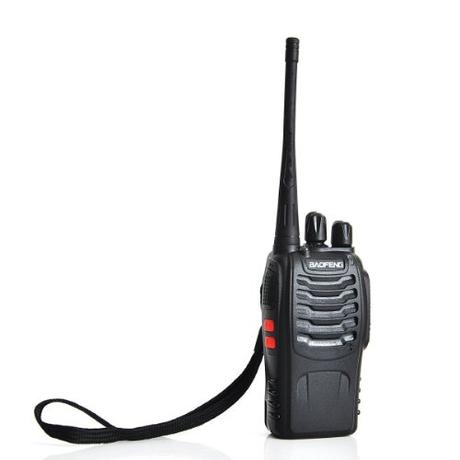 This will be a good choice for security guards, contractors, or if you have a getaway with friends out in the woods.
The radio, like other Baofeng radio models, also comes with a VOX function. Plus, it is a dual-band radio that will serve you accordingly. Along with that, you get a voice prompt, voice, scramble, PC programming, and encryption.
In other words, you can easily communicate on the channel of your choice without worrying about unauthorized persons joining the channel.
Also onboard is an emergency alarm to alert you of any bad weather forecast. Moreover, there is an intelligent charging feature that will stop charging when the radio is completely charged. Even better, there is a battery-saving feature that works well with the low voltage alert.
If you will be exploring the woods and it gets dark, this radio offers you a torchlight to light up your way.
4. Baofeng UV-5R V2+ Two-Way Radio
5. Baofeng Radio BFF9V2YELLOW Two-Way Radio
For those looking for the best Baofeng radio that comes with a colorful look, this would be a good pick for you. It comes with a bright yellow color that makes it pop with excellence.
You get to choose between the three power options, which include low, medium, and high. Plus, the radio comes with a dual-band that is perfectly switchable. Along with that, you get VOX and OFFSET functions. The OFFSET function will reduce the interference with other transmitters as you are using your radio.
Even better, the ham radio comes with a new chipset and a noise reduction feature. With this feature, you can be confident of experiencing incredible performances. It will filter the background noises so as to keep communication clear.
This fella offers you a bright, tri-color LCD screen that assures you of easy reading. Even with the bright LCD display, the radio will serve you for hours as you use it out in the field. By the way, we did not notice any overheating of the radio while using it.
6. Baofeng UV-82HP Amateur Portable Two-Way Radio
7. Pofung UV-82 Transceiver Two-Way Radio
8. BaoFeng UV-5R Plus Dual-Band Two-Way Radio
9. BTECH UV-5X3 Ham Tri-Band Radio
If you are in search of the top Baofeng radio models that have a medium power output, this would be a good choice. The radio comes with a 5W power output that we thought wasn't bad at all.
One thing that makes this a unique radio is the fact that it can modify the scanning list on its own. For you to add or remove a channel, you will need to use special software or your PC. Alternatively, you can scan right in the menu to remove or add the channels. In other words, it would make a good radio for amateurs.
While other radios on the list offer you two bands, this one comes with three bands to make your communications swift. If you want to carry it around with you, you can easily hang it around your wrist or hook it to your belt with the belt clip.
You get an earpiece kit to make your conversations personal or if you want to listen to a specific station without disrupting the comfort of the people around.
10. Baongfeng UV-5R5 Dual-Band Two-Way Radio
We finalize our Baofeng radios review with this radio, which would be a good choice for beginners. Luckily, it is both easy to use and affordable enough.
The radio comes with a high gain antenna of 7 inches long. This should be enough to capture the needed signal and help you with the reception. You can set the power level to either low of 1 watt or high of 4/5 watts. A large 1800mAh battery on board ensures that the radio serves you for long without the need for a recharge.
There is a backlit dual-band display that is perfectly water and dustproof. Besides that, there is a keypad lock that will prevent your personal settings from being changed accidentally. This one also comes with a belt clip and a hand strap for carrying it around with ease.
If it gets dark while in the woods, you can use the flashlight on board. Plus, the radio offers a 3-mile coverage, and it is very easy to use in general.
Is Baofeng Good Radio?
When it comes to a two-way walkie talkie that can work well for the newcomer in a two-way radio's world, Baofeng happens to be the leading brand. The brand offers top-quality radios that are very easy to operate even to someone that has never worked on it before.
These radios are super basic in their user interface. Another thing that makes them a good purchase is the fact that they are very affordable. For just $50, you will get a Baofeng radio, along with the relevant accessories.
On the contrary, other brands offer radios for $150 or even over $500 without the accessories. So yes, the Baofeng is a radio worth purchasing.
Just make sure you make a Baofeng radio comparison between the fake and genuine to find a reliable piece.
Has FCC Banned Baofeng Radio?
According to Scott Stone, the Deputy Chief of Mobility Division of the FCC's Wireless Telecommunications Bureau, the FCC has not exactly banned Baofeng. Mr. Stone stated that Baofeng radios don't have the Part 95 certification. As a result, they are not authorized for use in the GMRS and FRS.
In other words, Baofeng radios cannot operate under the Part 95 certification. They can, therefore, only be used by amateurs on amateur frequencies.
Buying Guide for Newbies
So, what's the best Baofeng radio out there? First off, it is that which comes genuinely from Baofeng. Once you are sure of having a genuine Baofeng radio, here are the factors you should consider;
Frequency Range
Baofeng models will either be mono, dual, or tri-band radios. The tri-band will support VHF (Very High-Frequency), UHF (Ultra-High Frequency), or FM channels. Every radio will work at different frequencies. UHF will range between 420 and 450 MHz, and they are best suited for indoor use.
VHF waves range between 144 and 148 MHz and are the perfect choice for outdoor long distance and emergency communications. Ideally, go for a Baofeng radio that can transmit dual-band frequencies.
Battery/Power
The output power will determine how long the radio can transmit signals. A powerful radio will have long-range coverage compared to a low power radio.
Ideally, choose one that ranges between 3W and 5W in terms of the power output. However, 8W, which is the highest power output, would be the best pick for better coverage.
On the other hand, choose a radio with durable batteries. The battery onboard should be able to last you through the day without the need for recharging it.
Design/Display
You want to have a strong radio that can perfectly withstand the outdoor condition without a problem. Ideally, choose one with a metallic casing. That should be able to withstand damage and breakage. Also, consider going for a water-resistant unit if you will be using it around water too often.
If you are working with the radio outside at night, you might want to choose one with a backlit display.
Squelch
This function will prevent any unwanted noise or distortion from reaching the output speaker. All thanks to the squelch feature, it will make the radio silent to prevent the signal from going higher than the preset limit.
The Baofeng models will come with DCS, DTMF, and CTCSS, which are tone receive squelch features that will sound a tone when there is a sub-audible repeater.
Antenna
Always ensure that the radio you pick comes with a good antenna that can boost the signal strength accordingly. Most portable radios will come with flexible antennas that are called rubber ducks. Antennas are usually rated with gain in dB. Ensure that you pick one with good signal boost abilities, like the High-Gain V-85 antenna.
It would be good to go for a radio with a flashlight if you will be using it mostly when it gets dark.
Frequently Asked Questions
Which Baofeng radio is best?
The main thing is to choose a genuine Baofeng radio. From there, you can choose according to the factors and your preferences.
Can I receive Aircraft frequencies?
No, the Baofeng radios only support FM, and not AM. Aircraft Band is an AM frequency.
Can I update my radio's firmware?
Unfortunately, the Baofeng radio will come with a One Time Programmable chip that cannot be upgraded in terms of the firmware.
I receive the signal, but I can't hear anything on the radio. Why?
If you experience this, you will need to check and ensure that the receiving CTCSS tone is correctly set.
Are Baofeng radios expensive?
No, these are among the most affordable amateur two-way radios that mostly go for less than $50.
Final Words
So, there you have it. Now, you know how to shop for the best Baofeng radio and choose one accordingly. Always remember to choose a genuine unit for you to enjoy its delivery accordingly.