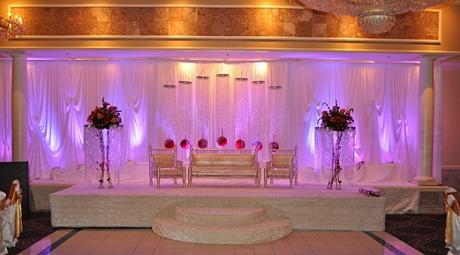 The center stage is one of the most important part of Indian Wedding. The wedding hall decorator plays special attention to this area because the bride and the groom need to spend most of the time over there. You can see the center stage photographs in any wedding album. This creates the long-lasting impression of your wedding in your guests mind.
Here are some trendy stage background ideas that you can use in your wedding to make your photos stand out from the rest.
1. Lights and Flowers
Decoration is incomplete without a fresh flowers and light strings. The combination of these two elements gives a perfect background for the center stage. While the decoration, cover the entire stage with soft coloured curtains and then add a light strings and flowers to give an awesome look for the stage.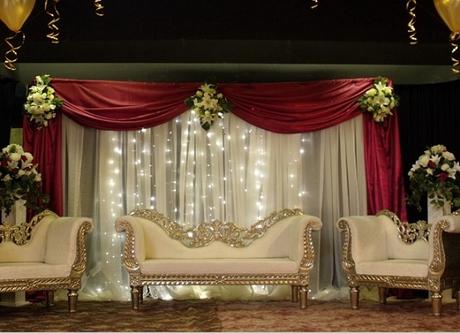 2. Royal Background
Indian wedding mostly known for the royal gold color. Create a royal background of a wedding stage by adding artificial pillars and arches of gold color. This setup looks grate and makes your photos outstanding. The bride and groom can enjoy the royal feeling.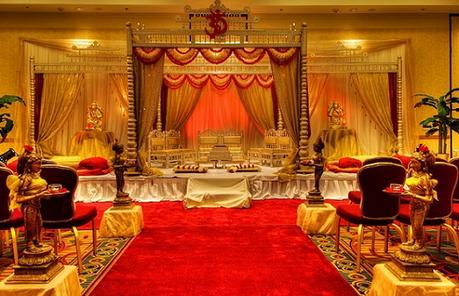 3. Bright Hangings and Drapes
The Bright hangings and curtains, another beautiful combination for center stage. Here the stage background covers with satin drapes with a strings of bright hangings or crystals. This decoration makes romantic backdrop just like a movie. You can use any color drapes but the shiny crystal makes the celebration environment more beautiful and energetic.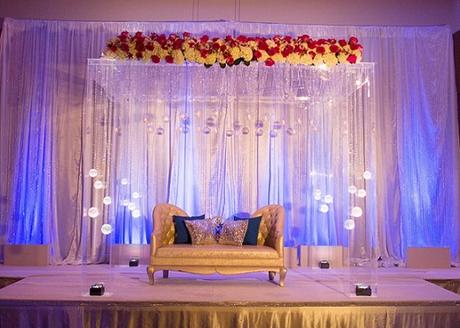 4. Satin Drapes
If you follow this mantra – Less is More, then this style is best for your wedding stage. Simply wrap the satin curtain across the center stage for the elegant and classy look. You can also use the pearly white curtains and match them as per the theme decoration. According to your choice you can set the color of satin drapes.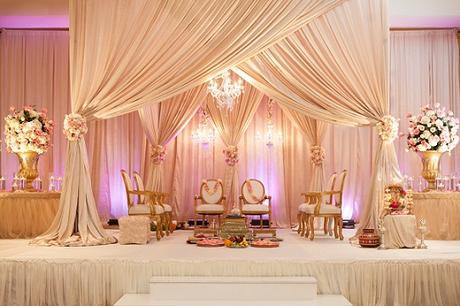 5. Pastel Shades
You can also go for the pastel color stage decoration for a romantic environment. Use the combination of two different pastel shade satin curtains with flowers. This color combination makes an interesting background. Also add the colourful flower bouquets in the decoration.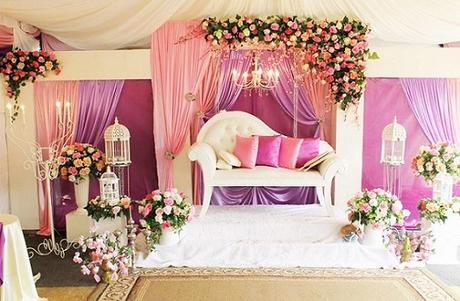 6. Flowers and Satin
To make the stage more dramatic, use flowers and satin. Satin gives the glamorous feel whereas beautiful flowers add a romantic touch in it. Put this things together in an interesting way just like a fairytale story.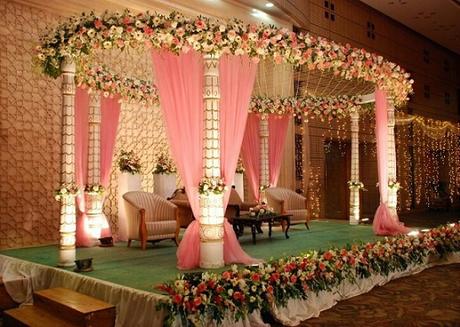 7. White and Pink
For the soothing backdrop of a center stage, use the pink and white satin drapes. This combination gives stunning look to the center stage. Use flowers for a classy look. You can also make experiment with it by using just one these color curtain and to that, some interesting props like paisleys, window panes etc. of another color.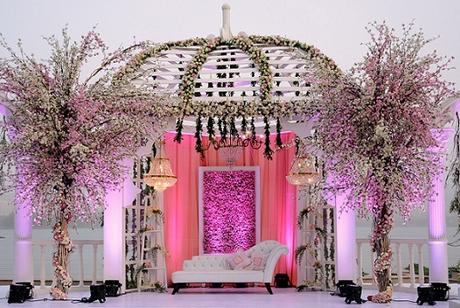 8. Red and Gold
We all know, Red color is for Love and Gold color is for Prosperity. In Indian culture these colours are the sign of happy marriage. Additionally, both the colours make beautiful background for the center stage. So, the red and gold color curtains decoration gives you a royal feel. For fancy look add some flowers in it.



9. Pearly White
For a classy feel choose the pearly white color background. A complete white color background with white pillars and flowers gives a sophisticated look to the wedding stage. In this peaceful environment, the colourful outfit of groom and bride looks outstanding.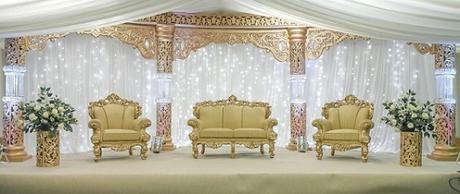 10. White and gold
Décor your wedding stage background with a white and gold drapes, it looks simple yet classy.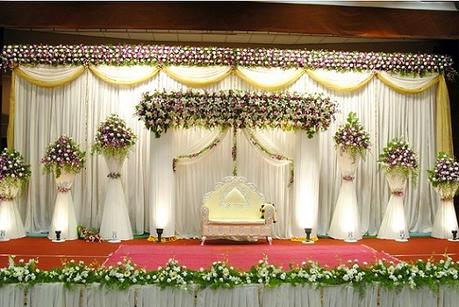 All this things makes your wedding day special and memorable. Try this latest background wedding stage décor to complete your wedding dream.