We've been married a year and what can I say, we survived! It's been a truly enlightening experience and a blessed one. I've learned a lot about life and more importantly, about my wife. Since a picture is worth a thousand words, that's exactly how I'll share my findings with you...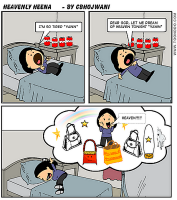 Marriage Tip No. 39Why Say it when you can Cartoon it!
Welcome to our animated married life! Happy ANNIVERSARY!