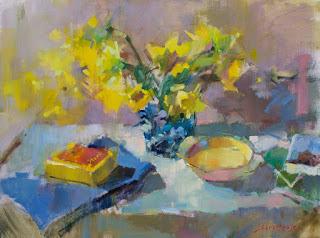 Arrangement in Yellow
30 x40
Every painting has its path, and I think the first marks and color choices launch it down that path, so when I was trying to find my way into the complexity of daffodils, I tried a bunch of small starts before committing to a large version.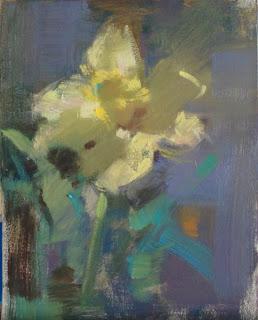 Daffodil #1
10 x 8
#1 started on a gray toned support.  I roughed in the darks around the flower with greenish umber, a nondescript and easily-overpainted dark.  It's almost neutral and so doesn't seem to involve itself in the color space as much as some darker earth pigments.
Then I placed the biggest, simplest local color notes that I could on top of it, focusing on large, unified shapes.  The background bluish-purple is also a distinct color statement and its mid value means that it can interact with other colours on the board, boosting the liveliness of the flower's cool yellow. 
My medium in this was a bit of oil, but mostly just straight paint on big brushes.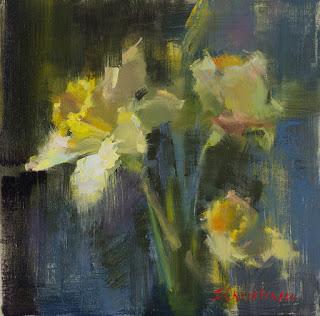 Daffodils #2
12 x 12
This one was next, started from a richer, greenish warm.  The palette I used is the same as above, but the broader tonal range means that there's more drama, greater depth (in the darkest parts of the background), and the piece is much less airy overall.  I did use some complimentary bluish purple, but kept it much darker, in line with the dark upper left corner. 
This has a strong sense of form - something that a full value range is good at creating.  The medium I used was stand oil and OMS, which gives a thick, juicy, and transparent flavor to the background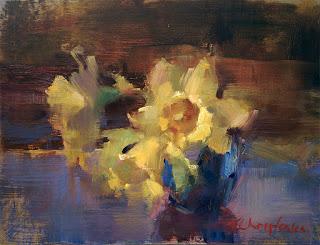 Daffodils #3
8 x 10
Daffodils #3 was started with a color I seldom use anymore: transparent red iron oxide.  It's a rich, transparent, warm dark that was the pigment I always started with at one time, until I got heartily sick of it.  Then I felt like I was seeing it far too prominently in every painting - not to mention the paintings of a lot of other painters.  It was very popular.
Different from the greenish umber start, this one has a powerful TRO presence till the end.  It's invasive in a painting and doesn't want to be shut up, so I tend to let it have its head and run throughout the whole work.  If you can't beat 'em...
Stand and OMS was, again, my medium and the board was toned a warm, earthy color.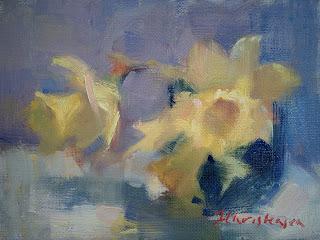 Daffodils #4
6 X 8
#4 was done without underpainting.  I premixed average colours for each element: flower, vase, background, and table, and placed them in the first pass.  Then I added a second, more accurate layer, but only in a few spots: the daffodil ruffle, a couple of petals, and the table.  I had 20 minutes for this one, so fussing wasn't an option, and I wanted to try something different from the other starts.  I used straight paint for this so that I would have a robust paint layer in the first pass.
I quite like this little one.  There's a simplicity to just putting one accurate color next to another on a white support.  The white ensures maximum freshness in the color since there's nothing to try to cover up.  A drawback is that the painting lacks depth and complexity for the same reason: there's nothing under the image except a white canvas.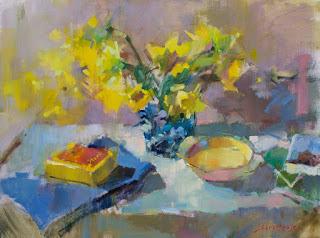 Arrangement in Yellow
30 x 40
After all that experimentation, I had some ideas about what I wanted to do in a larger work.  I didn't want the high drama of the very tonal works and definitely didn't want TRO as a start.  Though I liked the little #4 painting, I felt it was lacking some darks to give it strength.  In all, the first one was the piece that most appealed to me.  It had weaknesses, but the distinct color notes on a warm, greenish mid dark appealed to me.  That start supported the daffodils' colour, and could be allowed to appear in the finished work, but it wasn't so dark as to launch the piece down a tonal path.  I wanted to keep "Arrangement in Yellow"very much about high-key, optimistic color.  After a long winter, darks were just not appealing.
I also knew, after some more precise rendering of the flowers, that I didn't want to belabour the specific structure of the blooms.  I'd find a recognizable daffodil color range, and trust that a few, minimal details would let the viewer know what they were looking at.  I'd also let them know that it didn't really matter what the flowers were; it was the color that was key.
Flowers are, for me, the trickiest subject of all - probably because I struggle with knowing what level of detail appeals to me, and, when you can't visualize the finish, it's hard to move ahead.  The little studies that I did for this larger work were really useful in showing me possible outcomes without having to commit to a large canvas.  And, they allowed me to ignore the snow outside the studio and just think "spring"!
Happy painting!