The Opening Ceremony is Tomorrow (local time)The Opening Ceremony is Friday evening on NBC in America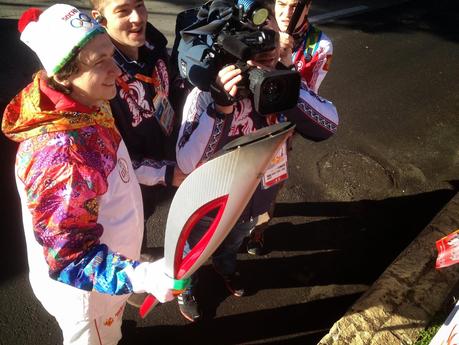 The Olympic Flame arrives in Sochi
This morning we called a surprised final dressed rehearsal.   One dramatic, last second, change to the program will be implemented.  Don't worry though, we are adding to the show, not taking anything away.  I am writing this on the bus to Sochi, which follows along the black sea coast.  Many warships, at least 10, stand guard while I travel to the city center to get a first and final glimpse of the torch relay as it enters the Olympic city for the first time.  The ride is both beautiful and eerie as many abandoned docks and an occasional lone soldier standing guard next to their wooden chair line an otherwise beautiful gray stone coastline.
The excitement is building in Sochi.  Another first, among my many various interviews, I have a live interview on Russian National TV during their national nightly news tonight!  Although I will speak in English, I am very proud as I have received many compliments on my Russian this last week.  As a musician, I am really particular about not having an American accent, so I think it is more a reflection of that than my actual Russian vocabulary.  I will certainly keep learning Russian after I leave the Olympics.
And as for news in general, it is difficult for us to receive it from overseas because of the poor internet coverage here in Sochi.  At the resort, one of the ceremonies staff downloaded a television news segment and about twenty of us sat around chairs and tables to watch it on an iPhone.  As one person said, "I've learned more in these three minutes about what is going on in Sochi than I have in the three weeks living in the middle of it all."
In many ways, we prefer not to know.  Our responsibilities are enough to worry about.  We feel very safe though as there are security forces everywhere.  Still, I am more confident than ever that the ceremonies will go exceedingly well.  I hope you enjoy it all!
Last night, all the international ceremonies staff threw me a gigantic going away party!  I love them all and will miss them all so very much!  I now have new friends from all over the world, London, Hong Kong, Brisbane, Kiev, Toronto, Michigan, Ottawa, Vancouver, Halifax, Lithuania, Leipzig, Copenhagen, and many various places in
Russia
.  I must find a way to see them all again soon.
And just in case you want to know more about any of the Opening Ceremonies from 1896-2012,
CLICK HERE
.  You can watch the 2014 Opening Ceremony live to 4 billion around the world on Friday night!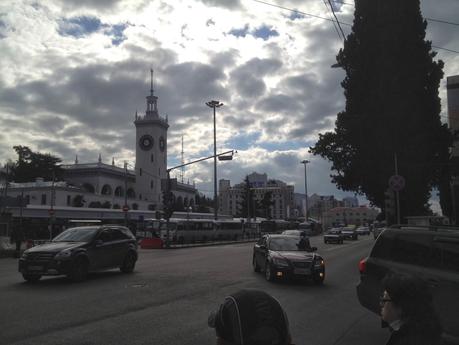 Sochi city center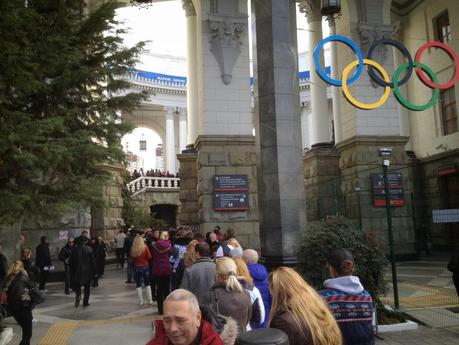 The line to get tickets for events can be 4 hours long...this one goes all the way up the stairs in the distance before a room with another 1.5 hour wait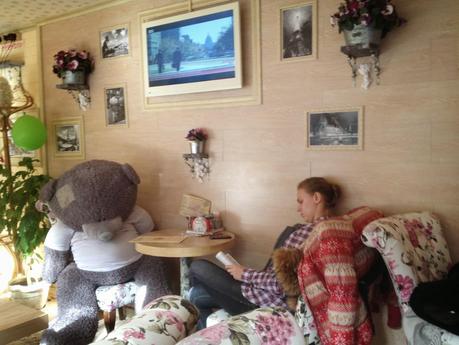 A Russian coffee shop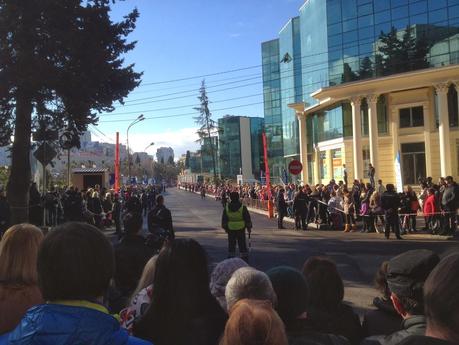 the crowd in Sochi waiting for the Torch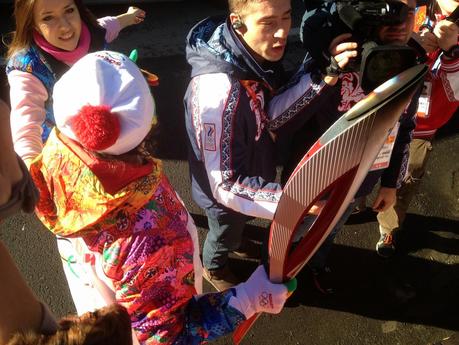 a runner finishes his part of the relay