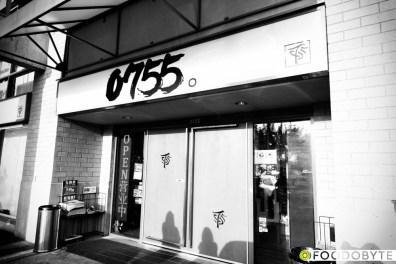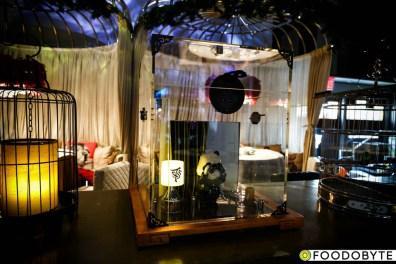 0755 is a perfect example of how you should never judge a book by its cover… or a restaurant by its club-ish exterior, 360-mirrored bathrooms, and rando sumo and bird cage decorations. Yep, exploring a new restaurant thanks to Chopsticks Fest! BTW – 0755 is an area code in China.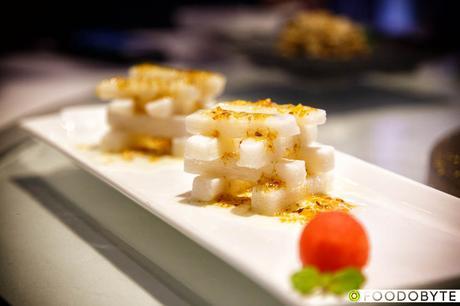 Our meal started off with some cold appetizers. The Sweet Olive Chin-Yam kinda puzzled me because I couldn't really tell what it was when I first ate it. I thought it was similar to a crunchy radish. It was more of a pretty Jenga-looking dish.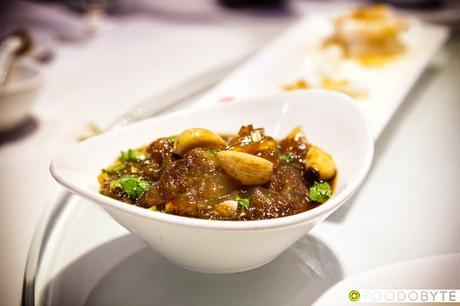 I've had jellyfish at most Chinese banquets, but never have I had the head. The Sour Jelly Fish Head was very crunchy and packed a vinegary punch.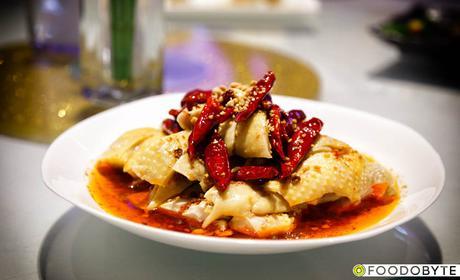 The Chongqing Spicy Chicken wasn't that spicy. It had more of a plain chicken flavor. I found it to be a bit too oily though.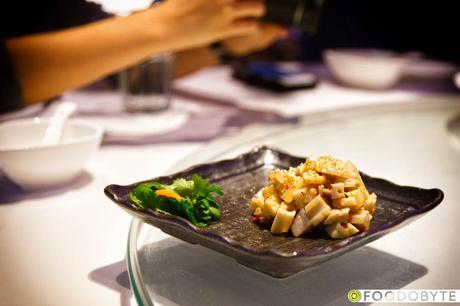 Our last cold appie was the Spicy & Sour Lotus Root.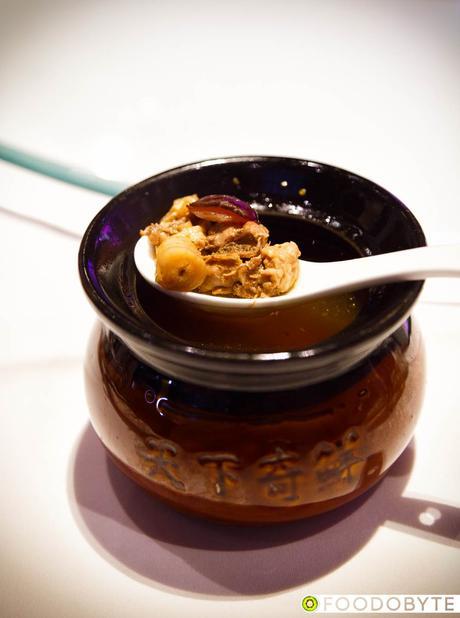 Heating things up, we had a Stewed Chicken Soup. The clear broth was simple, flavourful and heartwarming. I really enjoyed this little jar of soup.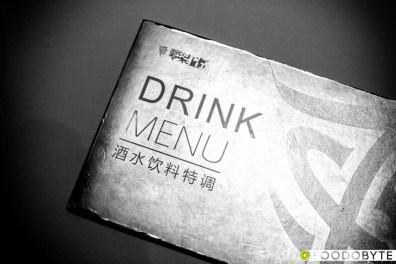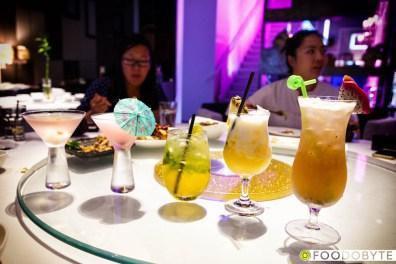 Seeing as 0755 looks like a club from the outside, it's only fitting to have a wide variety of drinks within. Unfortunately, none of the drinks listed their ingredients. The names didn't lend much help either as they ranged from Dragon Killer to Hawaii 5D. The waiter didn't know much about the drinks as well… he summarized each drink as "something + alcohol." As a group, we found all the drinks to be too sweet, except maybe the Mojito. My Baby Dragon tasted like liquid Nerds.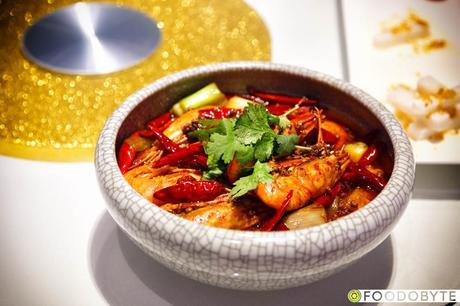 The Braised Spot Prawns was packed with chills and corn. Don't worry though, the spices were quite tame. They also provided plastic gloves!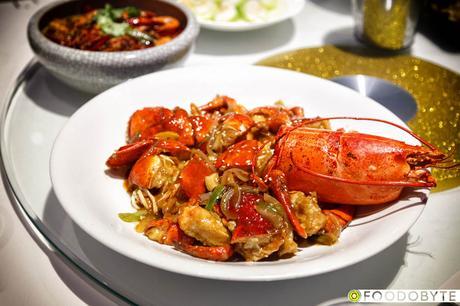 Perhaps the best part of any lobster dish is the noodles underneath… soaking up all the lobster elixir of goodness. The lobster was good too though :P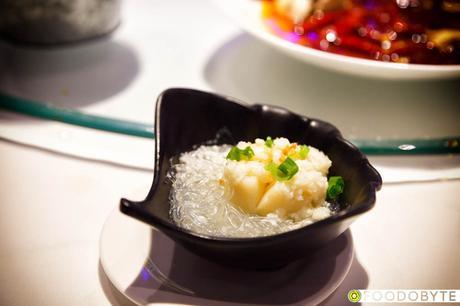 The Garlic Steam Scallop was one of my favourites of the night. A plump, perfectly cooked scallop donned with a crown of garlic, sitting on top of some glass noodles. So simple, but so flavourful.
It's hard to cook fish. It goes from raw to jerky real quick. At 0755, they nailed it with the Pepper Steam Mandarin Fish. It was incredibly moist! Similar to the chillied up dishes, it wasn't too spicy. Awesome dish.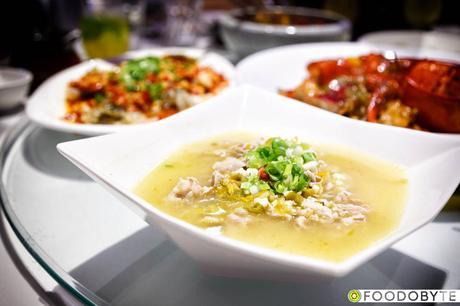 The Spicy Sour Beef in Soup tasted like those chopped up pickled veggies that usually garnish Chinese noodle soup dishes. The thin slices of beef were tender. And who doesn't love enoki?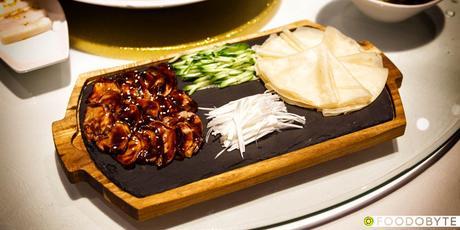 The Roast Duck Slice with Spring Pancakes was a similar set up to Peking duck, except the sauce is already slathered onto the duck. I wished they kept the sauce on the side because it overpowered the duck.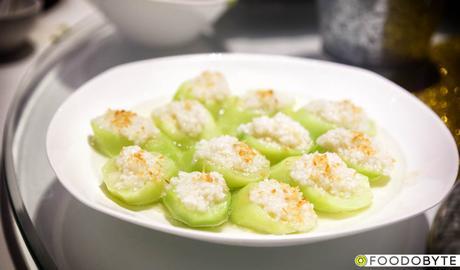 Loofah. No, not the thing you shower with. It's a vegetable that is part of the cucumber family, with a slight gelatinousness like okra. Although it was layered with garlic, the Steamed Garlic Loofah surprisingly didn't make us feel like keeping our mouthes shut for the rest of the dinner – it wasn't actually too pungent.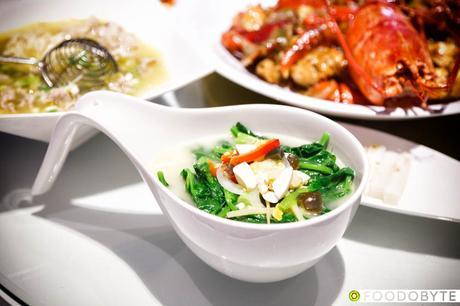 Pea sprouts are one of my fav veggies. That's why I enjoyed the Sauteed Pea Sprouts in Broth.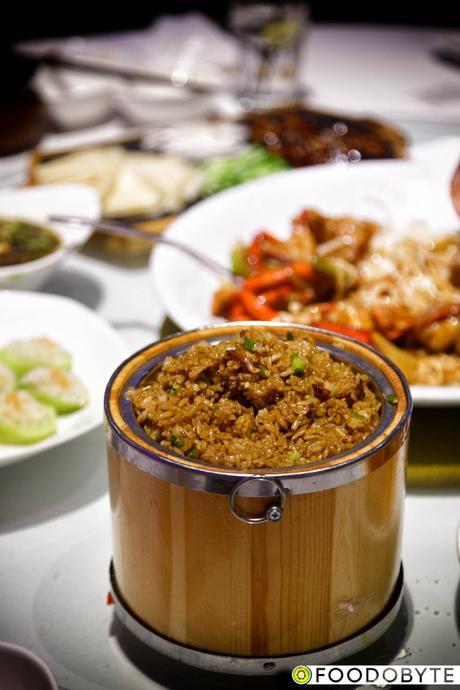 0755 Stir Fried Rice with Ham. Not oily or mushy, quite well done.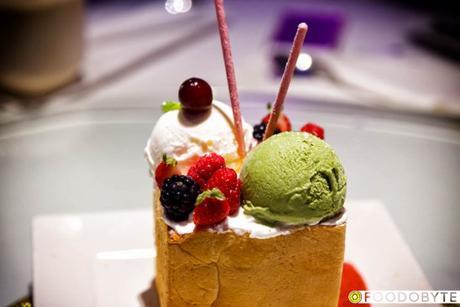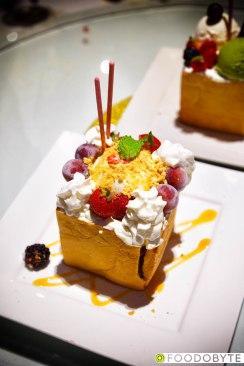 I've never had toast boxes before, but I'm glad 0755 was my first. Both the ice cream and toast bread are made in house! The boxes were topped with fresh berries and Pocky sticks. Inside, there were warm toasty cubes of toast that paired with the cold creamy ice cream. I would get this again.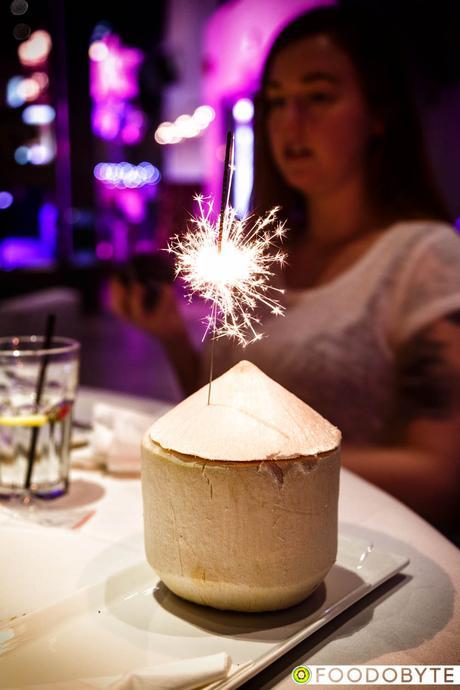 The grand finale was definitely grand. The Coconut Pudding was delivered with a dazzling sparkler on top. Be quick with your photos because it will burn out quite. This dessert wasn't all theatrics though.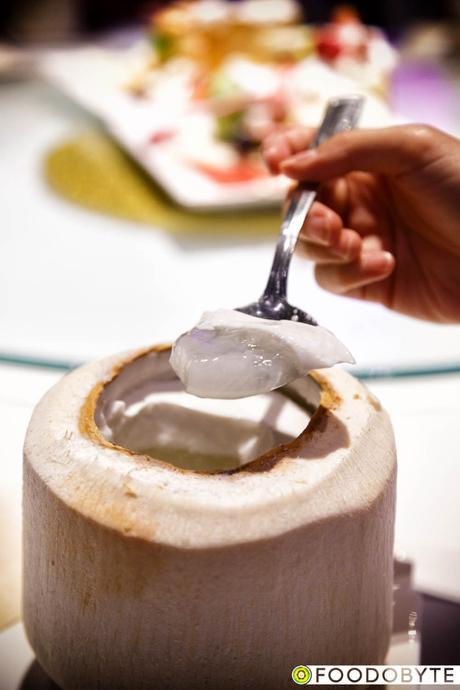 There were two layers of pudding – coconut cream and coconut water. Wow. It was essentially a gelatinized coconut, but omg it was so good. I even ate the coconut meat after I was done the pudding… I couldn't get enough of it. I would come just for this.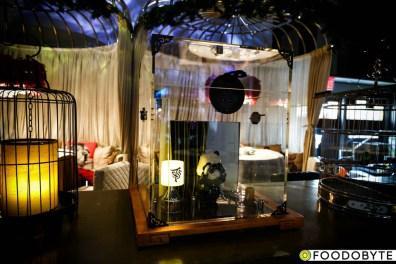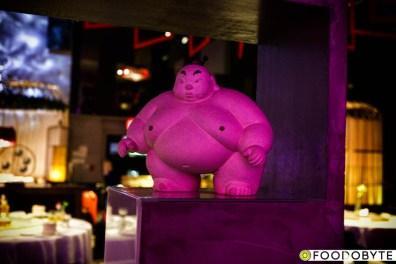 I left the restaurant super surprised. From the looks of this restaurant, I expected it to be mostly about alcoholic drinks with small eats. I never could've anticipated such a dinner menu!
To learn more about Chopstick Fest that's starting October 15th, check out www.chopstickfest.com. Think Dine Out Vancouver, but showcasing Chinese cuisine.
Disclaimer: my meal was complementary, but all opinions are my own.

to eat / to recommend
---

Address: Continental Centre, 2188-3779 Sexsmith Road, Richmond