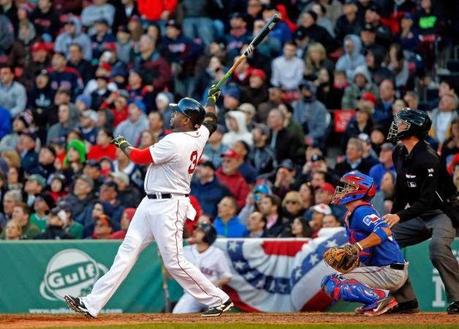 It was looking like the Red Sox were going to drop another home series on Wednesday, as the offense disappeared and the Sox were down 2-1 in the 8th inning.
But they had a threat going, with two on and one out. But this season has been exceptionally frustrating so far, as it seems the Red Sox have either been leaving those runners there or banging into double plays like they are going out of style.
But David Ortiz was having none of that.
Reliever Neal Cotts came in, a lefty that Papi has had no end of trouble with. In six career at-bats against him, Ortiz has six plate appearances, with one walk and five strikeouts. So had had never even put a ball in play against this guy.
As soon as NESN put up that stat, I thought, "OK, that only means he's due."
Papi blasted a 1-1 inside fastball (not a good idea as Cotts was pitching him away the first two pitches) right down the line and it landed just inside the Pesky Pole for a three-run homer. 4-2 Sox. The umps took a look on replay and confirmed their decision.
Koji Uehara made it look easy with a 1-2-3 ninth for his second save, and the Sox took the series, instead of losing it, thanks to the Large Father. Jake Peavy was terrific for 6 2/3 innings, allowing just one run and strikng out 7, but coming away with a no-decision.
Now it's off to New York for the latest War to End All Wars with the Yankees, and onetime Red Sox hero Jacoby Ellsbury.