'
Zulu language is simply the coolest language I've ever heard.  I love the clicking sounds, which sound easy to imitate, but in reality take some practice as I discovered during my time in the Drakensberg, S. Africa.   Thandekaximba (featured in the Zulu language video below) laughed at me.  I practiced my Zulu with Eric when we toured his Zulu Village and with his brother Wiseman, our guide in the Drakensberg on our hike to Orange Peel Gap.  Despite my practice, I did not succeed in speaking anything that sounded remotely like Zulu, although I did entertain them with my attempts.  What do you think?  How easy would it be to learn the Zulu language which is spoken by 10 million people?
And shocker, I know, but yes that is me in the video asking Thandekaximba to make the baboon sound

.
Thandekaximba (try pronouncing that name properly!) was our guide to the Main Cave where I saw thousands of year old cave drawings (post to follow).  I  stayed at the  Giants Castle Chalets which conveniently was the start of the trail to the Main Caves AND I had this view from my private chalet: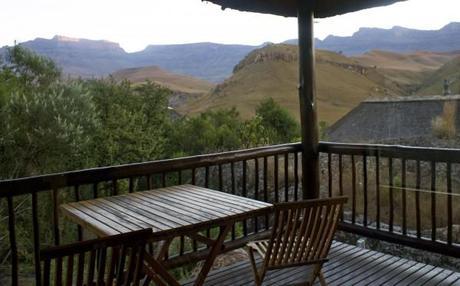 The Giants Castle Chalets are a great place to practice your Zulu!
Contact the Contact the South Africa Tourism Site (in German) or the South African Tourism Site (in English) for more info on how you can learn Zulu in the Drakensberg.
Note:  I was a guest of Giants Castle Chalets but all opinions expressed remain my own.