This post may contain affiliate links. Please read my disclosure.
Hollowed out zucchini is loaded with tangy marinara sauce, perfectly seasoned veggies, and gooey mozzarella cheese to create these tasty zucchini pizza boats. A healthier alternative to traditional pizza, these vegetarian pizza zucchini boats are easy to make and packed with flavor! Ready in under 30 minutes, and kid-friendly, it's an easy low-carb dinner idea the whole family can enjoy!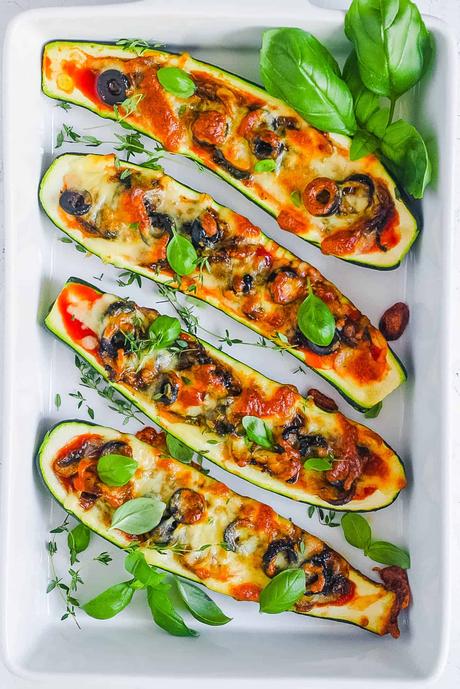 Who doesn't love pizza? This party dish is a classic for a reason - something dreamlike happens when you combine savory tomato sauce, softened veggies, and melty cheese.
My margherita flatbread and healthy pita pizza are always big hits at my house, but I love experimenting with new and healthy ways to make pizza. Over the years, I've gotten creative with my pizza flavors, and this zucchini pizza boats recipe is my new favorite! It is so easy to make and is bursting with classic Italian flavors that everyone is sure to love!
Latest Recipe Video!
These satisfying and tasty low-calorie zucchini pizza boats are perfect for anyone with a gluten allergy or who's trying to eat a little healthier. By replacing carb-loaded pizza crust with equally delicious baked zucchini, you can easily turn your favorite cheat meal into a delicious, gluten-free, low-calorie lunch or weeknight dinner.
This recipe is a delicious way to satisfy all of your pizza cravings! It's great during the summer months and zucchini season, or really for any time of year.
The best part? These low carb pizza boats are a true 30 minute meal - they can be made from start to finish in less than 25 minutes!
👩🏽‍🍳 Why This Recipe Works
Packed with pizza flavor: Once cooked, zucchini has a very mild flavor, making it the perfect base for loads of fun pizza toppings.
The perfect way to make a healthy personal pizza!
Kid friendly
Great for meal prep (chop everything, hollow out your zucchini, and store in the fridge, then just assemble and bake when ready to serve!)
Vegetarian and easily made vegan
Naturally gluten-free
Easy to customize, great for pizza night!
🥘 Ingredients
This recipe can easily be made with basic ingredients found in your pantry or your local grocery store! For detailed instructions and nutrition information, see the recipe card below.
Fresh Zucchini: You'll need large or medium zucchini. When hollowed out, it creates a great vessel to carry all your favorite pizza toppings.
Marinara Sauce: Because pizza wouldn't be pizza without the acidic bite of a good pizza sauce. Jarred or homemade will both work nicely.
Melty Mozzarella Cheese: When melted, turns delightfully gooey and holds all your pizza toppings together. You can also use shredded parmesan cheese, feta cheese, or an Italian cheese blend.
Vegetables: Onion, garlic, mushrooms, baby spinach, and black olives are used to top your saucy, cheesy pizza boats. But you can add any of your favorite pizza toppings to customize this to your preferences (see the variations section below for suggestions!)
Seasonings: These low carb zucchini boats get that rich pizza flavor from dried Italian seasoning, and a little bit of salt, pepper, and fresh basil.
These deliciously savory zucchini pizza boats are a quick and easy lunch or weeknight dinner and require very little equipment to make! All you really need is a sturdy sauté pan, a chef's Knife, a lined Baking Sheet, and of course a piping hot oven.
📖 Variations
One of the best things about this zucchini pizza boat recipe is how customizable it is! Any of your favorite pizza toppings can easily be added to this recipe. Below are a few of my favorite topping combinations.
Create Barbecue Pizza Boats by filling your zucchini with barbecue sauce, red onion, sliced bell peppers, and plenty of mozzarella cheese.
You can easily make Buffalo Cauliflower Pizza Boats by stuffing your zucchini boats with buffalo sauce, baked cauliflower, celery, green onions, blue cheese, and topping with a drizzle of ranch.
Pesto Margarita Pizza Boats can be made by filling your pizza zucchini boats with a mixture of pesto, cherry tomatoes, and buffalo mozzarella. Top your baked boats with fresh basil and a drizzle of olive oil.
Keto Zucchini Pizza Boats: This recipe already works for a low-carb diet, as it's quite low in net carbs, coming in at just 14 grams of net carbohydrates per serving. But to reduce the carbs even further, and for added protein, you can swap out the veggies for your favorite meat filling - Italian sausage or turkey sausage, or mini pepperoni slices (or turkey pepperoni) would all work well.
Additional Filling Ideas: You can really add any of your favorite toppings to these easy zucchini pizza boats! Try diced red onions, green pepper, fresh herbs like thyme or rosemary, diced pineapple, diced broccoli, crushed red pepper flakes, scoops of ricotta cheese instead of mozzarella, or diced plum tomatoes.
🔪 Instructions
Preheat your oven to 375 degrees F. In a pan over medium heat, sauté your onion, garlic, mushrooms, and spinach in a bit of olive oil over medium high heat. (You can also use avocado oil). Stir occasionally, until the vegetables have softened, about 3-5 minutes.
Add your Italian herbs, salt, and pepper. Remove from the heat and allow to cool slightly.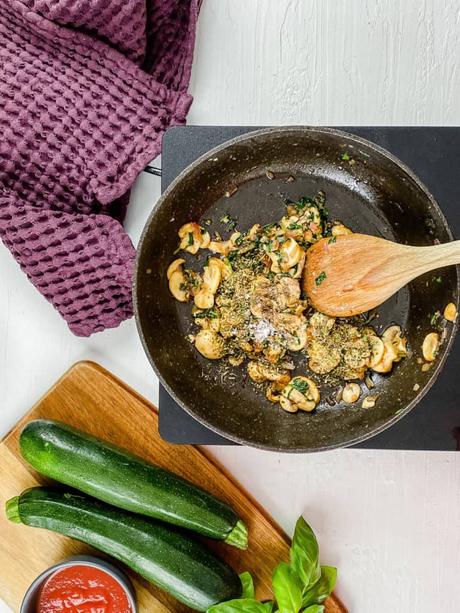 Prep your zucchini: Wash zucchini, trim ends, then slice in half lengthways. Then, using your knife, a small spoon, or a melon baller, scoop out the seeds.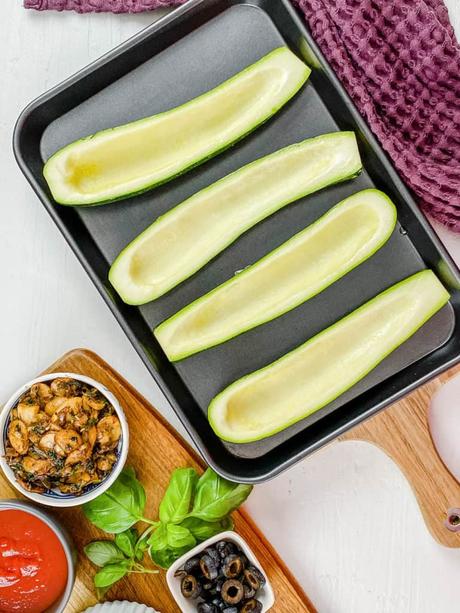 Place the zucchini halves onto a prepared baking sheet (flesh side up) and fill the center of each zucchini half with marinara sauce, your cooked mushroom mix, and sliced olives.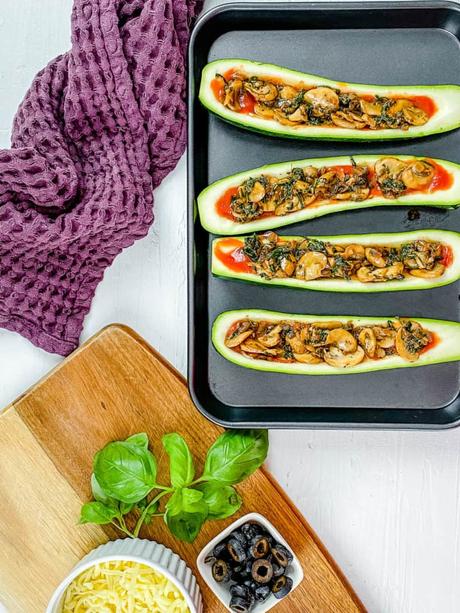 Lastly, sprinkle with mozzarella cheese on top.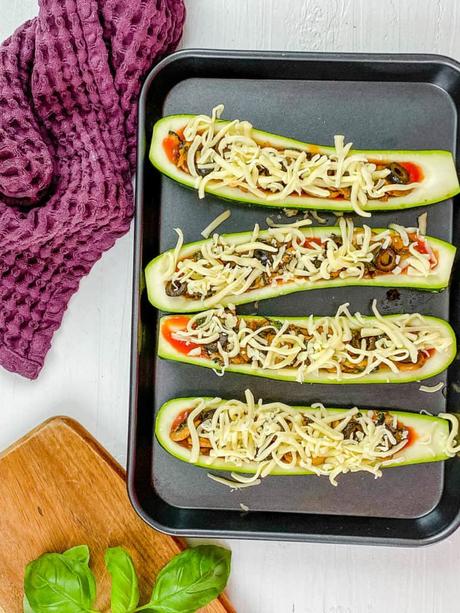 Bake your pizza boats in a 375°F oven for 15 minutes or until the zucchini is tender. Top with fresh basil and serve warm.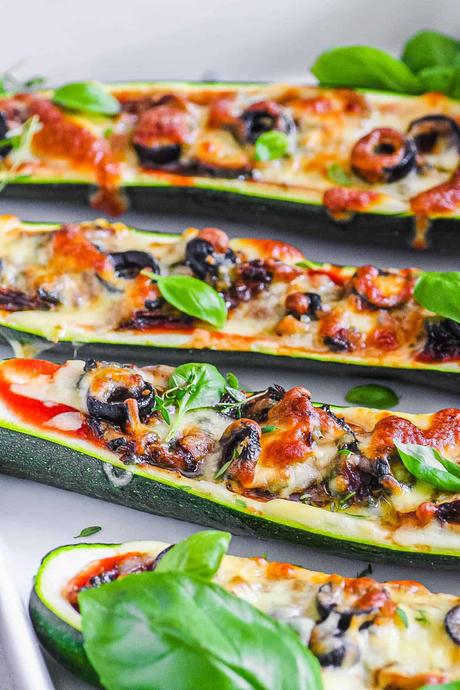 ❓Recipe FAQs
Can I make pizza boats with vegetables other than zucchini?
Although I've never tried it, I would imagine that you could create a similar boat shape out of yellow or spaghetti squash. I also think that hollowed out bell peppers or eggplant would work well.
Do I need to peel my zucchini?
Nope! Zucchini skin is perfectly edible and is actually packed full of nutrients that are super good for you.
Can zucchini pizza boats be made vegan?
Absolutely! Simply swap out the mozzarella cheese for a plant-based alternative.
How many calories are in a pizza on average?
One slice of pizza can range from about 270-450 calories! Which is why these pizza boats are so awesome - two huge pieces has only about 240 calories!
Are zucchini pizza boats healthy?
Yes! By swapping out carb-heavy pizza dough for fiber-packed, low-carb zucchini, these healthy pizza boats are high in fiber (one serving has 5g fiber), high in protein (one serving has 13g protein), low in carbs, low fat and low calorie!
To Refrigerate: Place any leftover pizza zucchini boats in an airtight container and store in the fridge for up to 4 days.
To Reheat: Place your refrigerated pizza boats onto a lined baking tray (with parchment paper) and pop into a 350°F oven until warmed to your liking.
I do not recommend freezing these healthy zucchini pizza boats. They will become mushy and watery when you try to defrost them!
When I'm in a rush, I like serving these cheesy pizza zucchini boats alongside a variety of side dishes like a fresh garden salad, french fries, or roasted veggies.
For a slightly fancier spread, try serving your pizza boats with a side of parmesan kale chips, easy garlic cheese buns, or steamed asparagus with pecorino.
Be sure to scoop out all of the zucchini seeds! The seedy center of zucchini is filled with water, so any seeds left behind will release moisture in the oven, leaving you with soggy pizza boats.
For a crispy cheese topping, try throwing these zucchini pizza bites under the broiler for a few minutes before serving.
When serving to kids, I recommend pre-slicing these vegetarian zucchini pizza boats to make them easier for little mouths to bite into.
Note: the baking time for this recipe depends both on the size of your zucchini and how thick the zucchini shells are / how much you scooped out of the middle. For thicker / bigger zucchini, you may need a slightly longer baking time. You want the zucchini to be tender but not mushy, and still have a bite to it.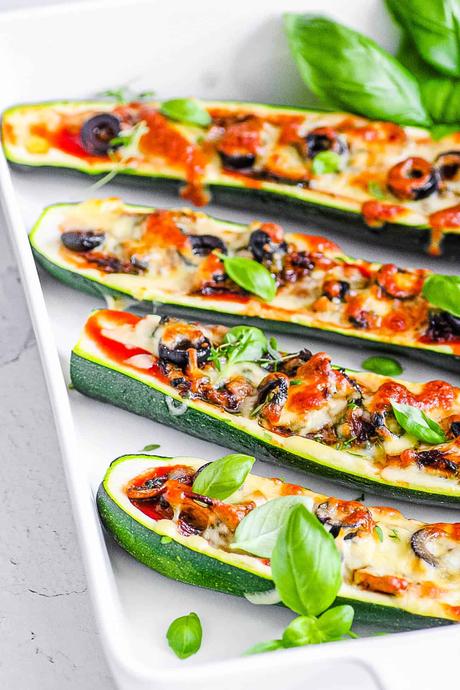 🥒 More Savory Zucchini Recipes!
📋 Recipe Card
Easy Pizza Zucchini Boats