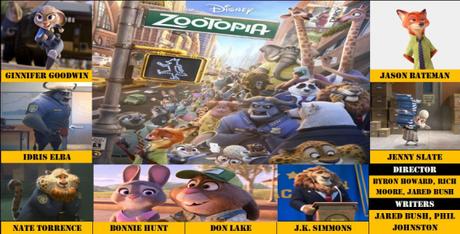 Plot: In a city of anthropomorphic animals, a rookie bunny cop and a cynical con artist fox must work together to uncover a conspiracy.
There may be spoilers the rest of the review
Verdict: Safe Enjoyable Film
Story: Zootropolis starts as we meet a young Judy Hopps who cleverly tells the story of how all the animals live in peace before show how she wants to be the first bunny cop. Having achieved this Judy Hopps moves to Zootopia to start her career only to be left on parking duty by Chief Bogo even with 14 missing mammals cases open.
On her first day Judy learns the hard way not to trust anyone after running into Nick Wilde a hustler in the big city. Upsetting the Chief Judy finds herself searching for one of the missing mammals or losing her job and who she turns to is Nick. The further Judy gets into the case the deeper she gets into a bigger case going on in the city.
Zootropolis brings us what we expect to see from an animated film where we have a film that encourages you to follow your dreams, yes we have seen this plenty of time. The story following the odd couple trying to solve the case comes of very repetitive through the film with it just being here's a clue here is another clue etc etc. As for this being a film just to enjoy it is fine because the jokes do come off working with the family getting plenty of jokes through the film.
Character Review
Judy Hopps: Judy is the first bunny cop in the city of Zootopia, she has always overcome the odds and her first day it is nothing different. Standing up for herself she takes a case against the Chief's wishes only to be given an ultimatum but uncovering something bigger than any other case. Judy is a good strong Disney character but not the most original at that.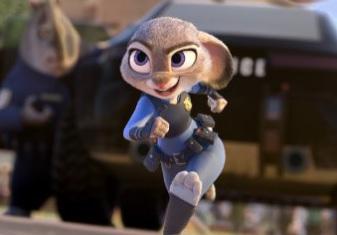 Nick Wilde: Nick is a hustler fox that clashes with Judy early on as he tries to teach her the harsh lessons in the city but ends up getting tricked back into helping Judy uncover where the missing mammals are going. Nick is a good character but I do feel it steals a lot from Fantastic Mr Fox.
Chief Bogo: Chief doesn't like the idea that he has to have a bunny working in his police force, he keeps her on parking duty and forces her to quit if she doesn't find a missing mammal in 48 hours. Chief Bogo is very typical authority character not bringing anything fresh to the genre.
Bellwether: Bellwether is the assistant mayor who is happy to help Judy as she is looking to help any of the fellow small mammals in the big city. Bellwether is good but yet again very generic.
Support Characters: Zootropolis has so very funny supporting characters that all poke fun at how we think the animals would act if they were in peace.
Director Review: Byron Howard, Jared Bush, Rich Moore – The trio do make a safe and enjoyable film that doesn't challenge.
Action: Zootropolis has good animated action being used throughout the film.
Adventure: Zootropolis puts our two odd couple work really well in this animation.
Animation: Zootropolis is always going to get top marks on the animated side of the film because of who made it.
Comedy: Zootropolis has good laughs throughout and jokes the whole family will understand.
Family: Zootropolis is one the whole family can enjoy together.
Settings: Zootropolis has a clever spin on settings by having animals all living like humans in peace.
Suggestion: Zootropolis is one for the whole family to watch together. (Watch With The Family)
Best Part: Sloths.
Worst Part: Repetitive.
Favourite Quote: Chief Bogo 'Life isn't some cartoon musical where you sing a little song and all your insipid dreams magically come true. So let it go.'
Believability: No
Chances of Tears: No
Chances of Sequel: Maybe.
Post Credits Scene: No
Oscar Chances: Will most likely get nominated for Best Animated.
Budget: $150 Million
Runtime: 1 Hour 49 Minutes
Tagline: Welcome to the urban jungle.
Overall: Enjoyable animated film that has clever twist being used.
Rating