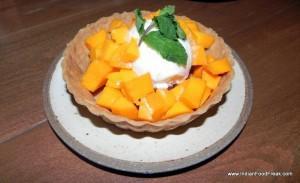 Mango and Icecream in tart shell
Summers for me meant freedom, grand mom's great food, lots of laughter and MANGOES! Childhood memory is filled with large sacks and baskets of mangoes coming home and they being spread under the large four poster beds on a bed of hay, covered with more hay and newspaper until they were ripe to be juiced or eaten diced every day. For those four months of summer we slept in the lovely wafting fragrance of mangoes.
Growing up among scores of cousins, pampered by uncles and aunts, summers used to be a validation of my freedom from all convent school rules and my dad's discipline. Every summer, my mom would either pack me off alone to an uncle's place or we would enmasse descend on the farms of one of my uncles. Days would be spent loitering in the farm among sugarcane and corn fields, rides on tractors and trucks, climbing trees, sitting on haystacks as the self-proclaimed queen, eating raw mangoes, star fruits, falsa, shahtut (shehtoor).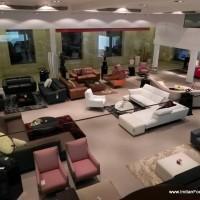 Zencafe
Lunch-times however were large affairs. We are a family of passionate mango-eaters. Mangoes would be gathered by the farmhands, washed and left in ice and water to cool. After lunch we would all gorge on these mangoes. This is what mangoes mean to me right from the early bird raw Totapuris to the succulent juicy Hafoos (Alphonso) to the sweet Gujarati Kesar, the robust Southern Badami (Banganapalli) to the uniquely fragrant Multani Chaunsa to the pickle makers favorite Rajapuris, the longest available Neelam to the humble and yet proud Langra. It's a love affair that has transcended all the years and maturity and I still become the juice smeared, gurgling kid when I am eating mangoes even today.
So when Zencafe invited for its "Mangoes in season at Zen" tasting menu, I just couldn't refuse and despite it being a weekday, it was in town and prior commitments, I was there. The ambiance of Zencafe is like a New York loft café; very stark and avant garde housed in a contemporary décor outlet. An insight worth mentioning here is that Hema Parikh, the half of the Ashish-Hema duo who have started this, is a designer and she visualises a dish first and then executes it. Hence be prepared to feast your eyes as well as your palate and feast we did.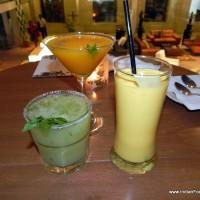 Raw mango, mango iced tea and smoothie
We started with three different drinks. A mango smoothie, iced mango tea and raw mango juice with mint. The iced mango tea was my favorite. A light summery drink with just a hint of green tea and fresh kiwi topped with ripe mango juice.  The mango smoothie had all the fruity richness and you can't go wrong with that.  The raw mango juice served with a salt crusted rim was an acquired taste and though pleasant not my favorite.
The next was sweet and spicy mango salsa with chips. The mango pieces were firm to the bite which is how a salsa should be. There is nothing more disappointing than a limp salsa. The tastes were very well balanced and for a dish so simple it was one that was quite relished. Then we had the caramelised mango fajita. A little unwieldy to handle due to the bountiful fillings, it was however a lovely dish of how bell peppers and mangoes and onions can be married in harmony. The mango pickled kathi rolls with paneer were delicious. Delicately flavoured they had the tartness of a pickle and at the same time the creaminess of the paneer was not overpowered. I simply loved the dish.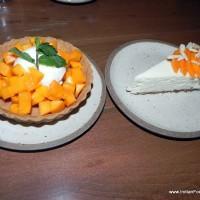 Mango Desserts
The desserts were almond ricotta cheesecake and mango in tart shells with ice cream. The crusty tart shell along with the mangoes and ice-cream was pleasant. But I can safely say that the cheesecake was the star of the evening, not your usual mango cheesecake but an almond cheesecake with slices of mango. It was a treat for the eyes and the palate.
This is a place definitely recommended to visit on quiet evenings with BFFs wanting to catch up on gossip over some coffee and light and delicious summer menu in an ambiance of a living room.
Ratings out of 5
Food: 3.5  | Ambience: 4 | Service: 4 |Overall: 3.5
Meal for two: INR 1000 + taxes | Alcohol: No | Credit Card: Yes
Timing: 11 am to 10 pm
Address: Zencafe, At Icasa, Raghuvanshi Mills, Lower Parel, Mumbai – 400 013.
Telephone : +91 22 24984825
Twitter handle : @ZencafeMumbai
Mango salsa and chips
Mango kathi roll
Mango fajita
Coffee
Almond and ricotta mango cheesecake
Zencafe