This is a very simple treat that kids will love ......My SIL had made this a couple of years ago and I just fell in love with it. My kids love them a lot. Its easy and quick to make.
Sweet, Chewy, Crunchy Delicious.......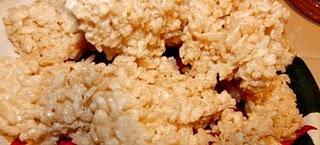 Ingredients
3 tablespoons 
butter
1 package  
(10 oz., about 40) regular marshmallows
6 cups 
crisp rice cereal
Procedure:
In a saucepan melt butter over low heat. Add marshmallows and stir until completely melted. Remove from heat. 
Add crisp rice cereal and stir well so that the cereal is well coated.
Using wax paper evenly press mixture into the pan coated with cooking spray.
Cut them into squares or using a cookie cutter cut them into different shapes.