I recently made these lemon bars and my husband loved them! So I thought I would share them with you. I followed the recipe exactly and felt they could use a little less lemon juice.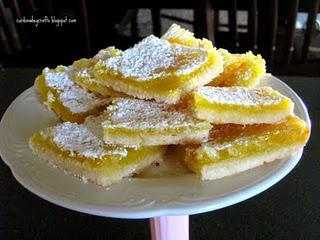 Here is the recipe:
CRUST
1 1/2 C all purpose flour
1/3 C sugar
1/4 tsp salt
1 tbsp lemon zest
1/2 C butter, room temp
FILLING
4 large eggs
1 1/3 C sugar
1 C lemon juice, freshley squeezed and strained ( I feel you could easily use 1/2 c to 3/4 c and be ok)
Preheat oven to 350F. Line 13x9 (or for thicker crust, use 9x9) pan with aluminum foil. In a large bowl, whisk toghether flour, sugar, salt and lemon zest. Cut butter into chunks and add to flour mixture. Blend it with an electric mixer at low speed until mixture forms coarse, sandy crumbs. Pour into pan and press mixture down into an even layer.
Bake for 16-19 Minutes, until just lightly browned around the edges.
While crust is baking, make filling. Whisk together all filling ingredients in a large bowl. When the crust comes out of the oven and is still hot, pour in filling mixtture. Bake for about 20 Minutes, or until filling is set and does not jiggle when the pan is gently shaken.
Cool completely before slicing. Top slices with powdered sugar and serve.
Enjoy,