As a fan of the girl, I'm not sure how I managed to miss the fact that Yuma Asami is featured as a hostess in Yakuza 2 when I played through it earlier this year... Kazuma Kiryu's a busy man: so many girls, so little time (and money).
For those of you who have no idea, Yuma is a very popular AV (adult video) starlet, but also works as a regular actress, and is a fairly decent singer as far as jpop idols go.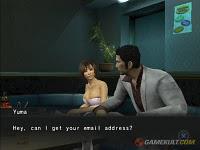 It really looks like her too...