Have you ever eaten something thinking it would be okay, only to find yourself thinking about it and craving hours or days later?  That doesn't happen to me that often, but, when it does, OH BOY!  Thankfully, I know I am not the only one who feels this way.
My friend, Brooke, (remember her guest post featuring tips to deal with unemployment?) and I were driving to the LA LDS Temple a couple of weeks ago, and the traffic was so good, that we thought we would have time to go to the cafeteria.  That's when Brooke started talking about this awesome crab (okay, it's imitation crab) salad they serve in the Temple cafeteria.  Apparently, we are both HUGE fans and tried making it at home, but it wasn't quite right.
Brooke, being the bold lady she is, asked one of the ladies in the cafeteria if she  would share the recipe.  She was willing, but the person who had it was not there.  Darn!  When I went to the Temple with my son a week or so after mine and Brooke's visit, I went by the cafeteria, and I asked for the recipe.  There was this cute gal, wearing an adorable headband, who gave it to me!  WAHOO!  I could not wait to try it out, so when I got home from the Temple, I went to the grocery store, bought the one additional ingredient I needed (imitation crab), and make it.  WOW!  It was so yummy!  Because I love Brooke so much, I brought some by to her, and she loved it too.  I promised her I would share the recipe, so here it is.  Enjoy!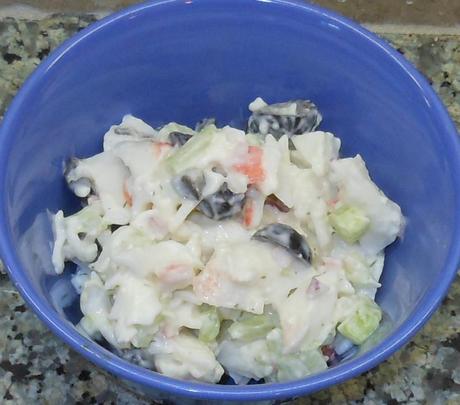 Temple Crab Salad
Temple Crab Salad
Serves 6
1 pound imitation crab
1/4 – 1/2 cup mayonnaise
1/6 – 1/4 teaspoon dill weed, more or less to taste
1/3 – 2/3 cup celery, diced
1/6 – 1/3 cup onion, diced
1/6 – 1/3 cup fresh onion, diced
1/6 – 1/2 cup black olives, sliced
Separate crab and break into pieces (or "shred" with two forks).  Mix together mayonnaise, dill weed, celery, onion, and black olive.  Stir into crab.  Add additional mayonnaise if dry.  Let flavors marry for at least 1 hour (overnight is best) before serving.
Nutritional Information (per serving as I prepared it): Calories – 147, Fat – 8 g, Carbohydrates – 13 g (includes 1.6 g fiber), and Protein – 5.6 g.
Total Cost – About $4.50 for 6 servings!  Not to shabby, huh?
Here's my photo step-by-step.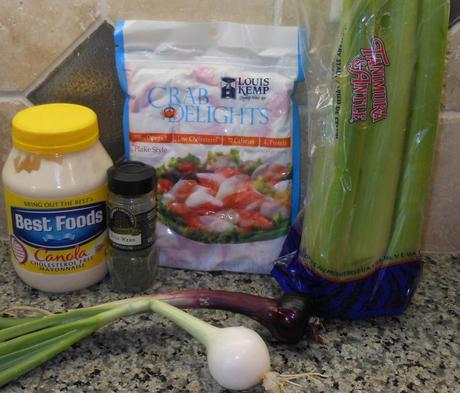 I started by assembling my ingredients. Notice something missing? Yes, it's the olives. They were sitting in a bowl near my ingredients "display." I forgot to put it in the picture. Oops!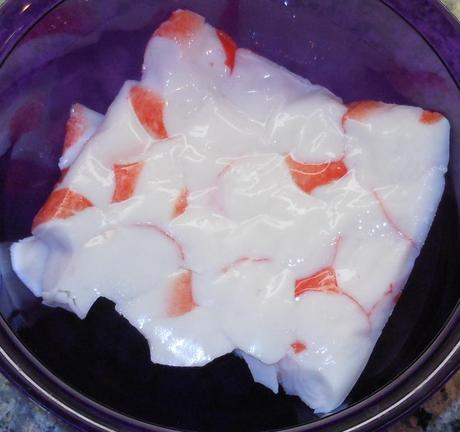 I opened the package containing the imitation crab and transferred the contents to a bowl.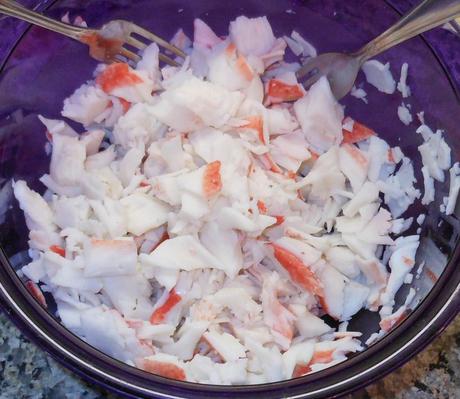 Using two forks, I "pulled" the imitation crab, breaking up any large pieces.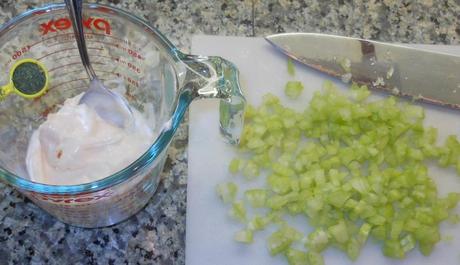 Next, I measured the mayo and added the dill weed (I used a scant 1/4 teaspoon). As you can see next to my mayo, I also chopped up my veggies.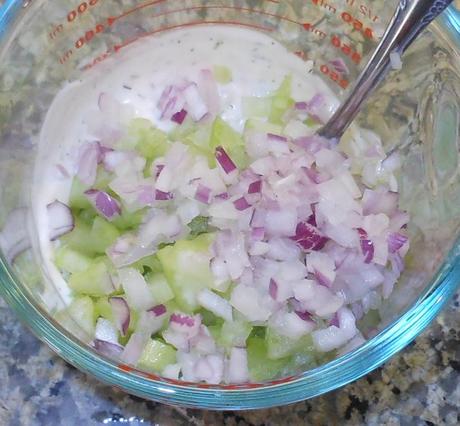 I added the veggies to the mayo and stirred to combine. I used red onion, because I had one from my garden, and I really like it in salads. Notice what's missing? The olives. I actually love olives, so I find it ironic that I keep forgetting to photograph them.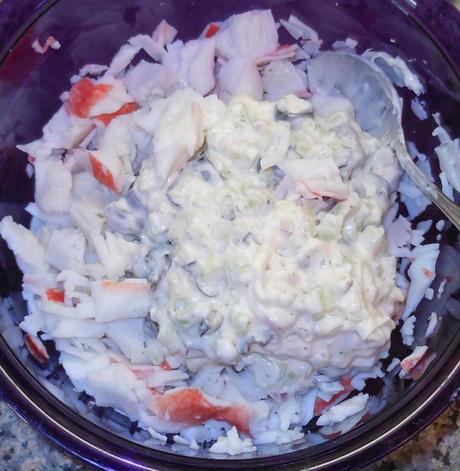 Next, I transferred the mayo/veggie mixture to the bowl containing the imitation crab and gently stirred to combine.  See?  The olives made it into this picture!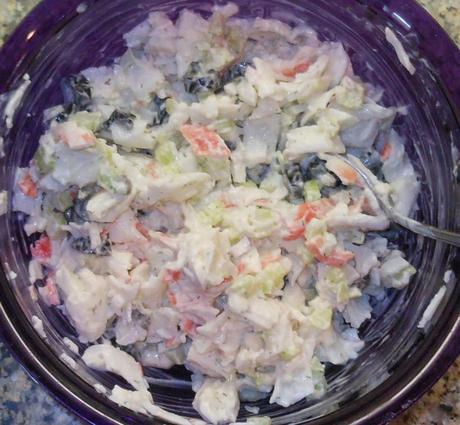 See how pretty that is after mixing everything together?  For the best flavor, refrigerate for at least one hour before serving, however, overnight is best.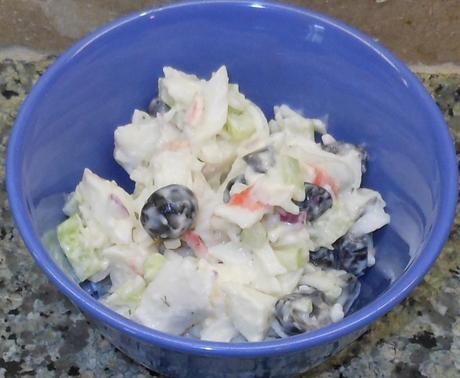 And, Voila! You have a super simple "crab" salad.
You can serve this delicious dish over lettuce or with avocado. It's especially good with avocado!  Unfortunately, I'm out, but I'm heading to the store in a few minutes, so I'll have avocado when I eat it for dinner.  It's a good thing no one else in my house will try this, because I want it all!  This will be part of my menu for the next couple of days, and there are no complaints here!
Do you have a quick, easy, indulgent dish you *LOVE* to eat?