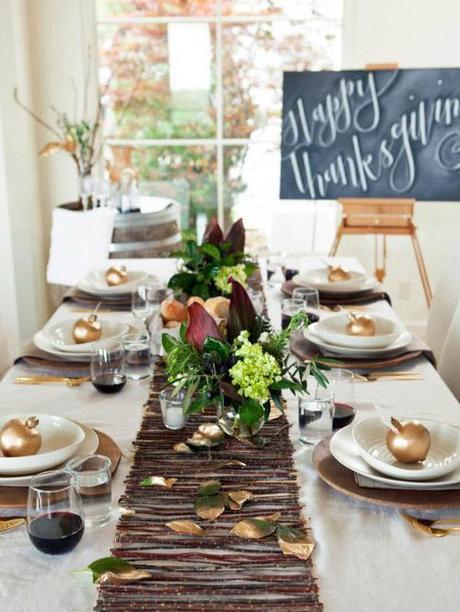 It's almost here! Thanksgiving! We're all on countdown mode. Our planning is underway, that means the menu is still being finalized. The invitations to family and friends have been sent. Now it's time to think about decorating for the event. Of course, the centerpiece of our Thanksgiving decorations is a festive tablescape to showcase our turkey and yummy side dishes. Let me show you some of my favorite ideas for a Thanksgiving tablescape, with warm fall colors and nature inspired elements to kick-start the holiday spirit.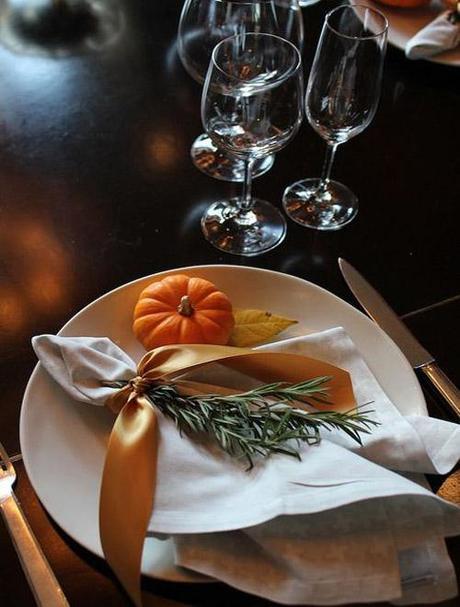 When we imagine Thanksgiving decor, we immediately think of pumpkins. They make a wonderful centerpiece or accompaniment to our place settings.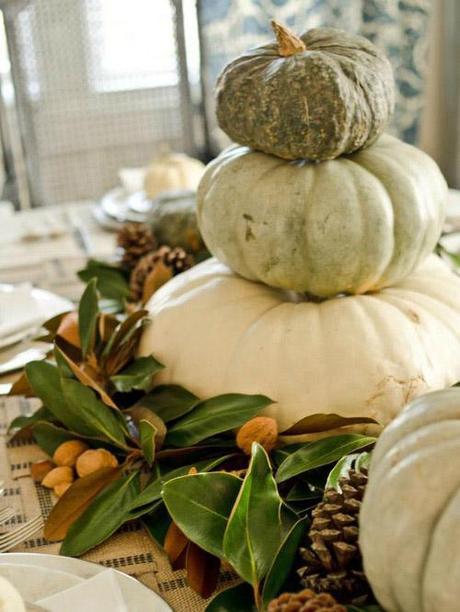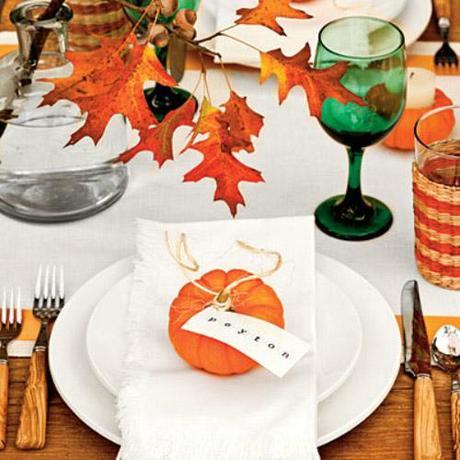 Pumpkins can be embellished with paint or even sprinkled with glitter to give an extra dose of bling. There are many creative ways you can incorporate pumpkins on your Thanksgiving table.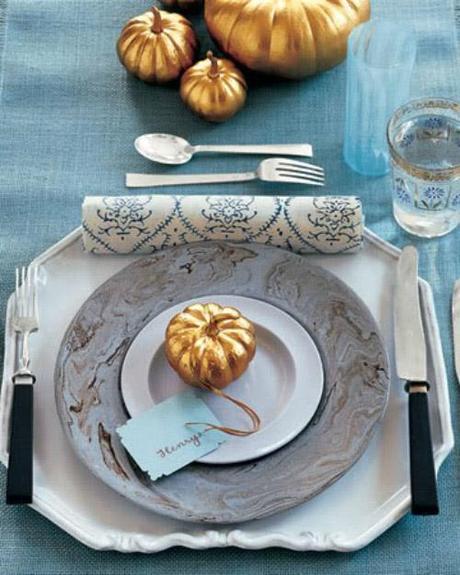 Maybe you prefer the more traditional floral centerpiece. For a more dramatic effect, you can mix and match seasonal flowers in different colors. Dress them up in a pretty vase that won't clash with the color of the flowers.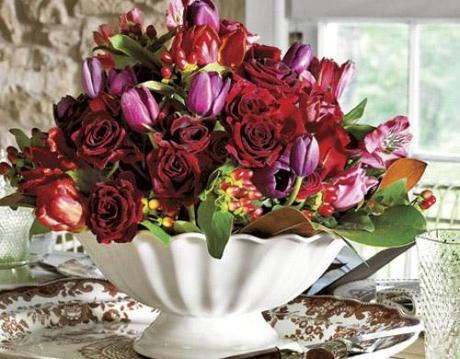 You can also choose a single color scheme. How pretty are these orange flowers? The arrangement is placed in a basket tray with tangerines surrounding it.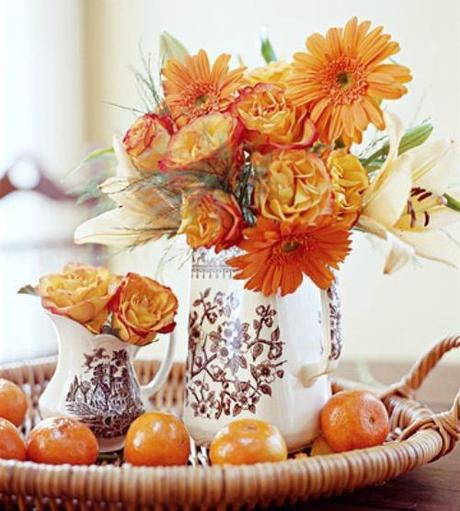 I like gourds! They're plentiful during Thanksgiving. Make a nice arrangement with them! Gourds have so many different colors, shapes and sizes, and they exhibit lots of texture. I love the arrangement below, where the gourds are placed on a three-tier platter.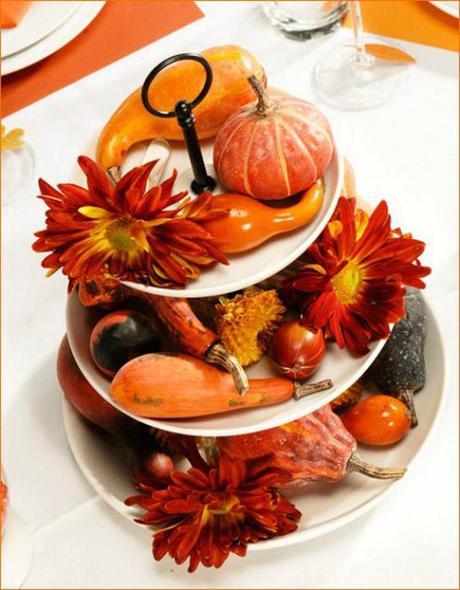 Try making a floral runner instead of a centerpiece. A runner is less likely to block your guests' view.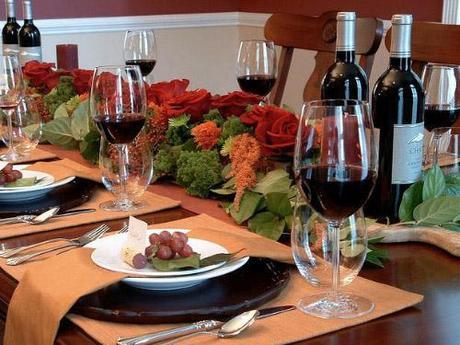 Make the color of your food stand out more by going for more neutral place settings. Add warmth and color to the table with complementing color candles, dried leaves or, as shown below, a table runner. This is such a pretty table!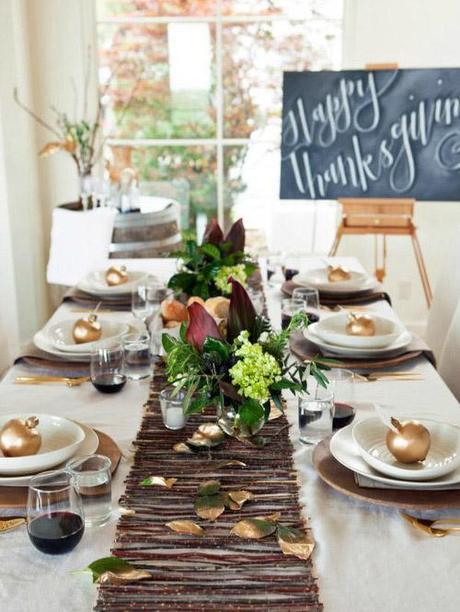 Candles make a great centerpiece for the dinner table during the Thanksgiving Holiday. They create such a cozy atmosphere. I like the glow you see when the candles are first lit. Take your candles up and notch and surround them with vegetables such as artichokes and asparagus. As decorations, vegetables make a nice alternative to flowers.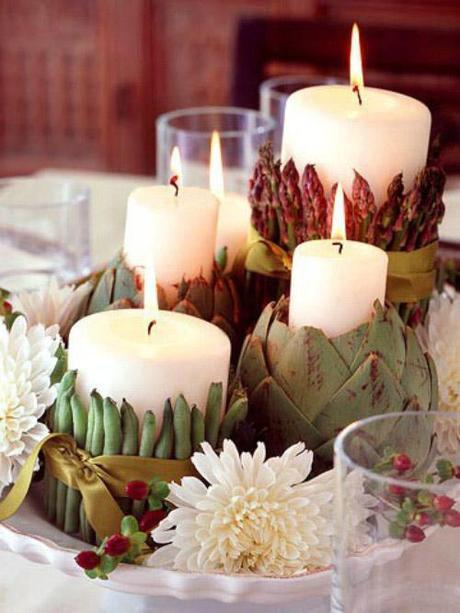 In this image, Martha Stewart uses corn husks to surround a votive. The husks are then tied with a pretty white ribbon.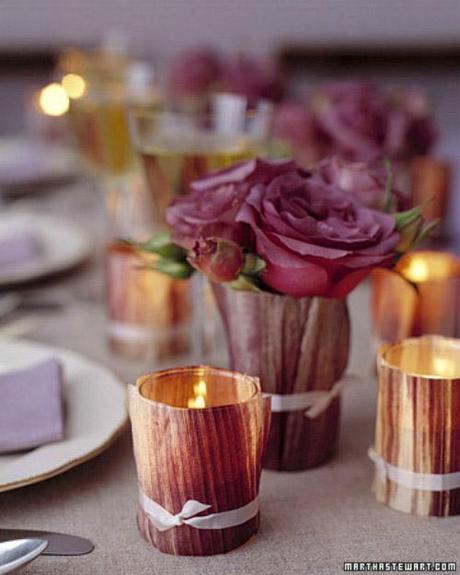 I love surrounding candelabras with huge dried leaves. So simple and yet so elegant.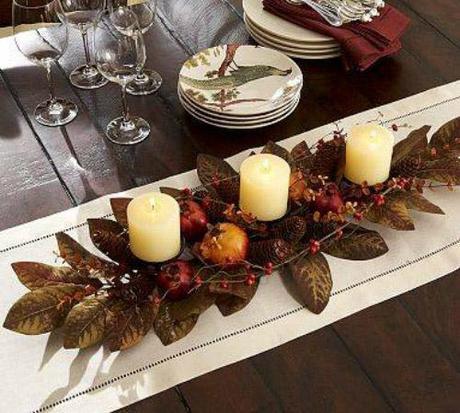 For placeholders, consider using pears, small pumpkins and artichokes. Or use a selection of gourds from your local art store.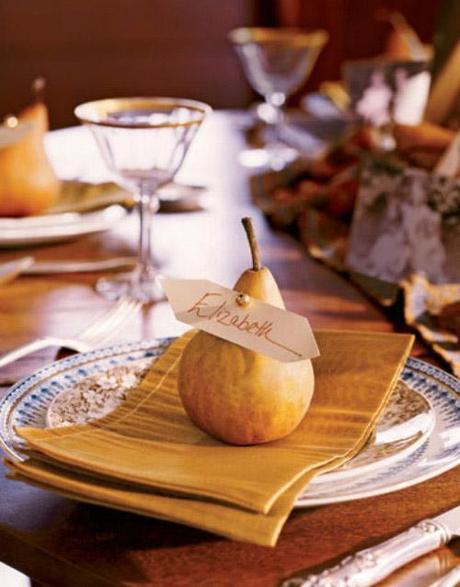 Instead of the traditional napkin rings, use sprigs and holly leaves wrapped in a coordinated ribbon to match your napkins. If this is too much work, you can just use colorful ribbons as napkin rings.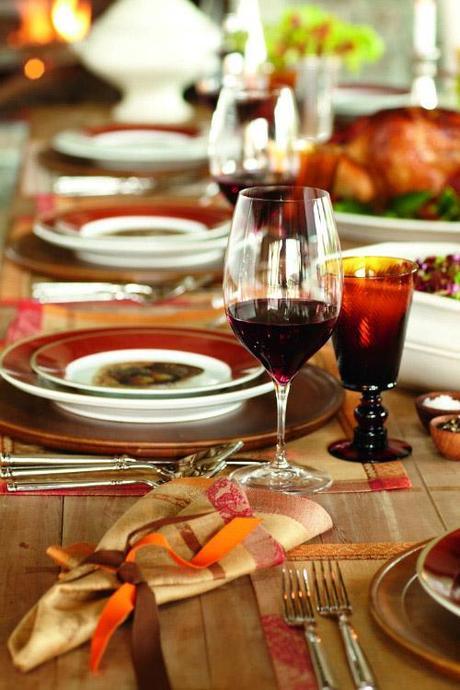 These are just a minute sampling of Thanksgiving tablescapes that I like. But they represent the ones that more simple, easy, modern and elegant.
I hope you enjoyed these decorating ideas and find them inspirational as you plan your Thanksgiving tablescape.  They are reasonably simple to make and they can be done with minimal stress.
Simone
Posted in

Accessories, Design tips, Interior Design
|
Tagged

tablescapes, thanksgiving