Level-5, the japanese developer behind the latest Dragon Quest episodes and the Professor Layton series, are polling their fans to figure out which games they should localise for US/EU audiences. Keep in mind that they're just gauging interest.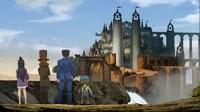 The options are:
Fantasy Life (3DS)
Girl's RPG Cinderelife (3DS)
Inazuma Eleven (DS)
Inazuma Eleven Strikers (Wii)
Ni no Kuni (DS Version)
Ni no Kuni (PS3 Version)
Professor Layton and the Mask of Miracle (3DS)
Professor Layton vs. Ace Attorney (3DS)
Time Travelers (3DS)
The Little Battlers (PSP)
Currently, Professor Layton vs. Ace Attorney and Ni no Kuni PS3 are way ahead of the rest.
Vote on the
Level-5 Facebook page
.